Acquire 3D coordinate data in real time with high precision over a wide area.
Establish tie points (observation reference points). Scanning is done using a Laser scanner.
High precision 3D current state over a wide area achieved with minimum personnel.
Based on high point density, surface data with higher accuracy can be created.
Merits of laser scanner surveying
High accuracy surveying
Wide range of applications (e.g. weather conditions, site topography etc.)
Available as 3D point cloud
Measuring can be conducted day or night
Process of laser scanner surveying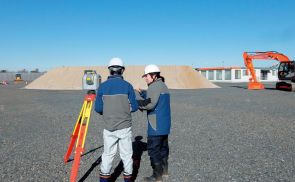 1. Field Survey
In a field survey, confirm the measurement parameters and obstacles, and make a scanning plan including items such as measurement positions and tie point installation positions.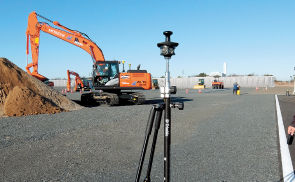 2. Reference points survey
Set tie points based on the scanning plan. Measure the distance between two tie points with the total station (TS) and compare with the numerical value obtained from the scan data.
3. Scanning
Scan the target range. While checking the data for each single cut, check the measurement leakage rate.