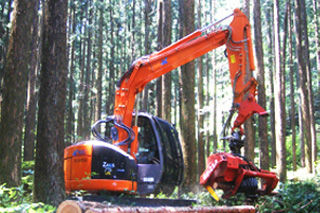 Following the "Paris Agreement," which was adopted at COP21 (21st Conference of the Parties to the United Nations Framework Convention on Climate Change), which is the legal framework for global warming countermeasures after 2020, Japan has set a CO2 reduction target incorporated reductions in forest absorption source measures.
Tree thinning does not reduce the total amount of trees, but its purpose is to promote the growth of trees. Tree thinning has the following effects:
(1) Increase in CO2 absorption by trees after tree thinning (contribution to global warming prevention)
(2) Contribution to a carbon neutrality for trees subjected to tree thinning
At HCM Group, in order to make the work more efficient with less human resources for customers, our lineup of high-performance forestry machinery is enhanced.