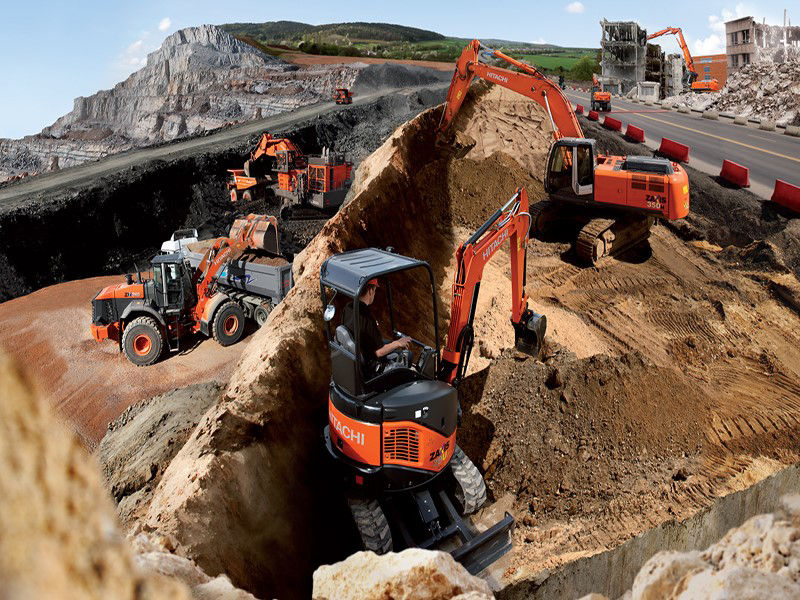 Interview of HMEC President
Can you give a brief assessment of Hitachi's position in the global market?
We, HCM, are one of the world's largest manufacturers of construction equipment. With 70 years of manufacturer history, we offer road and construction equipment all over the world. For mines, we have the world's largest 800-ton hydraulic excavators and dump trucks powered by electricity produced by a diesel engine driven generator. We offer our mini excavators and compact equipment used in agricultural and urban applications, and our wheel loaders, which also work in many marble quarries in Turkey with different features, to the service of our customers. Most importantly, we manufacture our hydraulic excavators, which are famous for their undisputed power, and provide service support.
Can you make an assessment of the effects of the pandemic on both Hitachi and the construction machinery industry in general?
In all major HCM-dominated markets, construction equipment market conditions are recovering and, frankly, improving better than we can currently predict. Mines are reopening and operating. As mining operations gain momentum and customers are more willing to invest, demand for mining equipment is increasing.
Which trends do you expect to come to the fore in the construction equipment industry in the near future?
We expect more development of technology and products that will respond to global social and environmental problems such as global warming. We are also working on Net ZERO emissions, recycling-oriented business models in this field.
In which areas does the competition in the construction equipment sector intensify?
In order for the world to achieve sustainable growth, I believe that competition for development will accelerate in the areas of decarbonization, reducing the cost of use, increasing efficiency and safety. At HCM we have made this one of our number one priorities.
What features does Hitachi distinguish from this competition?
We work with our customers to find out what they really want and solve their problems.
For example, we are testing a system that predicts crack formation using our own analysis technologies and artificial intelligence at customer sites . We are also working on electrification and hydrogen fuel to reduce CO2. We cooperate with ABB (joint development of Fully Electric Dump Truck) with the goal of net zero emissions at all mining sites and machinery in general. Technical cooperation with Hitachi Group gives us a tremendous advantage over our competitors.
Are there any products that you have recently launched or are planning to offer?
As HCM, we are constantly improving our products and technologies for a sustainable future. For example, we accept orders for 5-ton class battery mini excavators in the European market. We introduce ConSite Mine to the global market. Consite Mine is a service solution that provides machine analytics to help support the resolution of mining sites using IoT (internet of things) to remotely monitor mining machines 24 hours a day and artificial intelligence to analyze the operational status of machines. A standout feature of the service is the "Load Index" function, which combines the use of AI (artificial intelligence) with proprietary stress analysis technology based on Hitachi Construction Equipment's knowledge of mining machinery design and manufacture. All are state-of-the-art.
Can you make an assessment about your Turkey representative ENKA Pazarlama?
ENKA Pazarlama has been our distributor in Turkey since 1984 and is one of our longest serving distributors. It is Turkey's leading company with its advanced technical knowledge and customer satisfaction oriented approach. ENKA Pazarlama represents the Hitachi brand in the best way with its regional directorate and its newly opened branch in Antalya. ENKA not only has a strong market, but also provides high customer satisfaction with after-sales service support.
What can you say about ENKA Pazarlama's performance during the pandemic process?
Visiting customers, listening to their needs, inspecting each machine is vital to machine owners and our success. ENKA Pazarlama carried out thousands of machine checks in 2021 despite the pandemic conditions. Machine controls via smartphone apps such as HITACHI's ConSite SHOT support service personnel to complete a full inspection in less than 30 minutes per machine, an outstanding achievement.
Can you make an assessment of the Turkish market and talk about the importance of this market for you?
Turkey is a country with a growing population, a large workforce and geographical advantages. Construction, mining, dredging and marble, etc. We expect the demand for the size equipment we produce in the sectors to be strong. Turkey; The fact that there are many challenging construction sites as well as the fact that we have many loyal customers offers us an important market where we can gather customer feedback, improve our product and after-sales evaluation and quality, together with ENKA Pazarlama.
Finally, what you would like to add…
We will continue to develop as a premium brand that ensures customer loyalty by offering high quality technologies, products and services that exceed customer expectations. We will be a pioneer and an example to our industry.