Higher ground
Forestry contractors need specialist, reliable machines for their work that is often carried out under the toughest conditions and most challenging locations. Hitachi's modified short-tail swing excavators are ideal for making access routes, as well as a wide range of other tasks.
Higher ground
The ZX135USL-6 supplied by the Norwegian Hitachi dealer Nasta to Fageraas Skogsdrift DA is a perfect example. The forestry excavator has a heavier counterweight for greater stability, reinforced parts – such as the undercarriage – for added durability, and a window in the roof of the cab for a better view.
It also has a higher ground clearance than the standard model for a smooth travelling performance over uneven and rough forest terrains, such as those found in Hadeland in south-east Norway. Equipped with additional safety features, such as a fixed laminated front window and OPG level 2 front guard, it offers further protection for the operator, Ole Henrik Fageraas (the father of owner Ståle Fageraas).
Fageraas Skogsdrift bought the ZX135USL-6 in May 2018 to replace a three-year-old ZX135USL-5 from the same family of Hitachi special application machines. Nasta supplied the medium excavator with a five-year, 6,000-hour service contract. It also has additional lights and has been fitted with joysticks for track steering, a central lubrication system, and heaters for the engine and cab.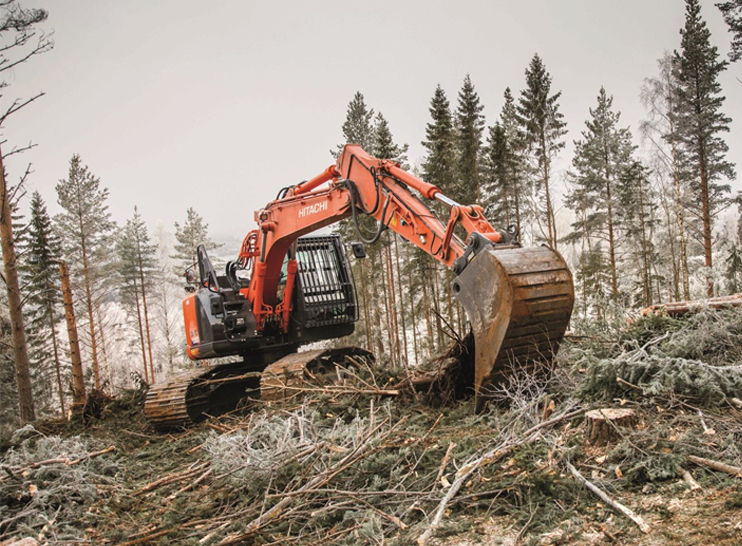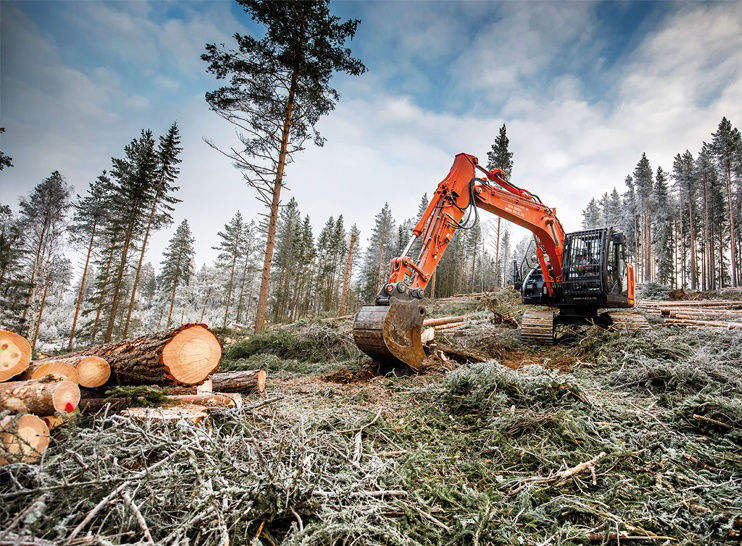 Complete solution
"Nasta looks after all of our maintenance and service requirements," says Ståle. "Our contract offers the complete after-sales solution, with fixed costs and the peace of mind of knowing that everything is covered. I'm really happy with the amazing technical support we receive, including Hitachi Genuine Parts."
Ole Henrik was formerly a Nordic Combined skier, who won a bronze medal in the individual event at the 1962 FIS Nordic World Ski Championships in Zakopane, Poland. Since then, he has perfected the art of clearing a different kind of obstacle with the ZX135USL-6.
"Overall, this is an excellent machine that has the perfect specification for this tricky terrain," explains Ole Henrik, who started off working with horses in a forestry environment in 1956. "It works really well due to the ground clearance, good visibility from the cab and of course it's lightweight for soft ground.
"The power at my disposal and the precision from the hydraulics are ideal for a machine of its size and this type of work on such uneven ground. It's a really different operating experience to a standard machine."
The project is being completed on behalf of Viken Skog SA, Norway's largest forestry cooperative with approximately 10,000 shareholders in eastern Norway. These represent around 10.5 million acres of forest, and usually contribute one quarter of the total timber deliveries in the country.
On this two-week job, Fageraas Skogsdrift has been hired to supply 3,000m3 of timber from the pine trees. The wood is then transported to a factory (the largest one is also located at Sokna), where it is used to prepare timber for construction projects.
The ZX135USL-6 has two main tasks on this typical forestry site for Fageraas Skogsdrift, which was founded 30 years ago in Sokna. It clears the undergrowth after the trees have been felled and prepares the ground for the new trees to be planted.
Ståle is delighted with the latest addition to his fleet of forestry equipment: "Hitachi has the best solution for a forestry machine with a short-tail swing. It is ideal for negotiating narrow spaces and avoiding such obstacles as tree stumps and protruding rocks – we don't have to worry about damaging the machine."