Get more from your machine with Hitachi ground engaging tools

Our construction equipment is already renowned for its reliability, particularly in tough environments. If you want your Hitachi machines to achieve even greater levels of productivity and durability, they can be fitted with high-quality ground engaging tools (GET).
Manufactured to the same high standards as all Hitachi construction equipment, Hitachi GET are designed to enhance performance in a wide range of working conditions. They are available for mini and compact excavators, medium excavators, wheel loaders and ultra-large mining excavators.
Why use Hitachi Genuine GET?
Hitachi Genuine GET improve safety – the hammerless locking system enables simple installation and removal. Hex-head cap screws ensure the most secure tooth retention possible.
Giving your excavator greater digging power with Hitachi Genuine GET will make it more productive.
Watch the video to find out more!
GET for Hitachi medium excavators and wheel loaders
Manufactured in Sweden using steel castings of the highest quality, our GET range of teeth and adapters is suitable for Zaxis medium, large and wheeled excavators, as well as wheel loaders.
User-friendly, they are safe and quick to install and replace. You can choose from a variety of self-sharpening teeth to meet the needs of your job site, and the reliable adapters ensure a precise fit. Using Hitachi GET can reduce maintenance costs and downtime, lower fuel consumption and enhance the overall performance of your machine.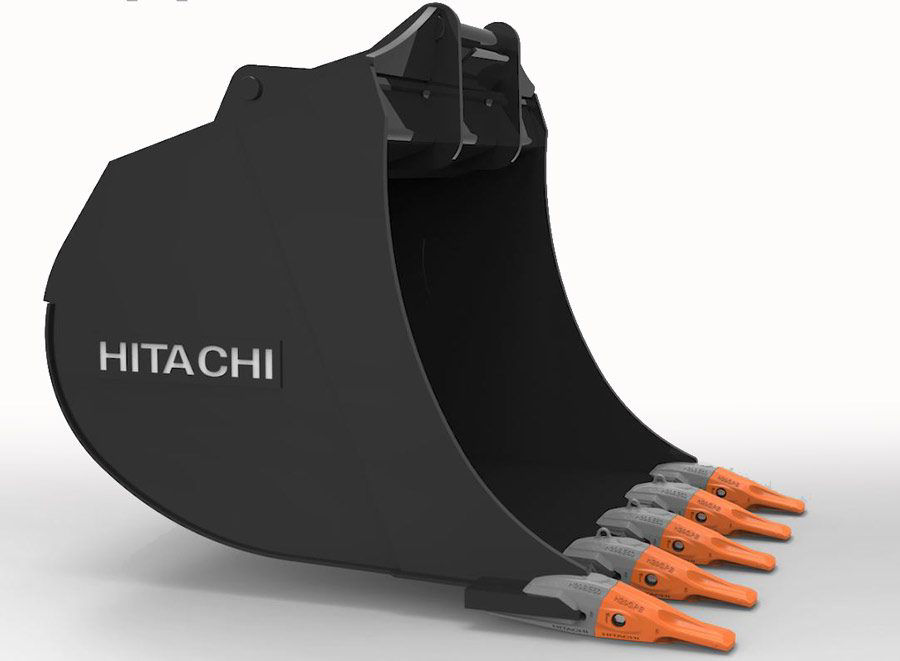 GET for Hitachi ultra-large excavators
Bradken GET are specifically engineered for hard rock mining. Wear-resistant and durable for highly abrasive applications, they improve penetration and enhance the overall digging power of your Hitachi excavator. Available for the ZX890-6 and EX1200-7 to EX8000-6 models, they are safe and easy to install and remove, which also results in minimal downtime and lower maintenance costs.
A wide range of teeth are available to suit your mining operation, from general purpose to heavy-duty options. For mining buckets , there are lip, wing and heel shrouds, adapters and corner adaptors. Hitachi Genuine buckets for mining and quarrying are also available with Bradken GET and customised wear packages.