Inspiring a new generation of operators
Adventure, games and action! That's what visitors young and old can experience at the Ravensburger amusement park, Spieleland, in south Germany. Opened in 1998 on an 18-hectare site in the town of Meckenbeuren, Spieleland has since welcomed more than seven million guests.
A unique experience
One of the most popular participatory attractions is the construction site in the themed area, BRIO World. It was redesigned to celebrate Spieleland's 20th anniversary and is dedicated to the Swedish wooden toy manufacturer.
Since the start of the 2018 season, families have become construction workers with ten ZX17U-5 mini excavators, sponsored by Hitachi Construction Machinery (Europe) NV. In a real construction site, visitors of all ages have the opportunity to dig with the machines.

Children from the age of three can sit in the cab (accompanied by an adult), while those aged eight and over can operate the machine independently. For three minutes, they can experience what it's like to work with a Hitachi excavator, using the joysticks to lift and unload gravel at the specially created pit.

Dealer support
"Children find it fascinating," says Managing Director Carlo Horn. "Where else do they get the chance to sit in a real excavator on a construction site? It's also nice to see parents with children sitting on their laps, and experiencing it together. Although sometimes you see the parents fighting to have a turn of the controls!"
The Hitachi machines were installed after being modified by authorised German Hitachi dealer, Kiesel. The excavators are in a fixed position on concrete blocks and have no pedals, but the joysticks are original.

Fitted with electric engines to eliminate fuel emissions, they are controlled by an electronic safety monitoring system. The special Hitachi fleet is maintained regularly by Spieleland's nine-strong technical team, with support from the technicians at Kiesel if required.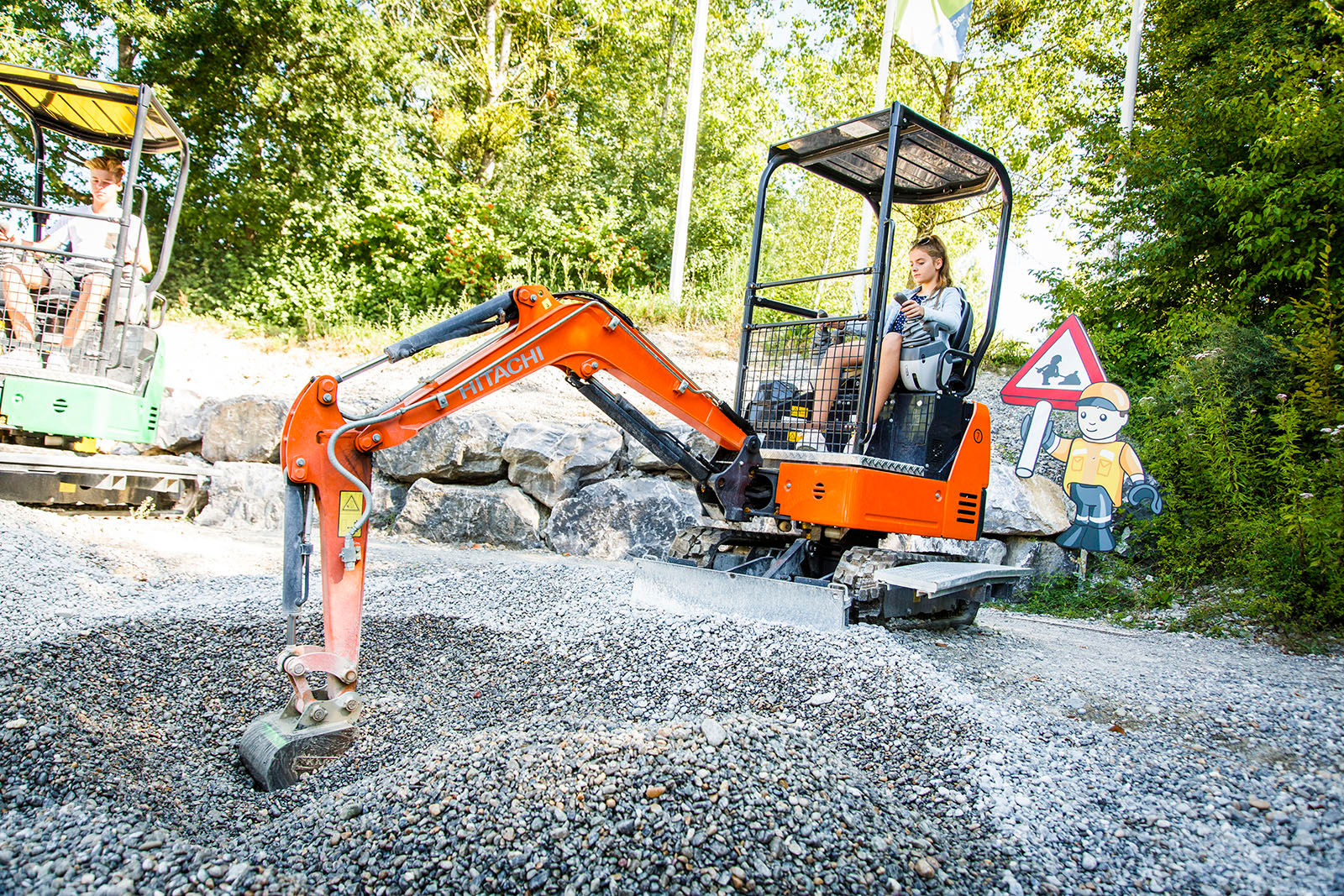 The best attraction
Safety and robustness were also important requirements, says Carlo: "The machines have to operate continuously every day for 8-10 hours. And they must comply with the stringent conditions set by TÜV. It was also important for us to have the excavators painted in orange and green – to combine the colours of Hitachi and BRIO."
"I noticed the technological progress within the excavators. The Hitachi models replaced another brand of machines, which had been in use for 18 years. The ZX17U-5 is easy to operate, the controls are more responsive, and technically they are more refined.

"My overall impression of Hitachi machines is that they are reliable and highly robust. They have exceeded all my expectations, particularly in terms of quality and ease of maintenance."

Visitors to Spieleland have been positive in their reaction to the new Hitachi machines. Six-year-old Merlin Brauchle tried the ZX17U-5 with his mother, and said: "I think it's super that I'm allowed to experience how a construction site really is."

And 13-year-old Marvin Gasser commented: "I liked digging with the Hitachi excavator because it was so easy to handle. I think it's the best attraction here."