Living the dream
Wiggo Rønningen was born in Osen, approximately 100km from the Swedish border, to the north west of the capital city of Oslo. As a practically minded child, he worked during school holidays at the local quarry, where he was able to try out some different types of machines – and he was hooked!
Early days
After leaving school at 18, he worked full-time role at the site and a year later, he was proud when promoted to the role of "rock blaster".
"My ambition was to have my own company, so that I could buy the machines I used to try out in the quarry," says Wiggo. "Nowadays, I have so many visions and plans, usually to build or make something better. I always need to have a project on the go."
"I started to work full-time with construction machinery in Oslo in 1981, but I missed the woodland and soon returned home," explains Wiggo. This was the opportunity to found his own company (in 1983).
He worked by himself for over three years, before his brother Geir Arne joined Wiggo Rønningen Maskin AS. The company started to expand with multiple projects and more personnel to manage.
The company's first excavator was purchased in 1985 and the first Hitachi machine was bought by chance, as Wiggo explains: "My wife, Elin, preferred the orange colour over yellow, and I had no further say in the matter!"
Since then, he hasn't looked back with a strong loyalty and passion for Hitachi construction machinery. In 2003, he bought a ZX210 medium excavator – his first Zaxis model from Nasta (then known as Nanset Standard).
"I still have the ZX210, although it has been 'retired' for a few years with around 10,000 working hours," confides Wiggo. "It works with the ZW220 wheel loader in our quarry and I care for it as if it was an old-aged pensioner."
Wiggo Rønningen Maskin hit its peak in 2012 with 20 employees, but the amount of paperwork led to a change of strategy. "At this point, I decided that it was time to downsize," Wiggo admits. There is now a team of six, including Elin and a seasonal worker.
"The staff have worked here for many years. They are responsible people and really look after their machines. They are also very loyal and work well together."
The company's main areas of business include: earthmoving and groundworks; masonry and concrete supplies; drilling and blasting; and transportation; as well as road construction and snow ploughing.
Wiggo has a number of other business interests, including a share in the Furutangen ski resort, and part-ownership of a company that manufactures, builds and sells cabins as holiday homes. Wiggo Rønningen Maskin is responsible for the groundworks, foundations and utilities of the cabins (more than 600 units have already been built).
The quarry provides an invaluable source of gabbro rock, which is commonly found in this part of Norway. The company blasts and extracts the materials, before they are crushed and screened for use in Wiggo Rønningen Maskin's projects.
In addition to the older machines in the quarry, the company owns a ZX25 mini, and ZX160LC-5, ZX210LC-3, ZX210LC-5, ZX210LC-6, ZX280LC-3 and ZX300LC-6 medium excavators. "Last year I told Elin that I would stop 'shopping' for machines, but I've been busier than ever with buying and selling in the past 12 months – it's one of my passions!"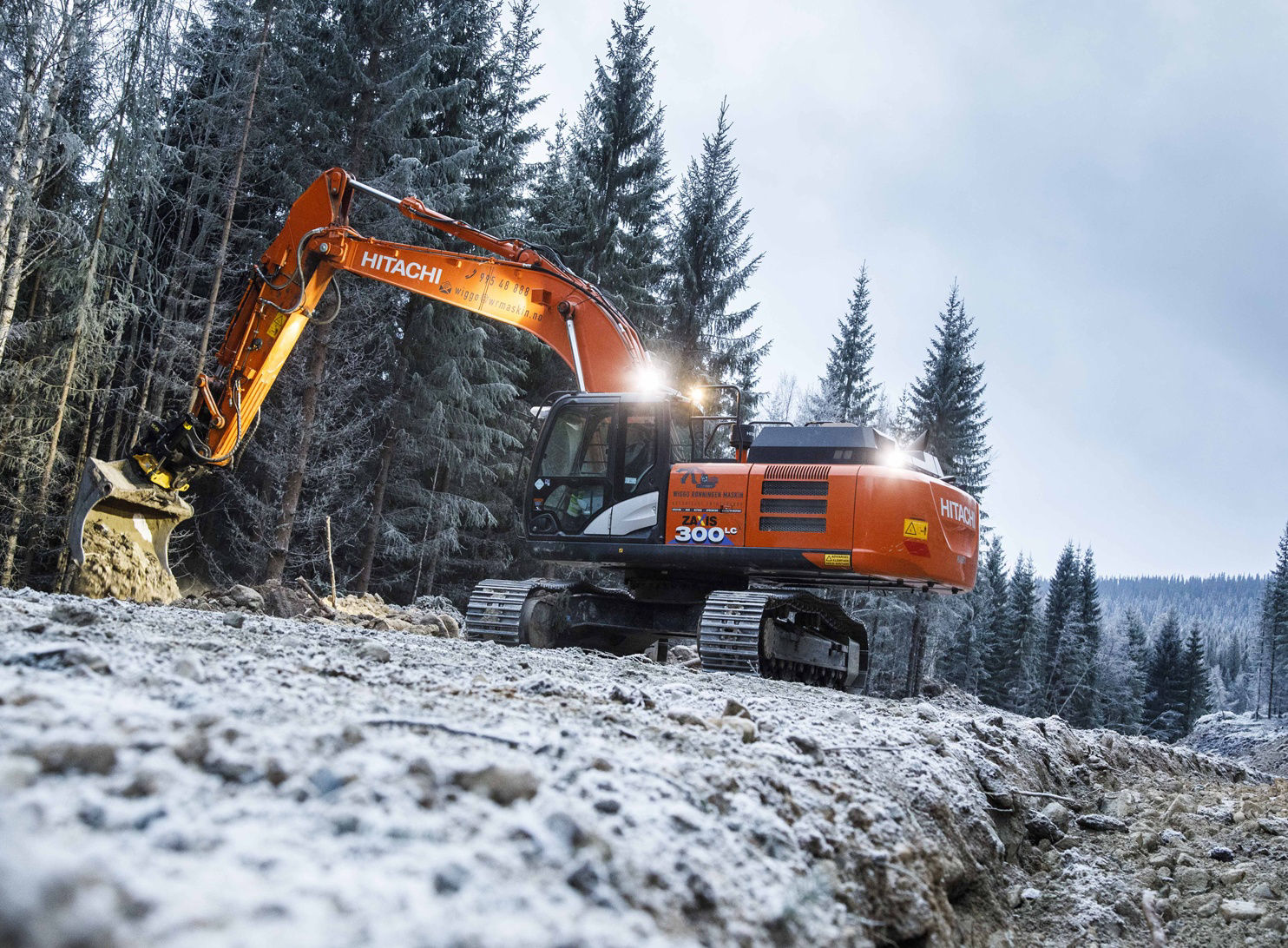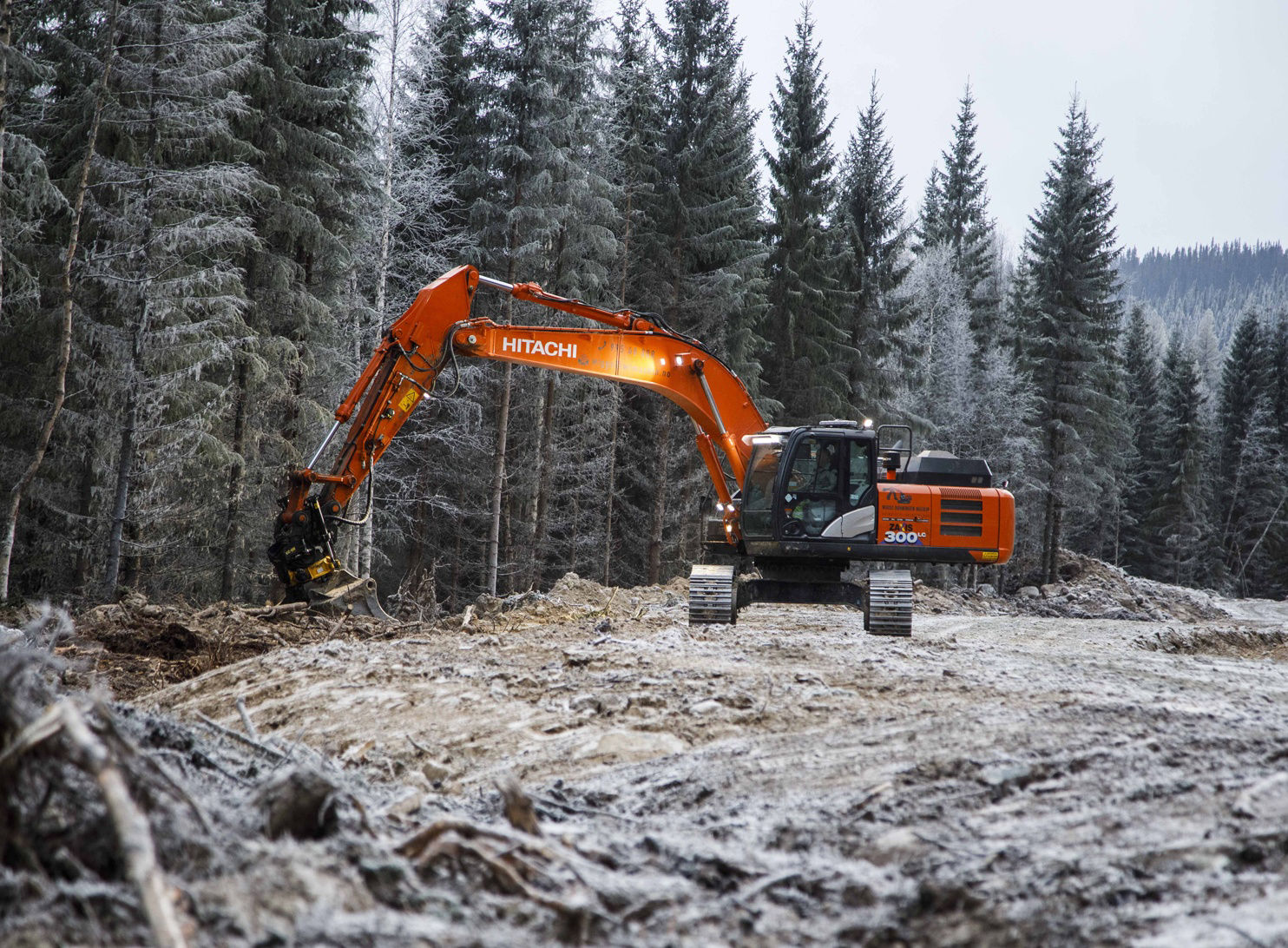 Flying the flag for Hitachi
His passion for Hitachi machines started with his local Hitachi dealer: "It's never been about just one person, but the whole organisation. I know that the Hitachi/Nasta partnership works – and that's good enough for me!
"I've tried other dealers and manufacturers, but I always come back to Hitachi and Nasta. I've never had any problems with the machines or the level of service. There's not even been one hour of downtime over the years.
"My favourite machine was the ZX210LC-6, because of its versatility. However, it's now the ZX300LC-6, due to its production capacity. I'm already a good salesman for Nasta. And I've always tried to be a strong ambassador for Hitachi. It's all about trust."
Wiggo is also aware of the importance of relationships: "I always buy high-quality machines, but this has to be balanced against the after-sales service we receive – it's all about the total package."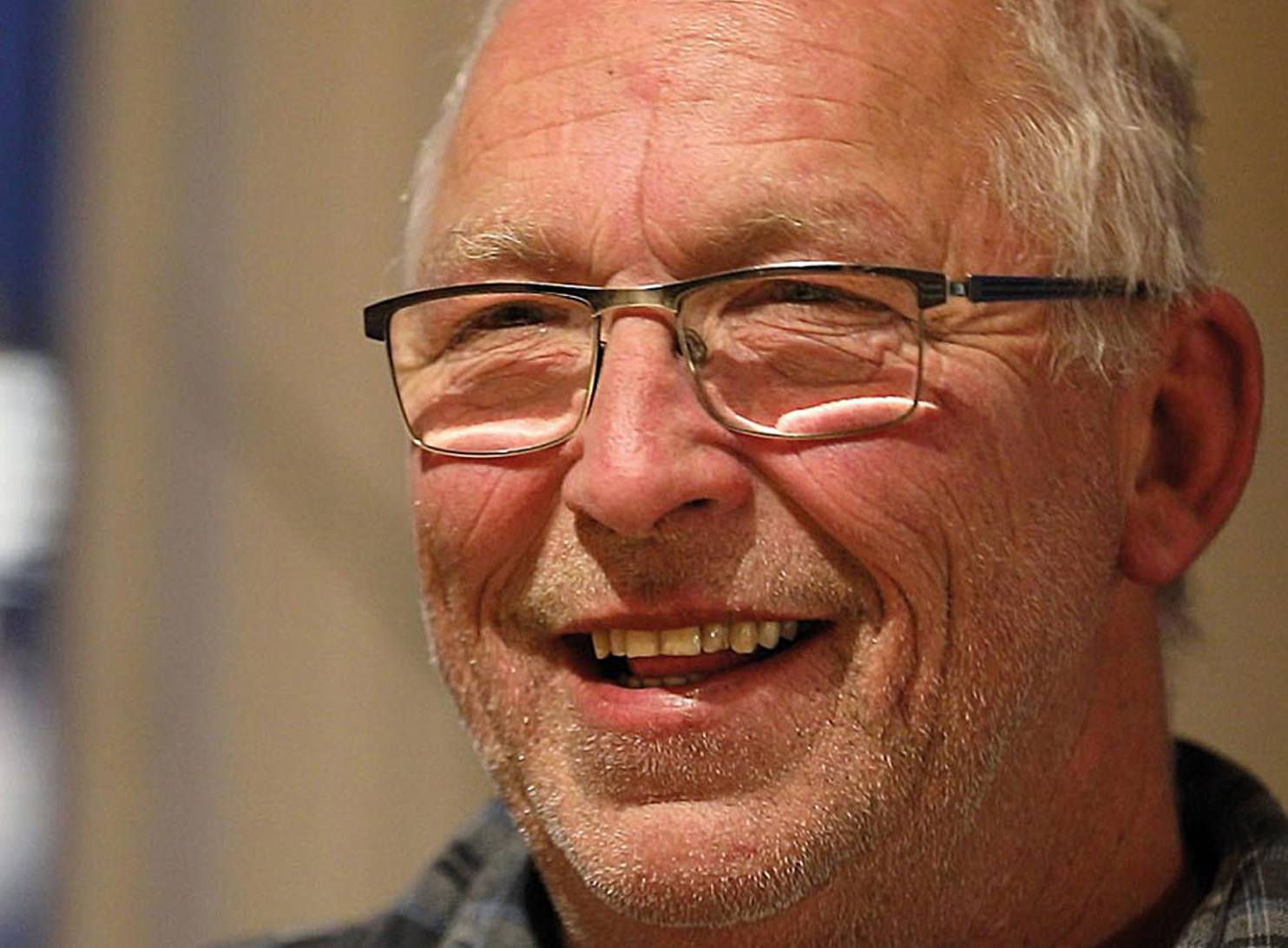 Wiggo Rønningen
Owner
I've always tried to be a strong ambassador for Hitachi. I've tried other dealers and manufacturers, but I always come back to Hitachi and Nasta. Even my three-year-old grandson likes the orange machines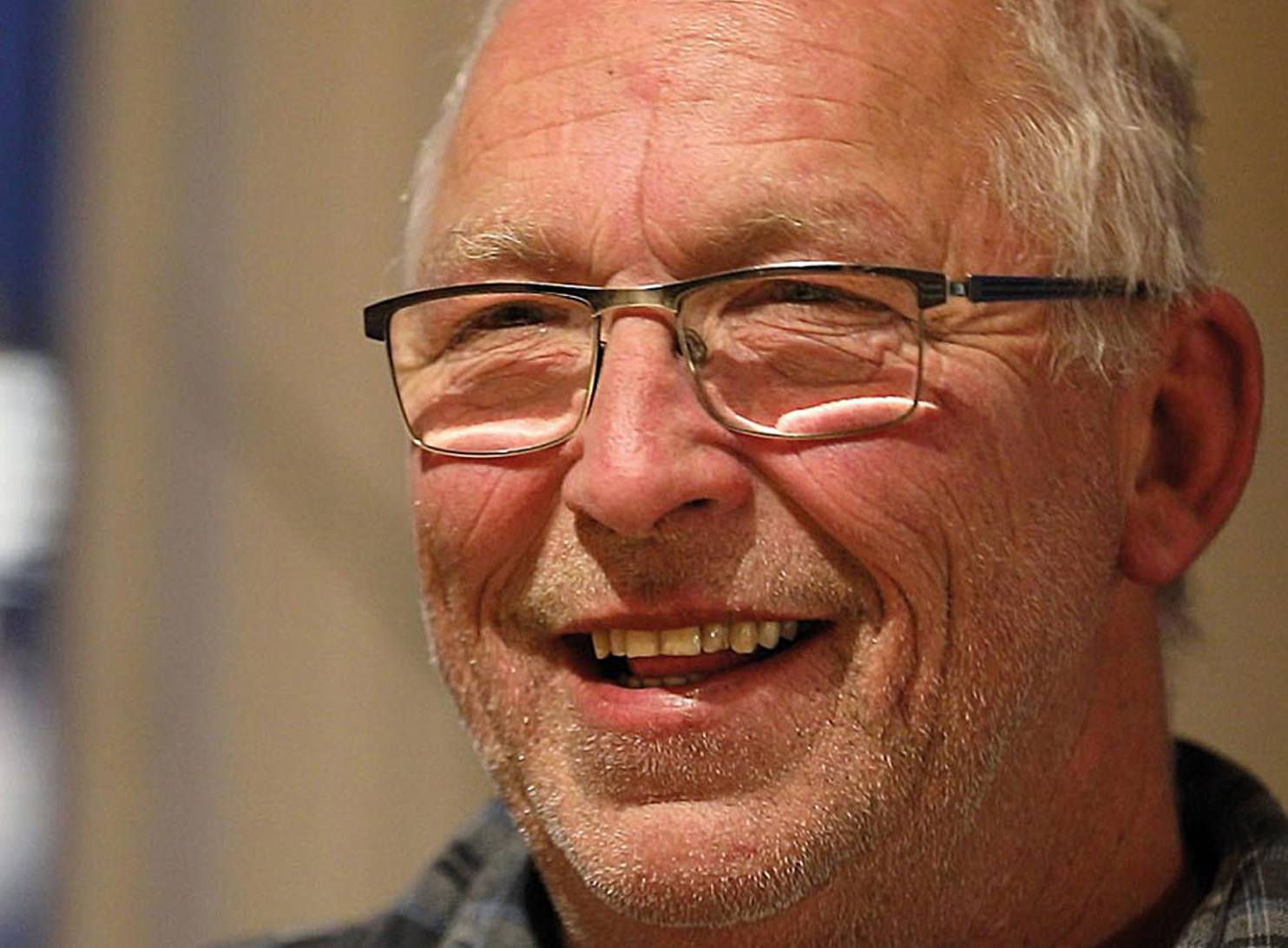 More than a job
Like many Norwegian contractors, Wiggo is an operator as well as the owner of Hitachi machines. From an owner's perspective, he rates "stability, reliability and operator comfort" as the most important benefits to his business.
As an operator, he says, "I like the precision of the hydraulics on Hitachi excavators and this is my favourite type of machine. The biggest improvement to the excavators in recent years has been the comfort.
"There's so little noise in the cab and the control panel is so user-friendly. The Zaxis range is versatile and fun. I really enjoy sitting in a machine, and working on a busy and productive site."
His experiences reveal how he feels about the Hitachi brand. "It's really close to my heart," he confides, "because this is not just my job, it's also my hobby."
Wiggo clearly values the support and service he has received from Hitachi and Nasta, and is proud of his company's association with the brand. "They are a strong combination of creativity and excellent machines for stability and reliability.
"Due to constant availability of the fleet, I rarely have to talk to Nasta. That's what I like about Hitachi machines, they only need to be supported remotely by telephone!"