Zaxis-7 cab makes the difference
Europe's first Zaxis-7 large excavators are making a huge impact among owners and operators – with positive feedback on performance, efficiency, safety and comfort.
Zaxis-7 cab makes the difference
The first Hitachi ZX490LCH-7 large excavator in Europe was delivered to Norwegian construction company Dobloug Entreprenør AS. It is the second Zaxis-7 model for the contractor, which already has a ZX350LC-7 medium excavator in its fleet.
Operator Tor Erik Knutsen personally selected the new machine after viewing photographs of it. "We are part of the whole process at this company – and here I've got everything I really want!" he said. Tor Erik has extensive experience working with large excavators, including a ZX470LCH-5 and ZX490LCH-6, which was rented to Dobloug Entreprenør in anticipation of the arrival of the new machine.
"The biggest difference is inside the cab," he said. "Now it is more convenient, I hear almost nothing when I close the door behind me and it's become even more spacious. I'm almost two metres tall and no longer need to push the seat back completely to reach the pedals as I have plenty of space."
Irish contractor looks to the future with Zaxis-7
Ireland's Shannon Valley Group has taken delivery of its first Zaxis-7 large excavator, a ZX690LCR-7. Equipped with a hydraulic breaker, its first task was rock extraction at the Central Park residential and commercial development in Sandyford, 10km from Dublin city centre. It spent five months on the project, working alongside the company's ZX690LCH-6.
It's easy for Shannon Valley to draw comparisons between the new Zaxis-7 and the earlier Hitachi models in its fleet. Managing Director Michael English says: "It's quieter, a little faster, and lighter on fuel than previous models – the fuel economy is a big plus. The cab is also more comfortable, so our operators are happy."
Shannon Valley Group invested in the latest model as it prepares for Stage V emissions regulations. The ZX690LCR-7 complies with these thanks to the combination of the selective catalytic reduction system, diesel oxidation catalyst and catalysed soot filter.
"We decided to invest in the Zaxis-7 model, because we are looking to the future. Stage V emissions are a factor for rock extraction on urban sites, so the decision was taken from an environmental point of view."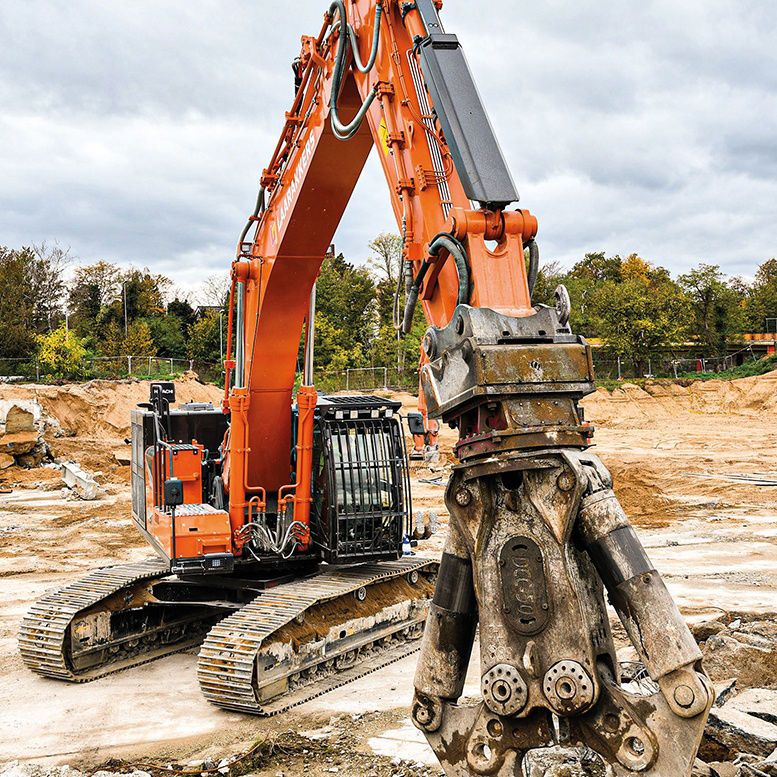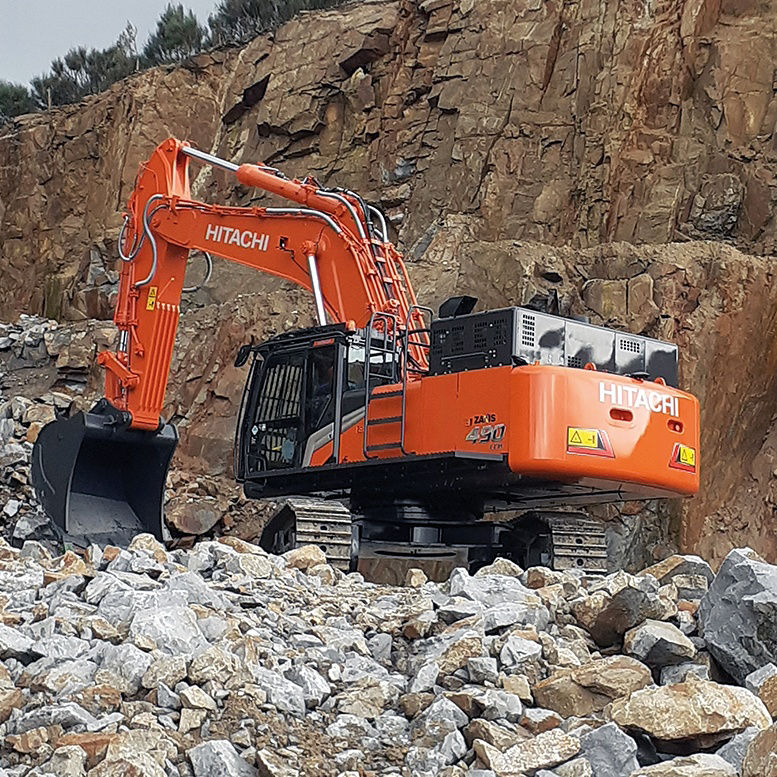 Zaxis-7 joins demolition project in Germany
J.H. Laarakkers Rückbau und Recycling GmbH, headquartered in Rheinberg, Germany, relies on the strength of Hitachi machines for its demolition projects. It currently has seven Hitachi machines from 25 to 70 tonnes in its fleet, and the latest addition is a ZX490-7.
Delivered by local dealer Kiesel West, the new Zaxis-7 model was assigned with the rest of the Hitachi fleet to the company's biggest ever project. Some former fashion houses in Düsseldorf-Stockum were being transformed into a modern residential and commercial area. Laarakkers was responsible for 280,000m3 of demolition work and 60,000m3 of earthworks.
A symbolic handover of the keys took place after the machine was delivered with Managing Director Marcel Laarakkers, long-standing Specialist Advisor Siegfried Marmulla and Kiesel West Sales Specialist Waldemar Horch.
"The Laarakkers brothers don't buy machines straight off the production line," says Siegfried. "The new ZX690-7 is no different. Kiesel engineers have implemented some application-related requirements to the machine, including strengthened glass, and two proportionally controlled pedals for opening and closing the cutter attachment. This makes it the perfect demolition excavator."
Portuguese quarries welcome Zaxis-7 large excavators
The ZX490LCH-7 is already proving popular among quarrying companies in Portugal. Four customers of local dealer Moviter have invested in the new model, including Windpark, Lda, owned by the IGE Group. It is the company's first Hitachi excavator and Windpark General Manager Nelson Simões says: "We considered the total cost of ownership, compared to other machines, and the Hitachi excavator got the best numbers. After assessing our relationship with Moviter and the quality of the after-sales service, it was an easy decision."
Another ZX490LCH-7 is working at a quarry owned by Agrepor in Canas de Senhorim, as part of a contract won by Socitop, Lda. "We wanted an excavator to work long hours, without stopping," says Abel Torres, Socitop's CEO. "We needed a strong and reliable machine, and also a high level of versatility. The ZX490LCH-7 is an excavator with Hitachi quality and excellent value."
In Porto de Mós, Leiria, Garcogel has four quarries and specialises in the extraction of marble and limestone blocks. "In our region, there are several Hitachi ZX490 excavators. Our friends said it is a good machine, mentioning the good fuel consumption and overall productivity," says Garcia Anastácio, founder and CEO of Garcogel. "We have found that the hydraulics are spectacular. The machine is fast, extremely precise and easy to work with."
Adelino Ferreira, CEO of Brivel S.A., believes the new ZX490LCH-7 is an important asset to the company. "Our operators are delighted – the visibility, controls and feeling inside the cab are excellent. It's quick and easy to change the attachments. The maintenance is also convenient and easy. The power and speed live up to the Hitachi name. With the support of Moviter, we believe we chose the best solution."