HCME celebrates achievements with dealer awards ceremony
Hitachi Construction Machinery (Europe) NV (HCME) hosted a prestigious awards ceremony for members of its European dealer network in Madrid on 26 October. The theme for the occasion was 'Partner to accelerate change' in recognition of the manufacturer's aim to work closely with dealers to lead the way in the construction industry. A total of nine awards were presented during the evening at the Azotea of Círculo de Bellas Artes, one of the most important private cultural centres in Europe.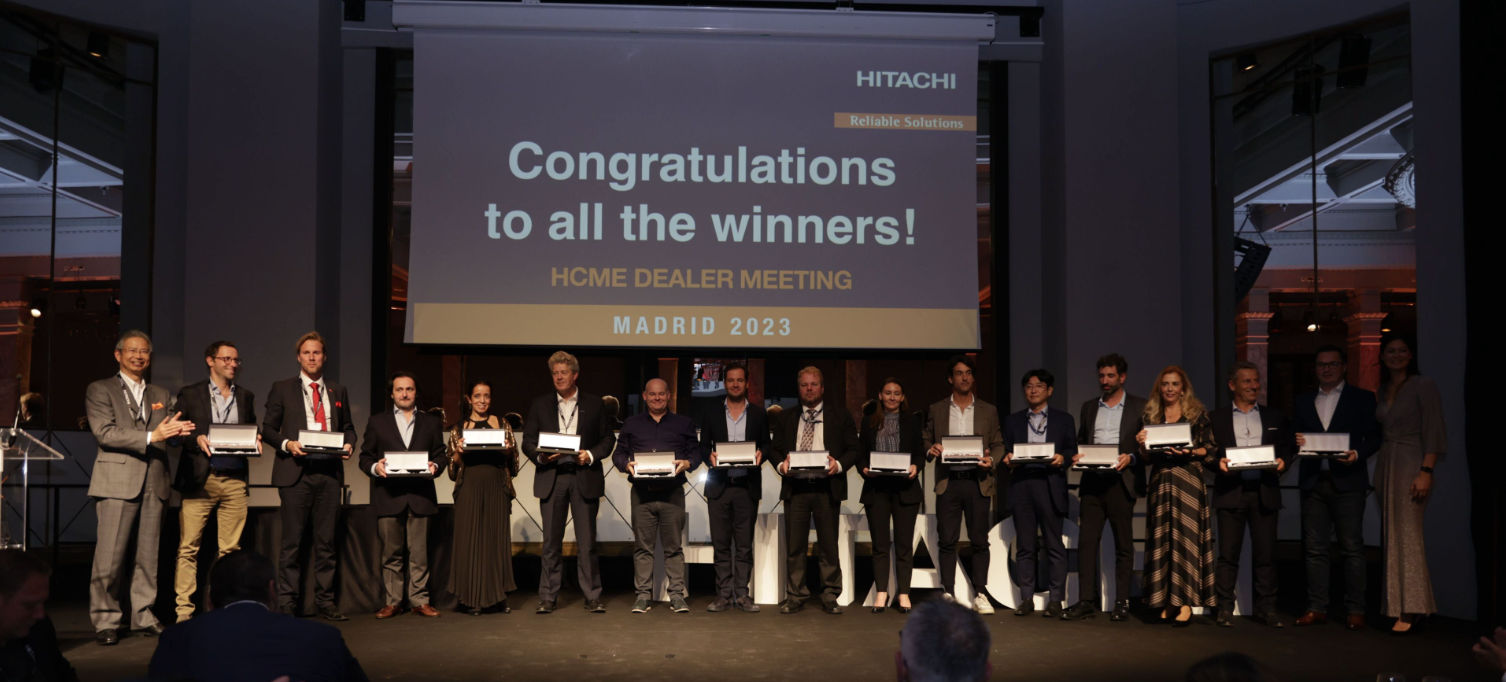 Celebrating Hitachi dealers
The sales performance of dealers was highlighted to celebrate increases in market share in various machine categories and improvements in market position in each territory. Winners of the 'Dealer Performance Award' included Hitachi Construction Machinery (UK) for mini excavators, Nasta (Norway) for crawler excavators, HJM (Spain) for wheeled excavators and Moviter (Portugal) for wheel loaders. Utirom Invest Srl from Romania won the Dealer Performance Award for Eastern Europe.
Recognising success across Europe
There were further accolades for those who have increased customer usage of the remote monitoring system, ConSite, with Moviter receiving its second award of the evening. Additional awards were presented to dealers excelling in the provision of parts and rental equipment. Rotator from Finland picked up the Parts Excellence Award, rewarded for significantly increasing sales in the mining sector this year. And Velafl collected the Rent2Rent Award in recognition of its success in rolling out the Hitachi Premium Rental programme in Iceland.
A warm Spanish welcome
Awards for long-term partnerships were also presented to companies celebrating special anniversaries as HCME dealers this year: Probst Maveg and Rotator celebrating 40 years; Moviter for 30 years; and HJM, Kiesel, Prowimat and SCAI each for 20 years.
Commenting in advance of the event, HJM CEO Juan Rodriguez Alvarez said: "We feel proud that HCME has chosen us to host this event in our beautiful capital city. We look forward to giving representatives of the HCME dealer network a warm Spanish welcome."
HCME President Takaharu Ikeda added: "This is our second annual dealer awards. We believe it's important to recognise the loyalty and expertise of our partners in Europe, and the role they play in providing our customers with outstanding service and support. Congratulations to all the award nominees and winners, and thank you to everyone who joined us in Madrid to celebrate our achievements together."