Three key themes toward Environmental Value Creation
GHG Emission Reduction
Resource Circulation
Biodiversity
GHG Emission Reduction
The Hitachi Construction Machinery Group identified "Product and technology development contributing to Climate Change Mitigation and Adaptation" as one of our materialities. We are working to reduce CO2 emissions in both product development and production processes with the aim of achieving carbon neutrality throughout the entire value chain by 2050.
We set GHG emission reduction targets by FY 2030 as blow.
GHG emissions reduction from products by 33% from the FY2010 level by FY2030.
GHG emissions reduction from production by 45% from the FY2010 level by FY2030.
Roadmap for the Development of Environmentally Conscious Products by FY2030

Electrification Initiatives
Electrification of mining dump trucks
Major mining customers have set a goal of achieving net-zero emissions by 2050. As part of this effort, there is a particularly strong demand to reduce the emissions of dump trucks, of which there are a large number, to zero. To meet this demand, we are working with ABB of Switzerland to make our dump trucks fully electric, and aiming to achieve net zero emissions for the entire mining site. By replacing the engine of our current trolley-type dump trucks, which can run on electric power, with a battery, we will be able to use both the trolley electric supply and battery electric supply to achieve a fully electric machine. When our EH3500AC-3 rigid dump truck is fully electric, operating 20 hours a day will result in a reduction of 6.8 tons of CO2 emissions.
GHG reduction in production process
We are promoting reduction of CO2 emissions from the perspective of energy conservation, conversion to renewable energy (in-house power generation through capital investment, introduction of renewable energy electricity), electrification, and fuel conversion.
To further encourage investments in energy saving facilities and reduce CO2 emissions from production (Scope 1 & 2) by 45% compared to FY 2010 by FY 2030, we have been implementing an internal carbon pricing (ICP) framework since 2019. ICP, which was initially set at 5,000 yen, has been raised to 14,000 yen per ton in 2021 to adapt the increase of importance of facilities with low CO2 emissions and the introduction of carbon prices in the future. By introducing an energy visualization system and a solar power generation system, we invested in energy conservation and decarbonization, and were able to reduce CO2 emissions by 27.1% in FY2021.
In order to carry out continuous improvement in environmental performance, Hitachi Construction Machinery Group constructed its own aggregation system which visualizes our companies' environmental footprint, and we manage our environmental impacts monthly. In the five plants in Ibaraki Prefecture, we have introduced the integrated energy & equipment management service utilizing advanced IoT technology from Hitachi, Ltd. to engage in initiatives such as power saving in production facilities and saving electricity in offices to lower peak electricity usage and reduce standby power consumption based on visualized data of power consumption and standby power usage. Such efforts received recognition in the form of the FY2018 "Prize of the Chairman of ECCJ" awarded by The Energy Conservation Center, Japan.
Since April 2021, we have been using "Hitachi Construction Machinery Energy Control System" to continuously reduce energy consumption at production bases.
Ongoing Initiatives
Electric machinery drive components are currently still expensive with major hurdles to cross in order to bring these to prices acceptable for customers, but there is still a need to expand the product line-up in readiness for a rapid expansion in the market. If future advances in cost-competitive electric drive component technologies in conjunction with the move to electric cars and trucks can be achieved, this will let us offer a wide range of electric products from mini- through to ultra-large excavators and loaders, allowing the group to fully demonstrate its strengths. At our production plants, we are working to improve the efficiency of production process and reduce CO2 emissions by introducing solar power generation systems, power visualization systems, cogeneration systems, and other energy-saving equipment.
Endorsement of Initiatives
As an official member of the Japan Construction Equipment Manufacturers Association (CEMA), Hitachi Construction Machinery agrees with the "Low-Carbon Society Action Plan" for the construction machinery industry proposed by the CEMA. In order to achieve it, we take part in the Energy-saving Technology Sub-committee and the Manufacturing Energy-saving Measures Sub-committee in the Engineering Manufacturing Committee, propose measures and hold exchanges of opinions regarding climate change. We work on climate change measures in line with the policy of "Low-Carbon Society Action Plan" by the CEMA.
Resource Recycling
The Hitachi Construction Machinery Group aims to shift to a resource recycling business through value chain businesses that contribute to circular economy.
One of the Group's materialities is to shift to a resource-recycling business. The unsustainable business model of mining, using, and then disposing of resources will eventually reach its limits. The Hitachi Construction Machinery Group contributes to resource recycling through its value-chain business, which consists of businesses such as remanufacturing, used equipment, rentals, and service.
The Hitachi Construction Machinery Group is promoting waste reduction (including hazardous waste) from its business activities. We are actively promoting 4R (Reduce, Reuse, Recycle, Renewable) activities mainly at our production sites. Through efforts to use resources effectively, we avoid or minimize the use of raw material resources extracted from nature, actively use recycled materials, and reuse products and parts.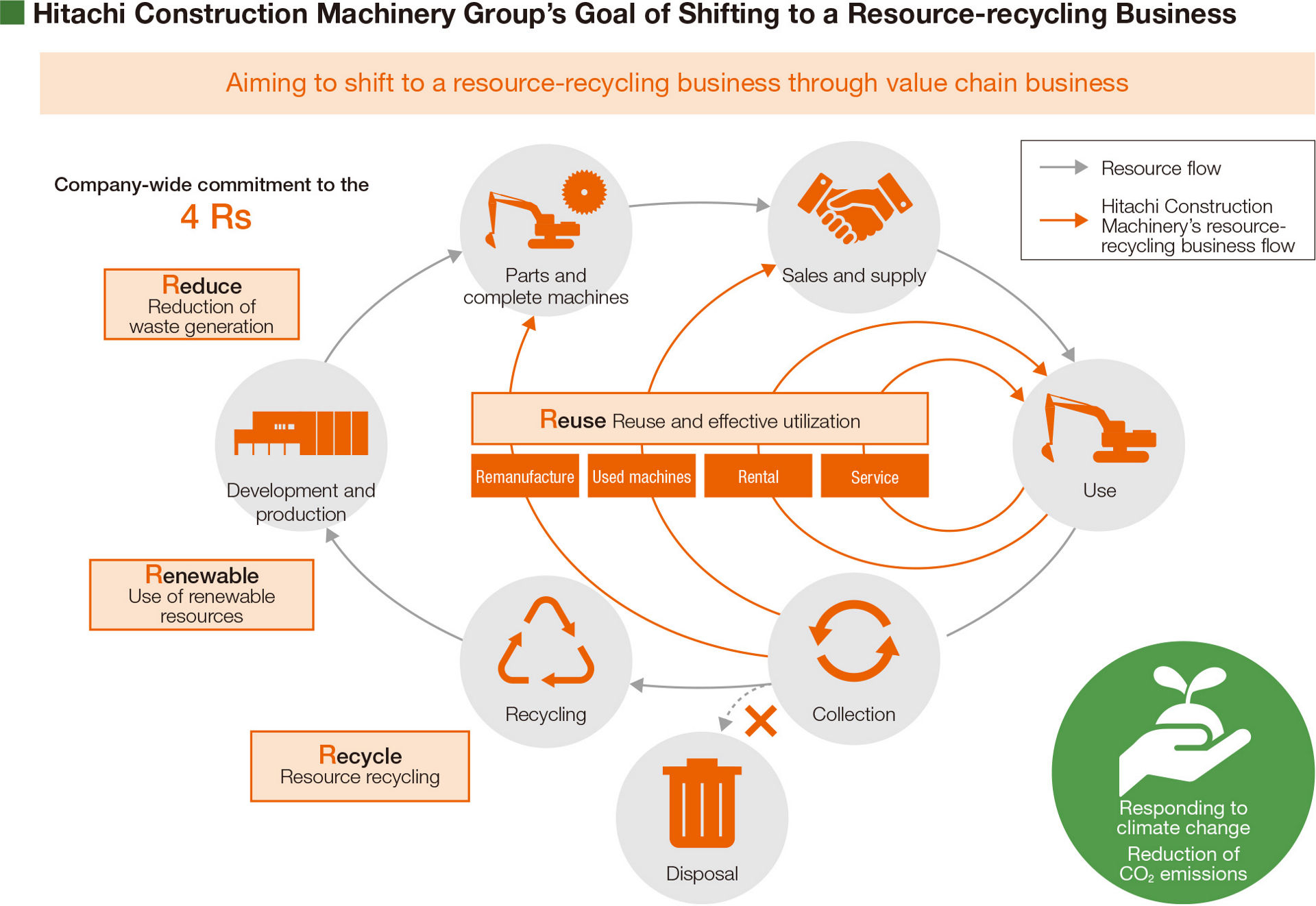 With regard to the effective use of water resources, we are recycling water and reducing the amount of water used overall in our business activities (including fresh water). To reduce water use, we are working to optimize robotization and coating conditions. We also implement water conservation measures such as extending the service life of water used in painting facility and expanding the use of circulating water.
Hitachi Construction Machinery products and services that realize resource circulation
Parts Remanufacturing Business
Because construction machinery is operated for long hours in a variety of environments, the time it takes to replace or repair parts greatly affects the productivity of customers' work sites. Hitachi Construction Machinery has operated a global business of remanufacturing parts such as hydraulic pumps, hydraulic cylinders, and travel device since 1998.
we manufacture refurbished parts that guarantee the same functionality and performance as new parts. Parts collected from customers are disassembled, serviced, and inspected, and consumable parts are replaced as needed. Advanced remanufacturing technologies can help reduce resource inputs by extending the life of components. In addition, we utilize our accumulated expertise to recondition discarded aircraft so that they are again the equivalent of new machines, which are then sold as used machines. This reduces the use of new materials and contributes to a new resource-recycling business model. Hitachi Construction Machinery Zambia is refurbishing ultra-large hydraulic excavators (EX1200) to make them as good as new. In addition, they are also working to remanufacture them as high-value products that reflect even minor changes in the product.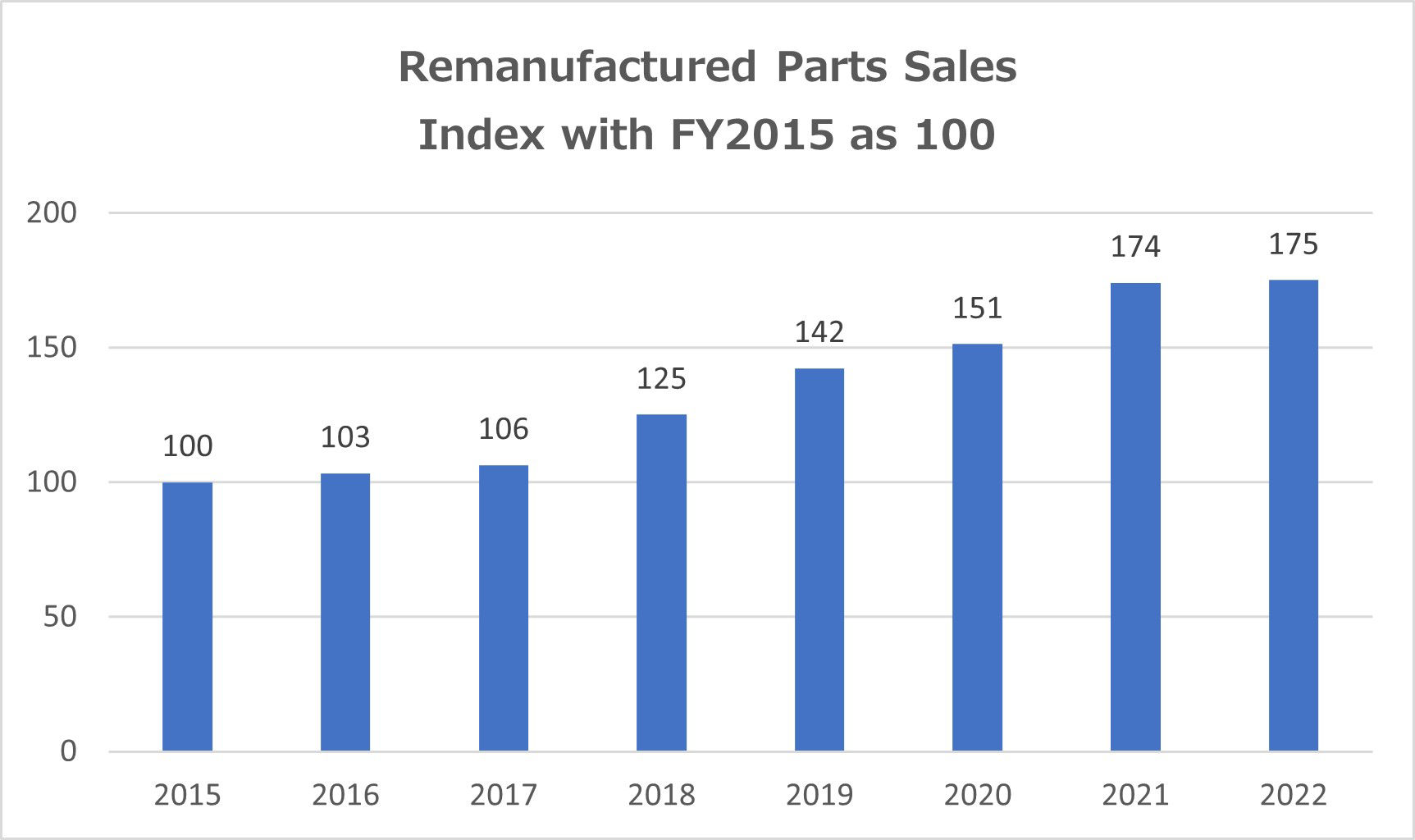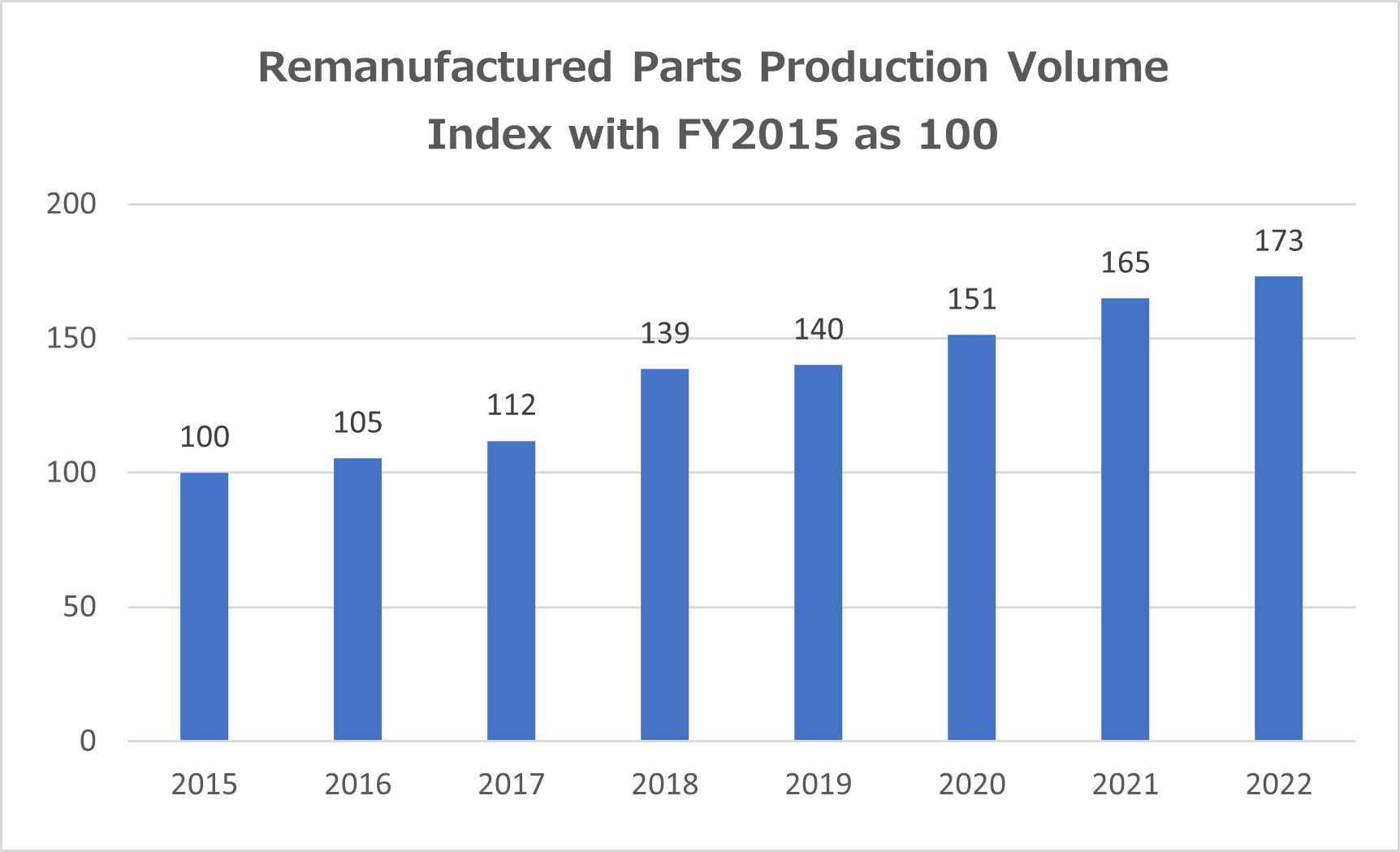 Total Range: Hitachi Construction Machinery Group
Remanufactured Parts Production Volume: Number of remanufactured part units produced
Rental and used equipment business
Hitachi Construction Machinery provides advanced maintenance services through ConSite during the usage period of PREMIUM RENTAL machines that are certified by Hitachi Construction Machinery. We extend the operational life of the machines and distribute them to emerging countries as PREMIUM USED, high-quality used machines with a manufacturer's warranty. This contributes to reducing the number of discarded machines.
Parts and service business
Through the ConSite menu, we are working to extend the service life of machinery through appropriate maintenance using IoT. At the same time, we monitor the operation of each machine and make proposals to reduce fuel consumption through work improvement proposals, thereby contributing to the reduction of CO2.
Support for Product Retrofitting
Hitachi Construction Machinery endeavors to develop products that can improve the performance of machinery by adding systems and equipment to delivered machinery, contributing to the reduction of customers' lifecycle costs and saving of resources.
For example, the EH AC-3 Series of rigid dump trucks can be retrofitted as "AHS-specification machinery" essential for automation in mine operation by adding the systems required for the mining dump truck autonomous haulage system (AHS) currently under development.
Furthermore, the ICT hydraulic excavator ZX200X-6, at the core of the ICT construction solution can be easily upgraded to 3D (three-dimensional) specification utilizing positional data from a satellite by installing additional equipment dedicated to 3D system, even if the customer is using a 2D specification machine.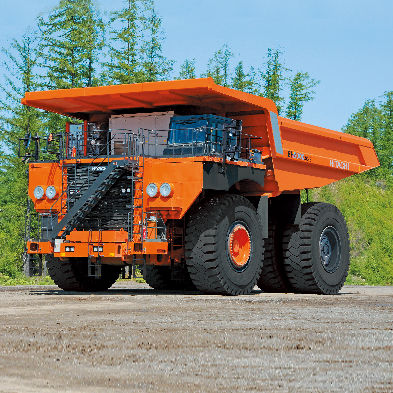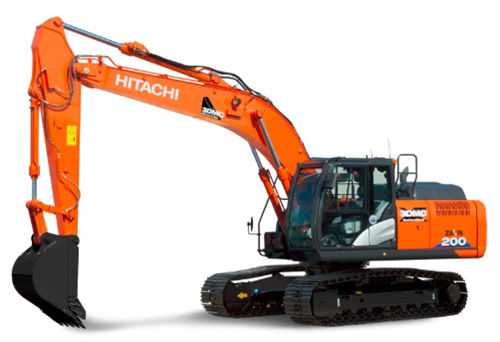 Response to Water Risks
Water is an important resource, and the amount and quality of water that can be used varies from region to region.
In order to identify regions where there is a high-water stress level during business activities, the Hitachi Construction Machinery Group uses the AQUEDUCT tool released by the World Resources Institute, Water Risk Filter toll by World Wildlife Fund and local data to quantify the water stress level at all their production facilities both domestic and international, and identify regions of high water stress. Of the 21 facilities, two sites in Indonesia and China are in areas with high water stress.
Initiatives for effective use of water resources
Ongoing Initiatives
Regarding resource recycling, we announced that the company has decided to consolidate the domestic remanufacturing operations at Banshu Works (Kako, Hyogo Prefecture) which had been dispersed to Tsuchiura Works (Tsuchiura City, Ibaraki Prefecture) and Hitachinaka Works (Hitachinaka City, Ibaraki Prefecture) from fiscal 2024 to expand and develop the remanufacturing business on a global scale in the future. This consolidation of remanufacturing operations will allow us to utilize the facilities and space in two current remanufacturing plants to further increase the production capacity of new machinery and components.
As our initiatives to water resource, in order to recycle water, we will directly support leakage measures and recycle rate improvements with a focus on companies with especially high levels of water usage.
Biodiversity
Aiming for a "Harmonized Society with Nature," the Hitachi Construction Machinery Group are committed to preserve the ecosystem in the Hitachi Action Guidelines for Environmental Conservation.
Corporations are completely dependent on bounty and services provided by ecosystems, such as supplies of paper and water, as well as adjustments in quality and amounts of air, water and earth. At Hitachi Construction Machinery Group, we believe that we can contribute to ecosystem preservation from the dual angles of "business" and "contributions to community nature conservation activities" for the preservation and restoration of these ecosystem services. In more detail, this refers to business contributions such as promoting design and manufacturing process improvements that reduce the burden on the ecosystem posed by the product across its lifecycle (raw material procurement, manufacturing, transport, use, collection/recycling and appropriate processing). At the same time, we provide products and services that contribute directly to ecosystem preservation, such as water and air purifiers. We consider chemical substance management to be a part of ecosystem conservation, and are continuing our efforts in appropriate management. Our contributions to community nature conservation activities include promoting activities that link to ecosystem preservation such as afforestation and ecological surveys of rare species as part of employee volunteering.
Relationship between ecosystem and business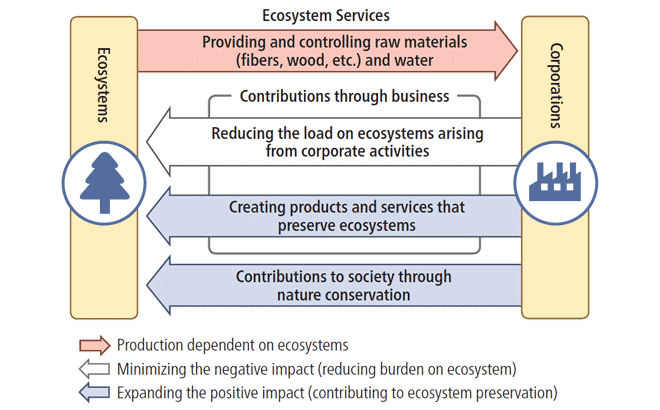 Initiatives to realize biodiversity protection
At the Second Part of the Conference of the Parties to the Convention on Biological Diversity (COP15) held in December 2022, global goals regarding biodiversity were adopted. The "30 by 30 target'' has been set to conserve at least 30% of land and sea by 2030, and companies are required to assess the impact of their business and promote information disclosure.
Since FY2011, the Hitachi Construction Machinery Group has been introducing its employees to our point of view regarding how our corporate activities are related to the ecosystem, as well as international trends and case studies from those initiatives, based on the "Hitachi Group Ecosystems Preservation Guideline." To further deepen our employees' awareness, we have been making attempts with the Hitachi Group's "Ecosystem Preservation Assessment for Business" since FY2012 to assess our efforts regarding the entire range of business activities. In FY 2015, this evaluation was fully carried out on major production locations subject to consolidation. This gained and awareness of relationships with ecosystems throughout the entirety of a life cycle, ascertained the present situation, and specified issues. Furthermore, of the approximately 400 activities currently underway, 63 have been deemed to require improvement.
A representative example of ecosystem conservation activities is the afforestation of the Horqin desert, which was carried out by Hitachi Construction Machinery (Shanghai) for a 10-year period since 2005. Aiming for the restoration of habitats that have been destroyed and turned to desert due to over-grazing etc. and protection of weak ecosystems, a 100,000m2 desert belt within the Horqin desert of China's autonomous Inner Mongolia region has been designated as an "Hitachi Construction Machinery Carbon Offset Forest" and afforested, which has contributed greatly to greening. 26 of our partner dealers are participating in our new plan for the next 10 years which commenced in 2015 for the first time, and afforestation of a desert belt of 130,000m2 has begun.
Through this initiative, we were able to protect the trees planted in desert areas from illegal logging and wild animals, and successfully allowed them to grow larger. Progress in greening has reduced wind and dust damage, leading to environmental improvements. Additionally, by asking people from nearby villages to take care of the trees, they also contributed to the creation of continuous employment. We will continue to promote this as one of the Hitachi Construction Machinery Group's contribution measures to biodiversity conservation.
The Hitachi Construction Machinery Group has considered important guidelines*1 in totality on the basis of this assessment, and has formulated the "Ecosystem Conservation Activities and Initiatives List". The implementation status of initiatives, and targets have been clearly specified on the basis of the "Ecosystem Conservation Activities and Initiatives List", and we are aiming for further progress.
*1 The Ministry of the Environment's "Guidelines for Private Sector Engagement in Biodiversity," JBIB's "Guidelines for Offices Promoting Coexistence with Living Creatures," JBIB's "Guidelines for Raw Materials Procurement for Businesses that Consider Biodiversity," JBIB's "Guidelines for Forest Creation for Coexistence," etc.
Responding to the four biodiversity crises
Biodiversity is faced with four types of crisis. We are providing support through our products and through employee participation in order for the HCM Group to respond to these crises.
As a response to the first crisis in particular, we are committed to greening the Horqin desert. The company began the first 10 -year plan for assistance in 2005.
In addition, the second 10 -year plan that began in 2015 has agreement from 26 dealer companies in which greening activities are undertaken in collaboration with each other.
No.1 Crisis
(Crisis caused by human activities and development)
Reduction / extinction of habitats brought about from development and overfishing

Greening activities for "HCM Forests" in the Horqin desert
No.2 Crisis
(Crisis caused by the reduction of lobbying for nature)
Reduction in the quality of nature due to lack of care for local areas and mountains
Left: Forest maintenance support through forestry machinery products / Right: Conservation in local mountainous areas by company volunteers for the "Abundant Acorns of the Forest" project
No.3 Crisis
(Crisis caused through items being brought in by humans)
Disturbances of ecosystems by bringing in foreign species
Removal of foreign species such as black bass etc.
No.4 Crisis
(Crises due to changes in the global environment)
Crises caused by global warming

Promotion of the distribution of energy-saving products
※ Excerpted from "The Approaching Crisis to Biodiversity" on the Biodiversity Center of Japan website
Conservation of the natural environment at test site
Since its establishment in 1992, Hitachi Construction Machinery Urahoro Test Site in Hokkaido has played an important role to provide safe, secure, and high-quality products to customers while preserving the greenery and nature of the region's unique Quercus oak forest and humid broad-leaved forest. At the testing site, we carry out forest conservation activities based on long-term plans. When conducting business activities, we conduct natural environment surveys to minimize the impact on the on-site ecosystem. A variety of plants and animals grow in the vast forest of Urahoro Test Site. In order to grasp and protect these ecosystems, we conduct surveys of birds, plants, and benthic animals every time we carry out forest development work.
Additionally, we hold an Eco School every year for local elementary school students, with the aim of helping them rediscover the wonders of Urahoro's natural environment and the meaning of nature conservation activities.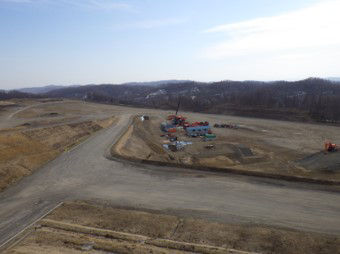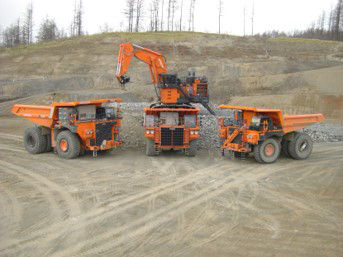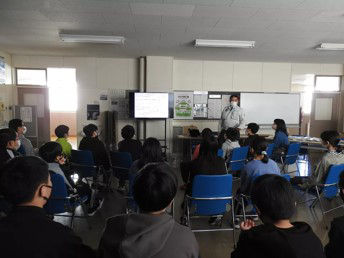 Conservation of Lake Biwa
Hitachi Construction Machinery Tierra, located in Shiga Prefecture, supports the Mother Lake Goals (MLGs), which are goals for a sustainable society in 2030 with Lake Biwa, and is conducting various activities to preserve Lake Biwa. They hold Lake Biwa seminars for executives and environmental managers to learn important things about protecting and utilizing Lake Biwa, they also carry out clean-up around lakes and rivers, exterminate invasive species, and engage in activities as rice field owners.
Corporate Ecosystem Services Review (ESR)
In order to investigate the degree of dependency and influence on the ecosystem for each business, we use the "Corporate Ecosystem Services Review (ESR)*2" from the WBCSD (World Business Council for Sustainable Development) to conduct supply chain-wide assessment to quantify the dependency and influence on the ecosystem across seven business areas categorized according to the construction machinery usage such as demolition work, dredging work, and forestry. We use the results of the assessment in assigning priority to our ecosystem preservation initiatives.
*2 ESR stands for Corporate Ecosystem Services Review. This is an ecosystem service assessment for corporations that promotes an understanding of how corporate activities depend on and impact ecosystems with respect to "supply services," such as forests, water, genetic resources, and "regulatory services," such as atmospheric regulation, climate regulation etc., based on defining benefits from nature as "ecosystem services." Management of business risk and opportunities is conducted based on this assessment which is a systematic methodology enabling future strategy formulation.