Simulation Technology to Achieve Smart Product Development
---
Construction machinery is used for high-load work in a variety of environments around the world.
At Hitachi Construction Machinery, we have enabled quick and accurate evaluation in product development by integrating technologies for experimenting on prototypes of construction machinery with our simulation technology.
We will promptly provide customers with products featuring improved safety, durability and other properties, and enhanced performance.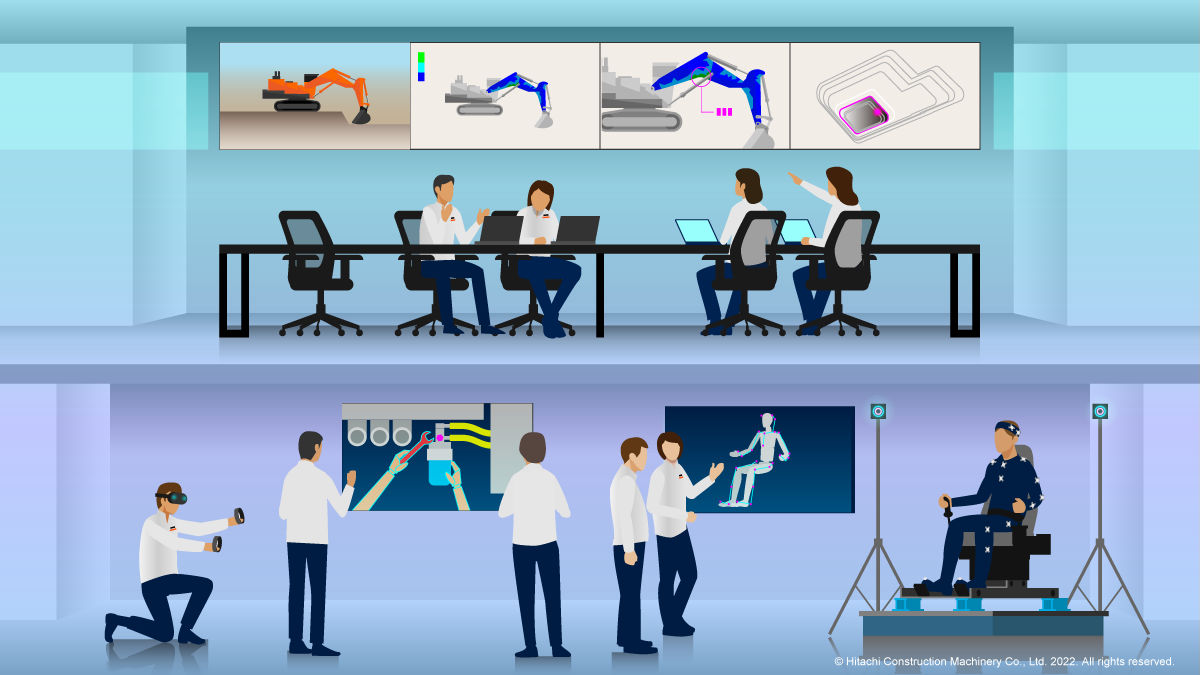 Strength Analysis Using FEM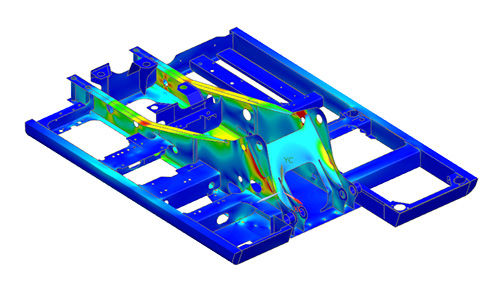 At Hitachi Construction Machinery, we have been utilizing strength analysis based on the Finite Element Method (FEM) for many years in our product development.
Rapid advancements in strength analysis technology mean it is now possible to perform more detailed and larger scale simulations.
We perform evaluations not only on standalone components, but also on multiple components assembled together, and this helps to improve the reliability of products.
The applications of FEM are also expanding to other fields, such as multi physics simulation, which analyzes two different physical phenomena based on their mutual interaction.
Figure. Strength analysis on the frame of the upper structure of a hydraulic excavator (evaluation of standalone component)
When conducting analysis with components assembled together, deformation may cause the gaps between components to disappear when a loaded, and this can cause the components to come into contact. Conducting simulations that including such contact requires special settings to fully reproduce its behavior, which increases the scale of analysis. We adopt High Performance Computing (HPC) technologies to enable such high-precision, high-speed analysis, and thereby contribute to the reduction of product development period.
Figure. Strength analysis on a planetary reduction gear (evaluation of assembled state)
We focus on analysis that uses digital twin technology to recreate real phenomena in cyberspace. In addition to using this technology in product development, we also use it to recreate the movements and loads placed on machinery in cyberspace based on operation data received from the machinery of our customers. This can help to  propose an appropriate maintenance schedule of machinery. By utilizing the analysis technology used in product development in our service business, we contribute to reducing lifecycle costs such as fuel consumption and maintenance.
Figure. Digital twin of ultra-large hydraulic excavator
Vibration Analysis Technology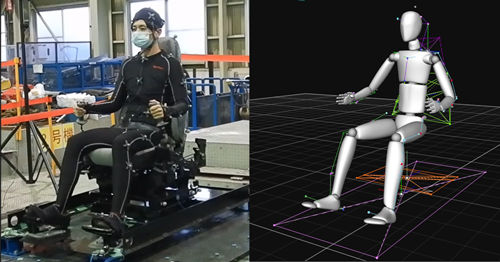 In order to improve operability and provide comfortable rides in various environments, we build technologies for analyzing vibration phenomena, and utilize those technologies in our product development process.
Adopting motion capture and motion analysis enables us to further improve technologies for analyzing the large displacement motion on the operator that is unique to construction machinery.
Figure. Human behavioral analysis via motion capture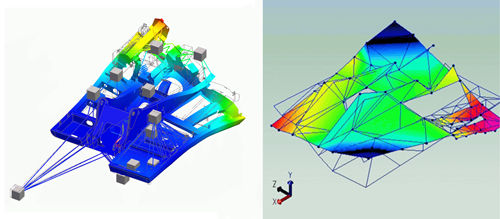 In recent years, rapid computerization of construction machinery including ICT construction machinery has led to a diverse array of electronic devices being installed in vehicles. We utilize the vibration-resistant design technologies we have developed up until now to ensure vibration resistance and further improve the durability of such devices.
Figure. Vibration analysis on the frame of the upper structure of a hydraulic excavator
Left: Simulation results; Right: Actual measurement results
Ambient Noise Analysis Technology

Noise levels of construction machinery are subject to regulation, and in order to respond to such requirements, we perform analysis on the level of noise radiated by construction machinery and conduct evaluation prior to the development phase.
We also adopt noise visualization via the beam forming method as one method for measuring noise. Comparing the results of analyzing the sound pressure distribution around the vehicle with the results of actual measurement and analysis enables us to make more accurate evaluations.
Figure. Visualization of noise around a vehicle
Left: Simulation results; Right: Measurement results via beam forming method
Thermal Fluid Simulation Technology
The engine room of construction machinery reaches high temperatures due to the heat emitted during engine operation. That is why it is necessary to use cooling fans to lower the temperature of the heat exchanger and engine room via the intake of air. At Hitachi Construction Machinery, we perform thermal fluid simulation to confirm that sufficient air is being supplied into the heat exchanger and flowing to the required locations of the engine room.
Because cooling fans stop when the engine is stopped, the temperature of the engine room can continue rising, which may cause instruments to exceed their allowable temperature. We evaluate such phenomena in advance and use the information gained to make improvements in the position and size of air inlets.
Figure. Engine room cooling air simulation
Utilizing Virtual Reality (VR) Technology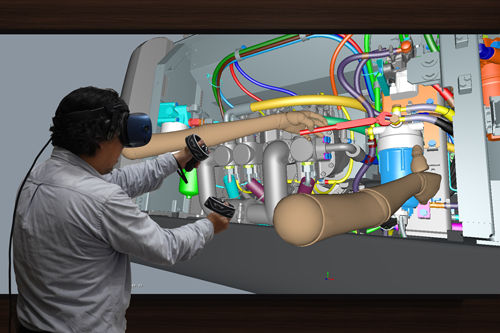 We use VR technology to conduct prior check on the assembly and maintenance of construction machinery at the development and design stage. This enables us to evaluate the ease of maintenance and component removal using full-scale tools in cyberspace. We will continue to adopt VR technology to develop and provide customers and service technicians with comfortable machinery that reduces fatigue when conducting maintenance.
Figure. Using VR technology to evaluate ease of maintenance