DX For Al
Developing Next-generation Systems From the Customer's Perspective
DX (digital transformation) has been a hot subject for quite a while.
But what is DX with real value, beyond just moving operation processes to IT? Through exhaustive debate, the DX Promotion Group of Hitachi Construction Machinery reached a revolution built on common ground with the customer.
In this issue, we present a round-table talk between the team members leading Hitachi Construction Machinery's DX efforts, with specific examples of their DX actions.
Text by Toshiaki Saito / Photographs by Norio Sekine / Illustrations by Joe Okada

The "DX-CONSULTING" sales support application is a successful example of Hitachi Construction Machinery's DX strategy.
It's an app that enables a quick approach to solving the customers' challenges, such as applying customer data and linking with inventory management.
In its development process, we set a shared vision for DX promotion, and practiced agile development.
We went behind the scenes of the development work behind this success.
Hitachi Construction Machinery
Global Sales Division Planning Department
Assistant department manager
Junji Fukagawa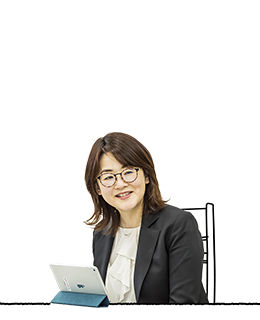 Hitachi Construction Machinery
DX Promotion Group DX Transformation Division
DX Application Strategy Department Application Promotion Group
Assistant manager
Takako Shinooka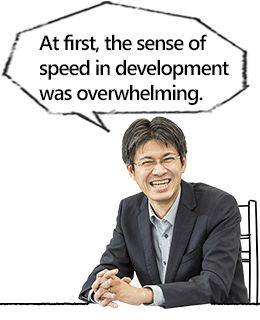 Hitachi Construction Machinery
DX Promotion Group DX Transformation Division
DX Application Strategy Department Application Promotion Group
Assistant manager
Naoki Tamukai
Hitachi Construction Machinery
DX Promotion Group DX Transformation Division
DX Application Strategy Department
Department manager
Norio Hisatomi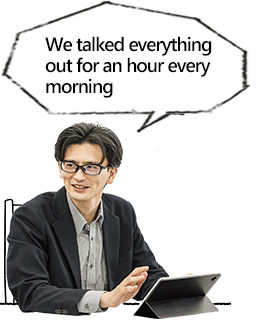 Hitachi Construction Machinery Japan
Marketing Strategy Division
Assistant department manager
Satoshi Abe
DX is just the means. What we ultimately aimed for is solutions for the customers' challenges.
What was the background to the formation of the DX Promotion Group, and what did you work on first?
Hisatomi Our management strategy is to deepen our value chain outside the sale of new machines, and to use digital technologies to help our customers to solve their problems.
In that context, the DX Promotion Group was established as the organization to lead DX throughout the company, and to promote DX together with business divisions.
The business divisions and IT Division come together to work on DX based on the approach of CIF (Customer Interest First), which prioritizes solving customers' challenges.
We started from discussion of how we could transform contacts with customers.
We did that because, from headquarters, we can't see the customers' faces, so discussions tend to become abstract.
Abe We advanced the discussion with measures such as collecting questionnaires from a few tens of employees.
At first the discussion among the members was along the lines of "For us, DX probably means using digital techniques to improve our business operations to a state which other companies cannot mimic".
Hisatomi Before customer contact transformation, we were basically on "what is DX?" We started from zero and didn't know what we should be doing, so our discussion of DX also devolved into the abstract, with no customers in front of us.
Without understanding DX itself, we were struggling to set targets.
We incorporated the Design Thinking approach of seeing things from the other person's perspective and empathizing with them, and I remember that our discussions became very lengthy.
Abe The discussion became heated, and after a while Mr. Fukagawa joined us when we were about to determine the specific themes and verify their value.
Mr. Fukagawa, who is a specialist in field work, made a lot of suggestions based on how sales staff do their work. The discussion certainly leapt forward after Mr. Fukagawa joined the team.
Fukagawa I worked in sales for 14 years, so I was always talking directly with customers.
When I joined the team and had to put that experience into words, a lot of new ideas occurred to me.
We worked through that kind of discussion to move onto the development of DX-CONSULTING.
Hisatomi Talking with members of the Sales Division, not just from the IT Division, was very important, because it gave us a shared world view that led to common objectives.
Ms. Sasaoka and Mr. Tamukai, who handled system development, joined the team as we were deepening the discussion, but how did our work look to you then?
Tamukai In the position of developers, our mindset is always going to be on the manufacturing side, but in this project we started from the keyword of customer contact transformation, so I think we were able to address the job with the attitude of considering the company as a whole.
Shinooka I was in charge of the production management system, so I was also far away from the customers, and in some areas I was like an onlooker, thinking that if we made something good, the sales and headquarters people would be able to sell it.
Therefore, I got face to face with DX and CIF for the first time in this team.
My first impression when I joined the team was that the time spent in conversation was overwhelmingly long.
Because the talk time was so long, it brought the members closer together, and we were able to gain a deeper understanding of the client contact transformation approach, and of the world view of "for the client" that Mr. Fukagawa had experienced for so long in the field.
Tamukai This team went beyond departments to bring together members with outstanding individual skills.
Rather than pulling closer to their own specialist fields, the members worked on the basis of making an app that would realize the principle of client contact transformation, offering opinions that used their own specialties.
I think that led to good monozukuri.
Abe Looking at it a different way, the lengthy discussions meant that it was an environment that allowed flowing conversation.
In practice, we could offer opinions that were just ideas, and bring in ideas that seemed off base at first sight.
That's how we were able to find good points of compromise.
I think that, as a result, that kind of environment contributed to the speed of agile development.
Shinooka Mr. Fukagawa always backed what I said, saying "that's certainly true", and never opposed me.
Having such an environment, which made it easy for us to state our views, made the conversations much more lively.
Fukagawa Mr. Hisatomi taught me the trick of not opposing people's views.
Even so, I've met Ms. Shinooka and Mr. Tamukai online over 150 times, but this is the first time we've met in person.
Hisatomi In particular, the two developers joined after the project had been running about a year, so even though I never met them in the real world, the way we all united so well was very moving.
Maybe that's an example of DX success right there.
But the two developers came in after a lot of the decisions had already been made, so maybe they were under more pressure than we were.
Shinooka When I first joined, the target date for development completion in October 2021 was only half a year ahead, so I honestly thought it was really harsh…
That's what I felt, so I prepared some documents and grounds for explanation, so the others would understand the difficulty.
Mr. Fukagawa took the Hitachi Construction Machinery position in making adjustments within the company, and we reorganized towards meeting the development completion target.
When I requested people with certain skills, he found Mr. Hisatomi and Mr. Abe, so we were able to finish development with a satisfactory result.
Abe I think if we'd worked with an old-fashioned waterfall development approach, not using any advanced IT like smartphones or the Cloud, we would have made the October target.
But on this occasion we went crazy for all kinds of things, like wanting to use agile development, make it easier to use the Cloud, work on the design to make more legible, and so on.
With all that, I think it was really tough on the two developers.
Please tell us about the advantages of DX-CONSULTING, its impact after it started operating, and its prospects for the future.
Fukagawa DX-CONSULTING delivers quick responses when the sales staff ask it questions.
If they use that, the sales staff can make proposals which fit each individual client, while leading the conversation to generate strong relationships of trust.
We think that makes closer bonds between sales staff and clients, and is also effective in differentiating us from other companies.
On the other hand, using DX-CONSULTING makes it easier to pass on knowledge and experience that are tough to convey, so we expect it to be useful in educating and nurturing young staff.
Before the start of operation, we envisaged it mainly being used by young and mid-career staff.
In practice, we were delighted to find that many veteran staff also welcomed it.
Apparently about 30 years ago the company had this document called "The Sales Record Sheet", which was like a book of secrets.
Some people told us that the things written there and the support from DX-CONSULTING were much the same.
Shinooka I think it was good that we kept it simple enough and easy to use, without trying to pack in too much information.
Tamukai I'm surprised it has such a good reputation.
Many systems are developed but never get used, so I'm glad so many sales staff use it.
For this project, the impact of Covid-19 obliged us to telework, so we didn't get cooped up in meeting rooms, but I think introducing agile development meant that we could move forward swiftly with value verification while maintaining close communication online.
Fukagawa Until now, Hitachi Construction Machinery had a very earnest corporate culture, so that even when it had ideas, it waited for each one to reach 100% completion.
Our Fukagawa of agile development in this project meant we could start operation before full completion.
I feel that really gave us a revolutionary weapon.
Hisatomi Even so, we still haven't gone beyond sending the first example of DX out into the world.
From now on, we want to initiate all kinds of projects and use the power of digital to create things that never existed before.
The atmosphere of being able to say anything without getting shot down deepened the discussion and unified our mindsets and goals.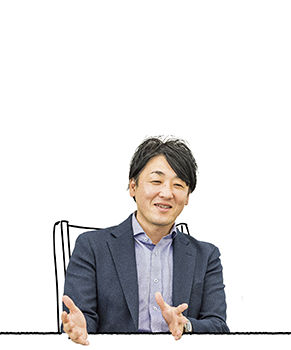 Junji Fukagawa
Joined the development project in October 2020, as a concurrent job while working in the Hitachi Construction Machinery Japan Marketing Strategy Division. App development reflected his views as a salesman with field experience. Moved to the Hitachi Construction Machinery Global Sales Division in April 2022.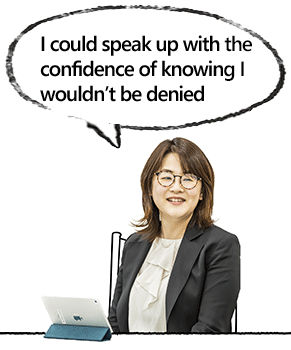 Takako Shinooka
After working on the development and maintenance of production management systems in overseas factories, she was assigned in April 2021 to the DX Promotion Group, DX Transformation Division, DX Application Strategy Department. Taking the position of development team leader, she took over from Mr. Abe from April 2022 as the manager responsible for systems.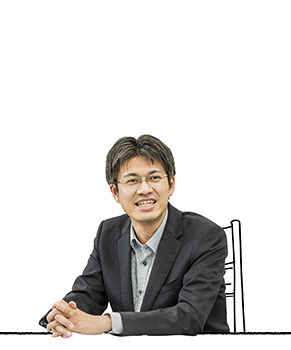 Naoki Tamukai
 After working on the development, operation, and maintenance of systems for production in Japan, he was assigned in April 2021 to the DX Promotion Group, DX Transformation Division, DX Application Strategy Department. In April 2022, he took over Ms. Shinooka's role as development team leader.
Norio Hisatomi
 He was moved from the Sales Division Planning Department to the DX Promotion Group in April 2020, and is now the head of the DX Transformation Division, DX Application Strategy Department. From the beginning, he had a central role in propelling the DX-CONSULTING development project.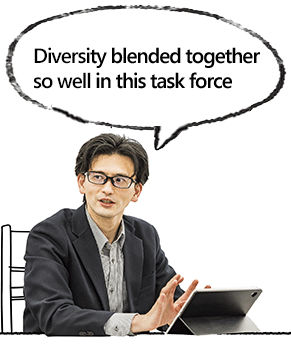 Satoshi Abe
 At the Client Solutions Group (*), he is involved in setting up "ConSite" and developing and promoting ICT solutions. He was moved to the DX Promotion Group in April 2020, and became system manager for DX-CONSULTING. He joined Hitachi Construction Machinery Japan in April 2022.
* The name of his division is as of April 2020. The department name changed to New Business BU.


It's an iPad app to enable quick responses by linking with customer data and inventory management, and making suitable proposals tailored to clients' challenges.
April 2020
Creation of the DX Promotion Group
April to September 2020
Questionnaires of employees, agile development study group sessions, exhaustive discussion
October 2020 to March 2021
A small team comprising Hisatomi, Abe, and Fukagawa prepared the concept and prototype, and set the target of October the next year for development completion
April 2021 onwards
Shinooka and Tamukai joined the project and development moved ahead on an agile basis
December 2021
Operation started for pilot users
December 2021 to March 2022
Consideration of additional functions, development
April 2022 onwards
Start of official operation, with ongoing development of additional functions

This project wasn't just about making and releasing an app.
It also applied thorough promotion to share Hitachi Construction Machinery's DX strategy, and the world view CIF aims for, with the app's users.
The pitch deck content posted on the DX information sharing site was part of that.
We use a realistic and clear demo story to introduce the real value that can be realized by using DX-CONSULTING.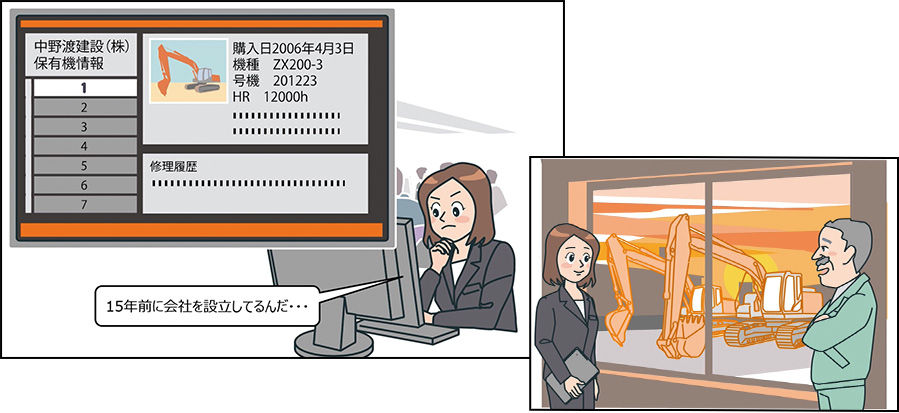 CIF (Customer Interest First)
The action attitude that Hitachi Construction Machinery aims for, which gives the highest priority to solving the clients' challenges.
In DX strategy, the subject is always the customer, and it aims to use digital technologies to transform all kinds of processes.
With DX-CONSULTING, the transformation starts from the parts in contact with the client, and proposes total solutions with RSSU (Rental Sales Service Used, which is to say rental, sale, maintenance service, and pre-owned machines in construction machinery) to solve clients' challenges and realize CIF.
It's the first round in that DX strategy.
Design Thinking
This is an approach designers use to derive solutions when considering a design for an issue that is as yet unsolved.
The key point is to think from the position of the user.
In DX promotion too, the designer thinks from the user's perspective to discover unseen needs.
This approach is useful for deriving solutions for unprecedented themes.
Agile Development
This development method for systems and applications has been in the spotlight in recent years.
"Agile" here means fast and nimble.
The conventionally-used waterfall development method starts by creating the overall design and then the planned development process follows that design.
With agile development, no strict design is created, and development moves forward with broad specifications and conditions.
This approach can respond flexibly and swiftly if a specification change is needed, so it can develop in line with client needs in a short period.