The Past, Present and Future of Electric Equipment
Our story in keywords
The electrification of construction machinery is not a goal in itself but a measure to achieve zero emissions and build a carbon-neutral society. This has been the basis for over 60 years of electrification initiatives by Hitachi Construction Machinery. Here's a recap of what we've done so far, the challenges we've faced in popularizing electric construction machinery, and our vision for the future.
Hitachi Construction Machinery has been making electric construction machinery for a very long time. Our first electric mechanical excavator was released in the 1960s and our first electric hydraulic excavator followed in the 1970s. As Japan entered its high economic growth period (from around 1955), an increasing number of our customers in indoor sectors, such as industrial waste treatment, told us that they wanted to prevent exhaust for the sake of their workers' health. We took that feedback seriously, and in the 1971 fiscal year we unveiled our new electric hydraulic excavator, wired from a commercial power supply. The cable was no issue, as the machinery does not need to move far during indoor work.
From there, we worked to improve on the design, developing a string of further wired electric machinery. In 2006, we developed a compact battery-operated hydraulic excavator with a built-in lithium ion battery. We started with a 5-ton class excavator before releasing a 7-ton class version in 2007 and then a 3.5-ton class mini-excavator in 2011. But our development of battery-operated excavators was soon brought to a halt, for three reasons: the batteries at that time could not power the machinery for long enough, the expensive batteries drove up the cost of the machinery, and society had yet to become concerned enough about environmental issues such as CO2 emissions.
On the other hand, fuel prices were soaring in the late 2000s, and the need to reduce fuel costs was greater than ever. We reflected on our years of experience in electrification and the technology we had developed, and began working on hybrid models with both a battery and an engine. Development of our first model began in 2008. In 2011, we released a 20-ton class hybrid hydraulic excavator. 2019 saw demand for electric construction machinery rise again as Europe became more environmentally conscious.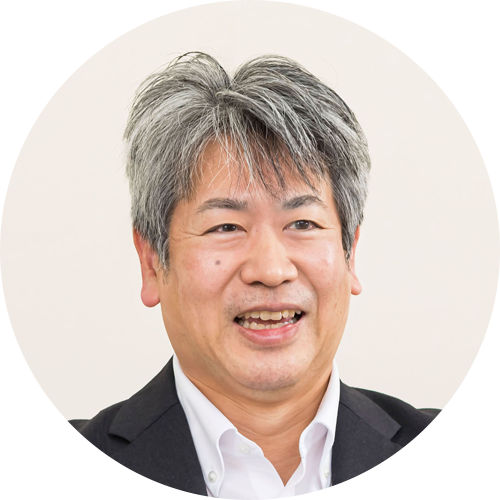 Kiwamu Takahashi
Development Center, Development Div, Hitachi Construction Machinery Tierra
Listening to customers' feedback and developing products to resolve their issues is what Hitachi Construction Machinery is all about. It was this that inspired us to develop our first wired electric construction machinery and all the machinery that has followed.
01 History - The history of our electric construction machinery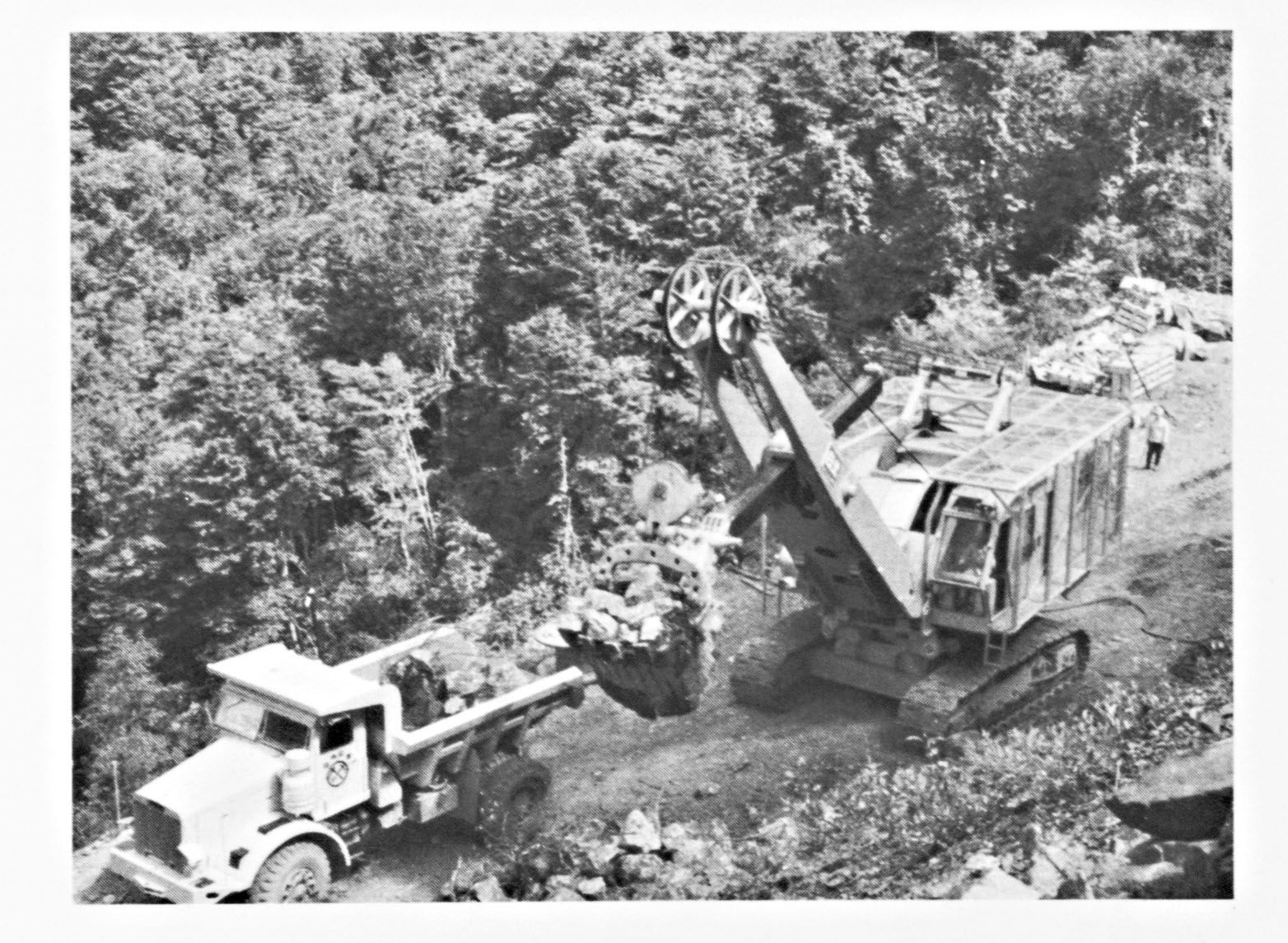 1962 - Mechanical electric excavator: U23
Our first electric construction machinery was a mechanical electric excavator developed by what was then Construction Machinery Department of Hitachi, Ltd. It was an all-purpose machine that could be turned into a crawler crane by changing the attachment.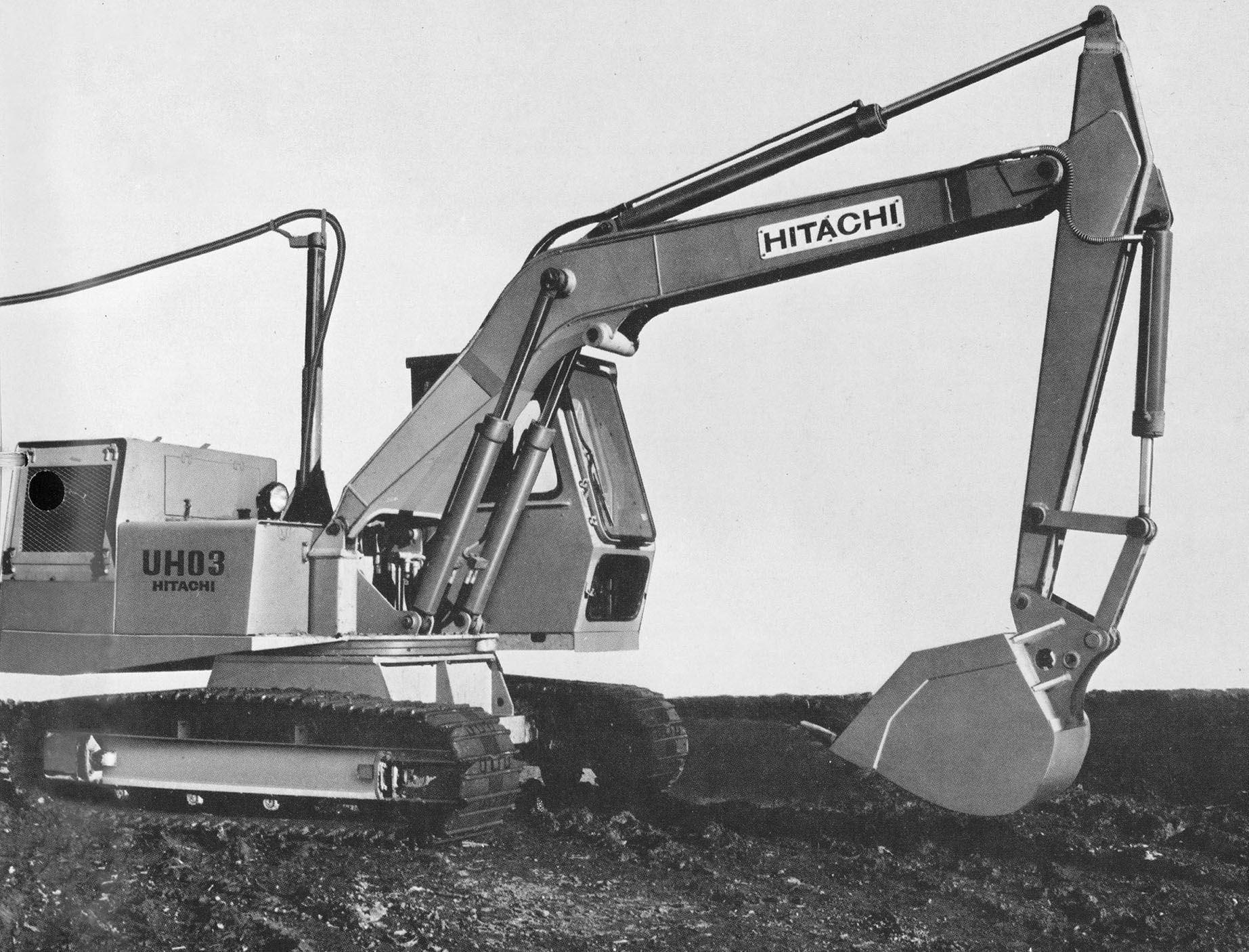 1971 - Electric hydraulic excavator: UH03E
The wired electric model of UH03, Japan's first hydraulic excavator developed by Hitachi Construction Machinery and made entirely with Japanese technology. With no exhaust, it was widely used for underground and indoor work.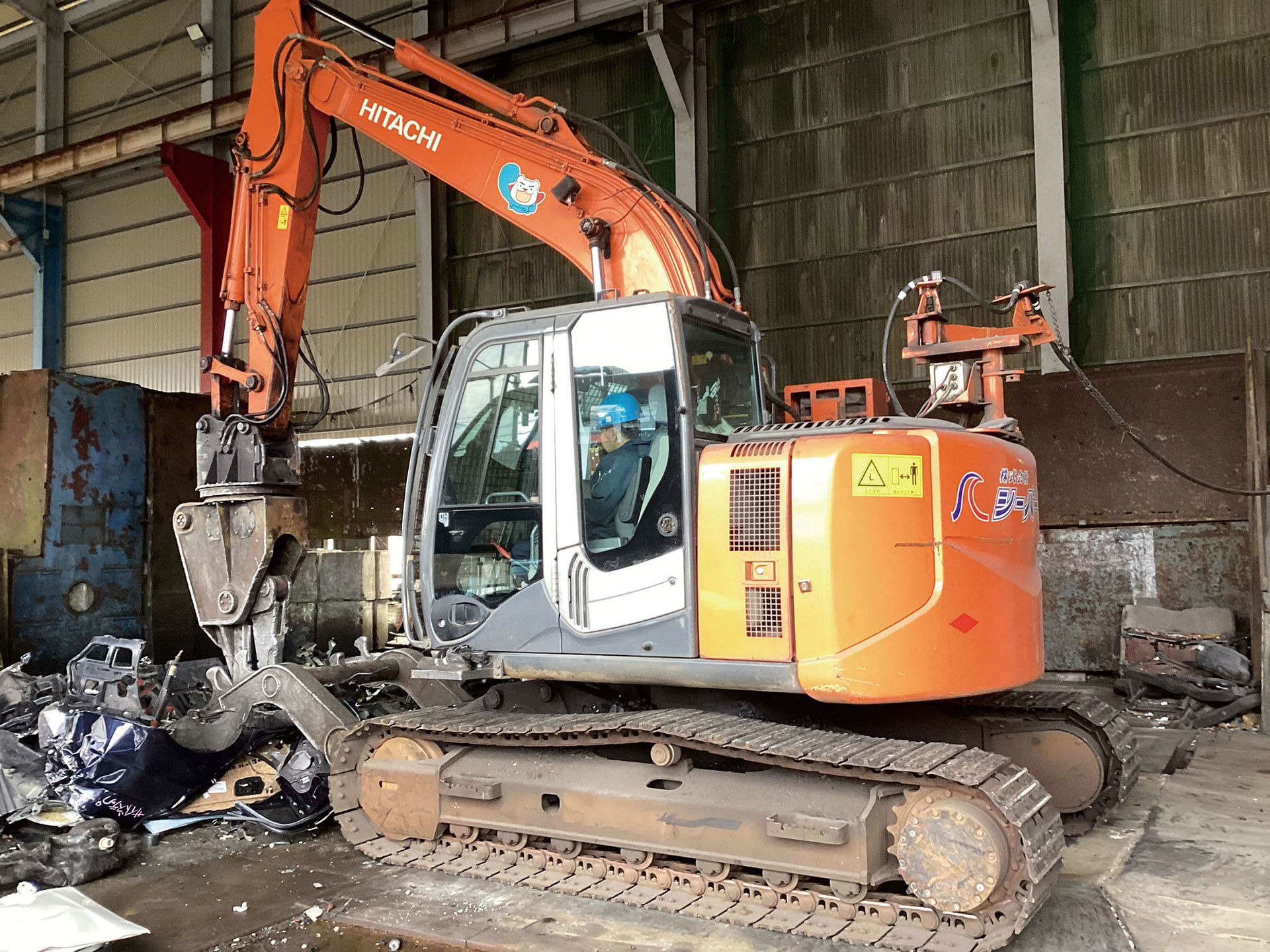 1990 onward - Wired electric excavators
In the 1990s, we began releasing wired electric excavators that could be used for work inside buildings. Over 100 equipment were sold in Japan.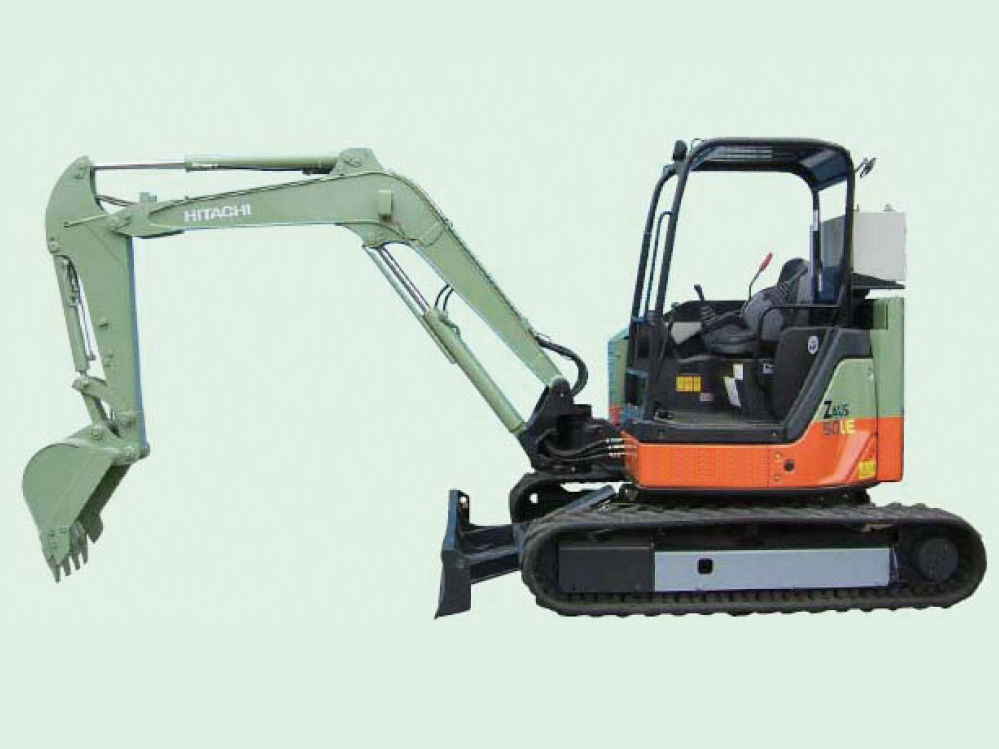 2006 - Battery-operated electric excavators
In 2006, we released the ZX50UB-2, a 5-ton class electric excavator with a lithium ion battery. This was followed by the ZX70B, its 7-ton class counterpart, in 2007.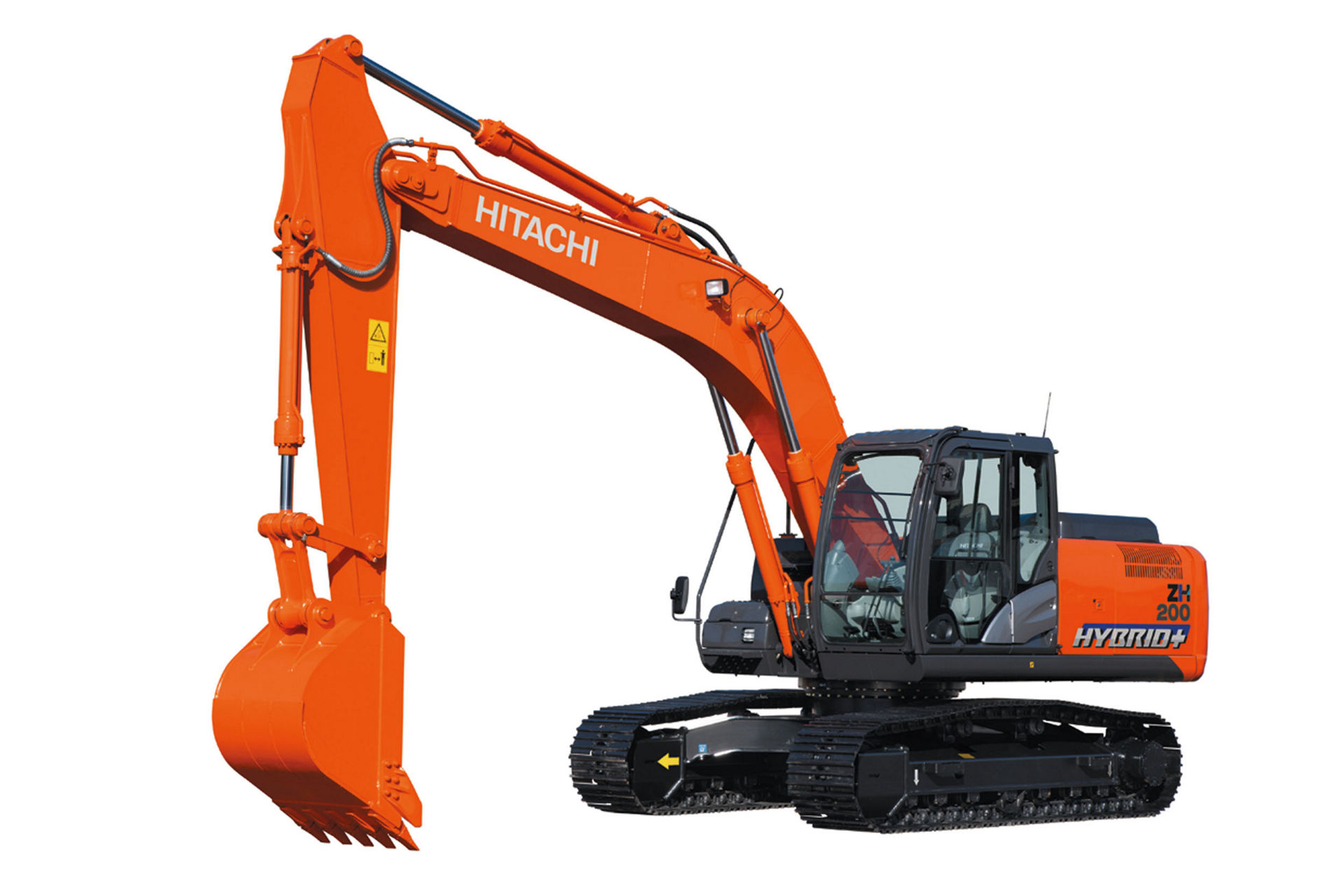 2011 - Hybrid hydraulic excavators
In 2011, we released the ZH200, a 20-ton class hybrid hydraulic excavator with a hybrid hydraulic and electric steering system. The ZH200 uses 20% less fuel than a conventional model.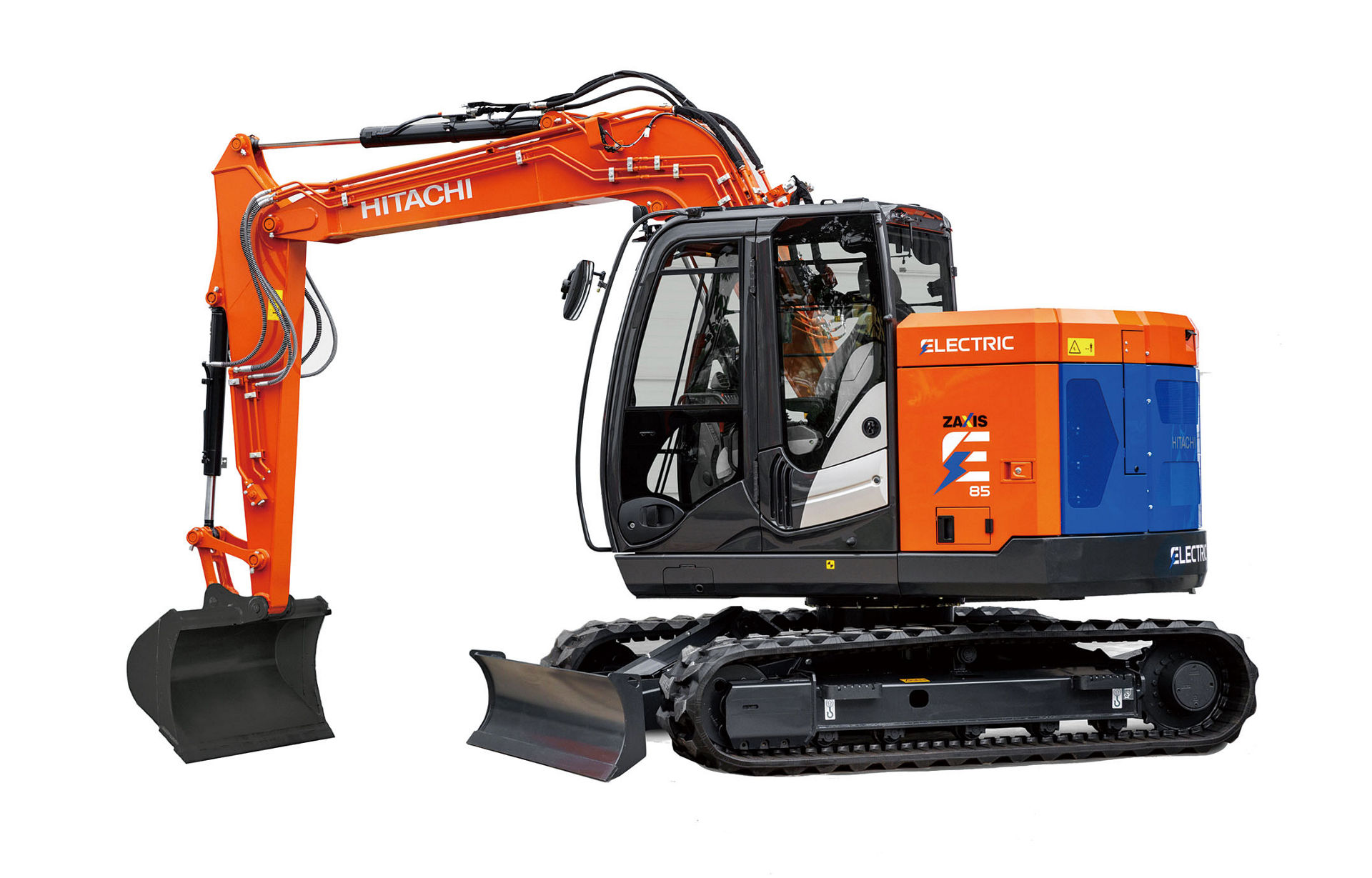 2020 - Battery-operated electric excavators
The ZE85, an 8-ton class lithium ion battery-operated excavator, can operate for 3-4 hours when fully charged. It takes less than an hour to fully charge it.
02 Development - Development of electric technology
Zero-emissions initiatives have gathered momentum in Europe after the signing of the Paris Agreement in 2015. And so, after a long pause, our development of battery-operated excavators resumed in collaboration with a subsidiary of Kiesel GmbH, our European dealer in Germany. We have since developed new battery-operated mini-excavators in the 5-ton and 8-ton classes. At a technical level, almost every component of the 3.5-ton class mini-excavator released in 2011 was specially developed for construction equipment. When our development resumed, many of these parts were replaced with car parts to enable more efficient development of later generations and reduce maintenance man-hours.
Many of the issues we face in technical development are related to the battery. Operating time is an issue for all battery-operated excavators, and mini-excavators are no exception. For the larger mid-class models, there is also a need to increase battery capacity and improve charging speed. 13-ton class models, the smaller one of mid-class excavators, can be charged quickly enough for practical use. However once we get to the 20-ton class and larger, we need to take special measures such as increasing the number of charges and charging capacity. Reducing the size of the battery component is also an issue.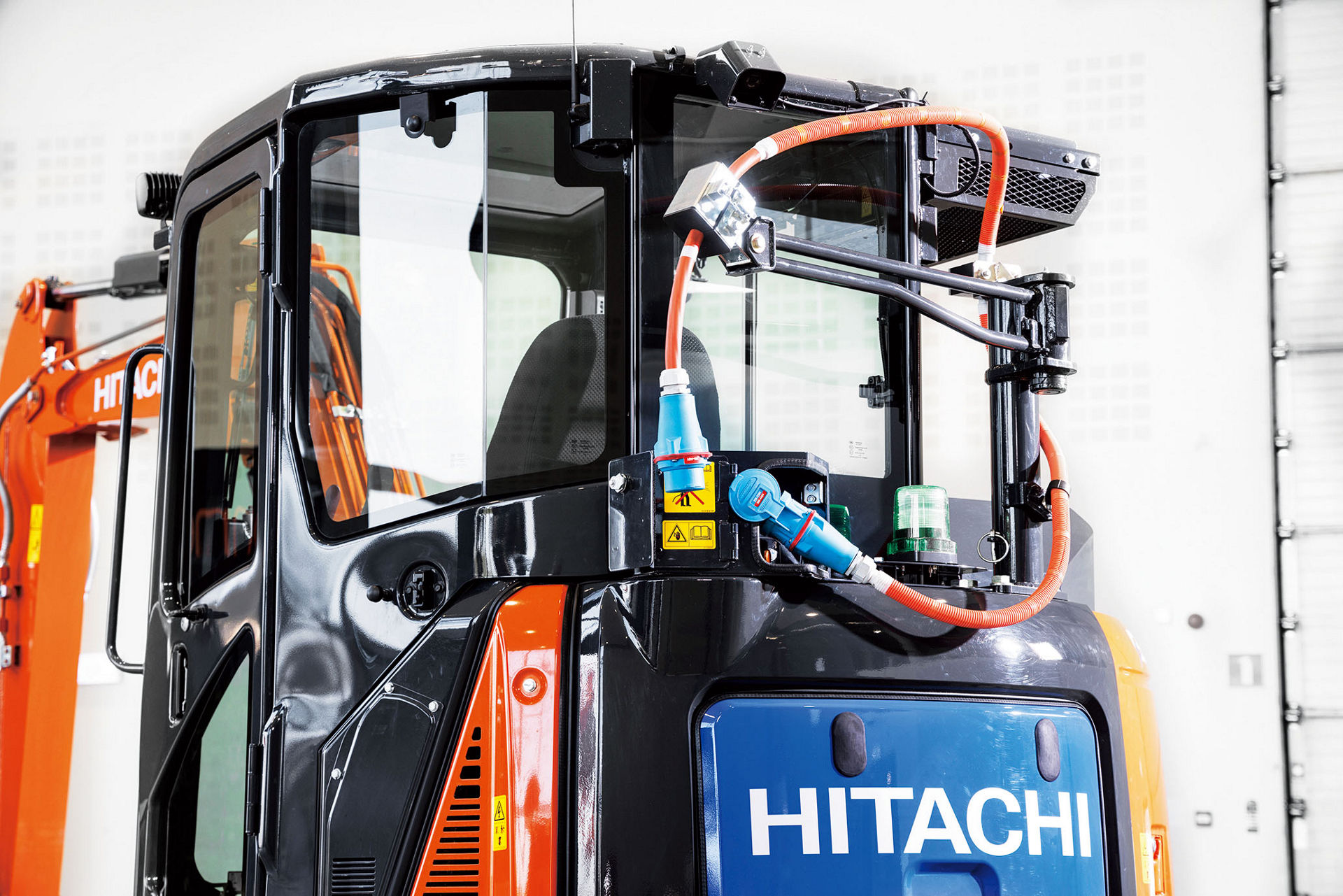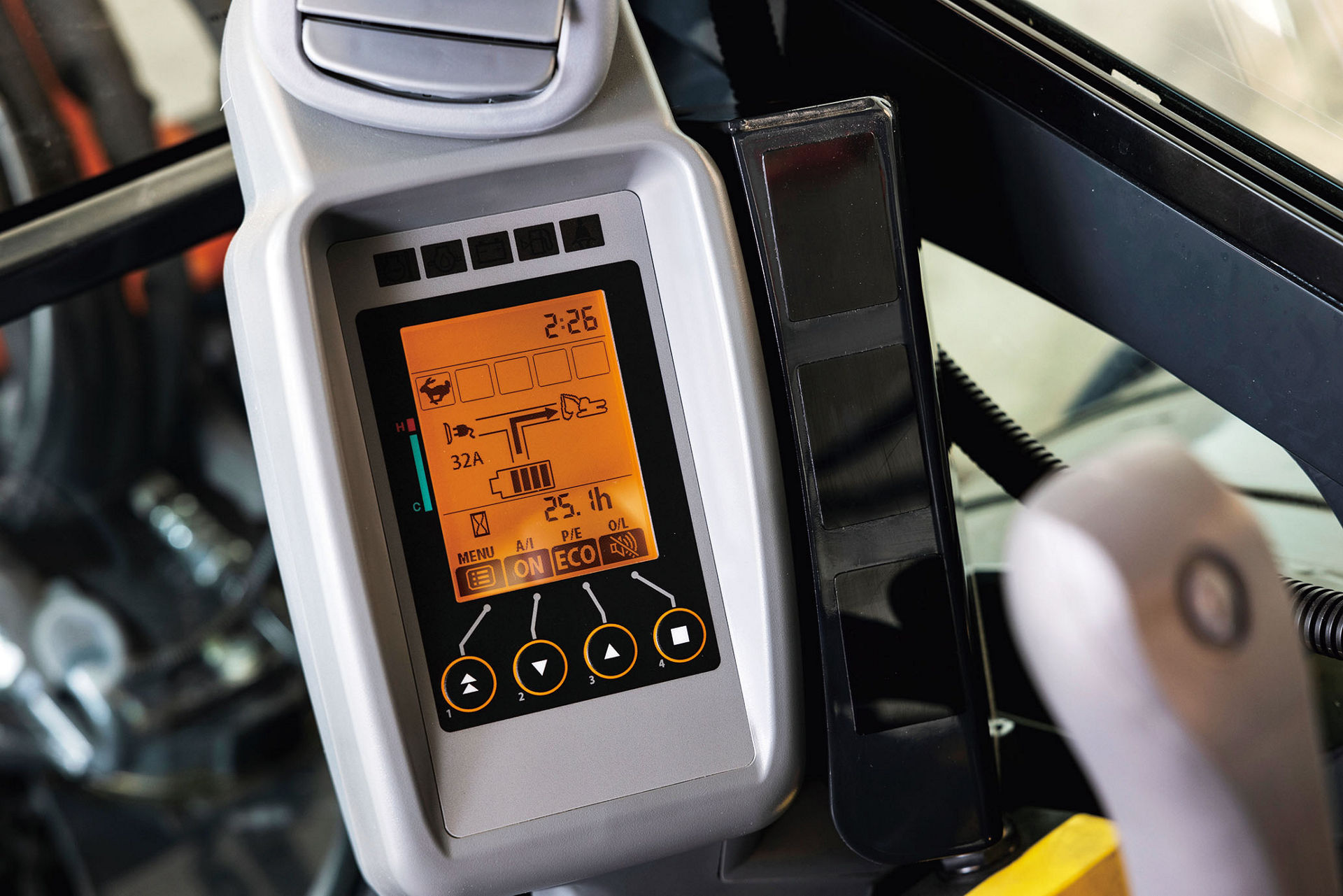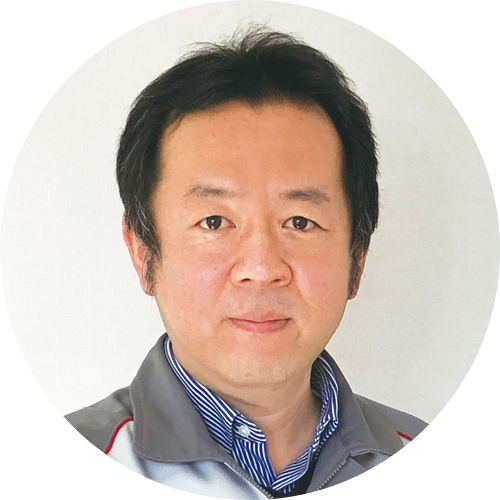 Hiroshi Tsumura
Electric Products Development Center, Construction Business Unit, Hitachi Construction Machinery
The shift from engines to motors in battery-operated construction machinery has only just begun.
In future, I hope to see power regeneration using rotating motors.
03 Task - The charging infrastructure is the key
Improving battery performance will be essential for advances in electric construction machinery. We cannot do this alone; we will need to work together with battery manufacturers in the future. Construction machinery is sold in much fewer numbers than cars, so in order to popularize electric models, we will need to tackle issues such as the high cost, insufficient power and inadequate charging performance. This will likely require us to build relationships with various outside partners and work together to solve those issues.
Another critical matter is how charging will be done at outdoor construction sites. Construction machinery is often used at sites that have no charging facilities or temporary power supplies. And since the machinery is always moving on to a new site, it is difficult to set up large charging facilities or charging stations for each project. So a key point will be whether a transportable charging facility can be provided together with the machinery. Basically, the first step of popularizing electric construction machinery will be to create a solution for charging that will be easy for customers to use.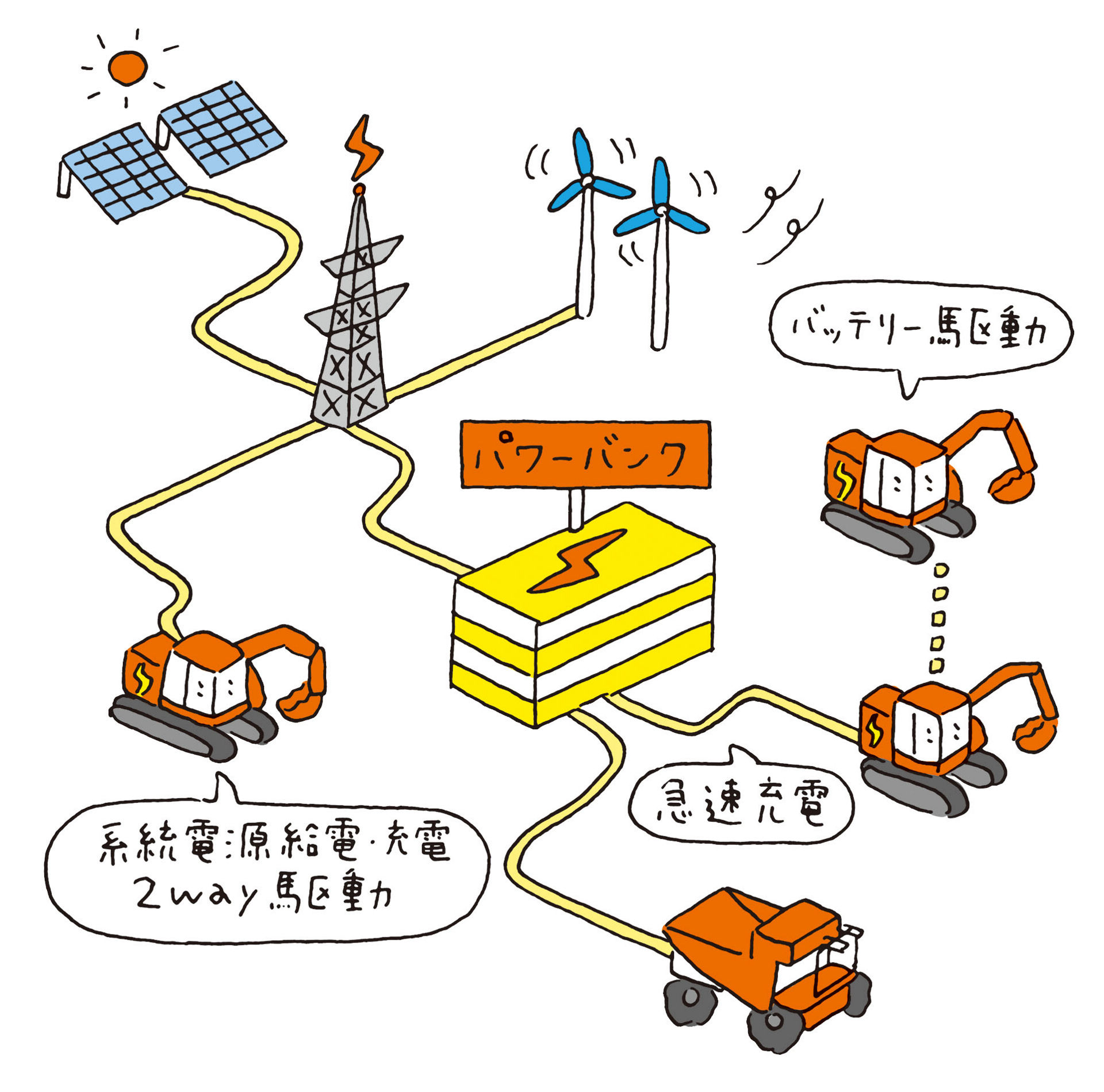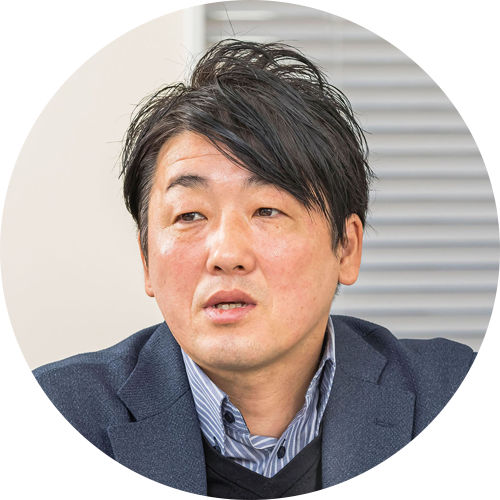 Junji Fukagawa
Planning and Administration Dept, Global Marketing Group, Hitachi Construction Machinery
Until we can fix the charging issue, it's like selling smartphones without a charger.
Hitachi Construction Machinery must create our own solution.
04 Challenge - Challenges as Europe makes strides in electrifying construction machinery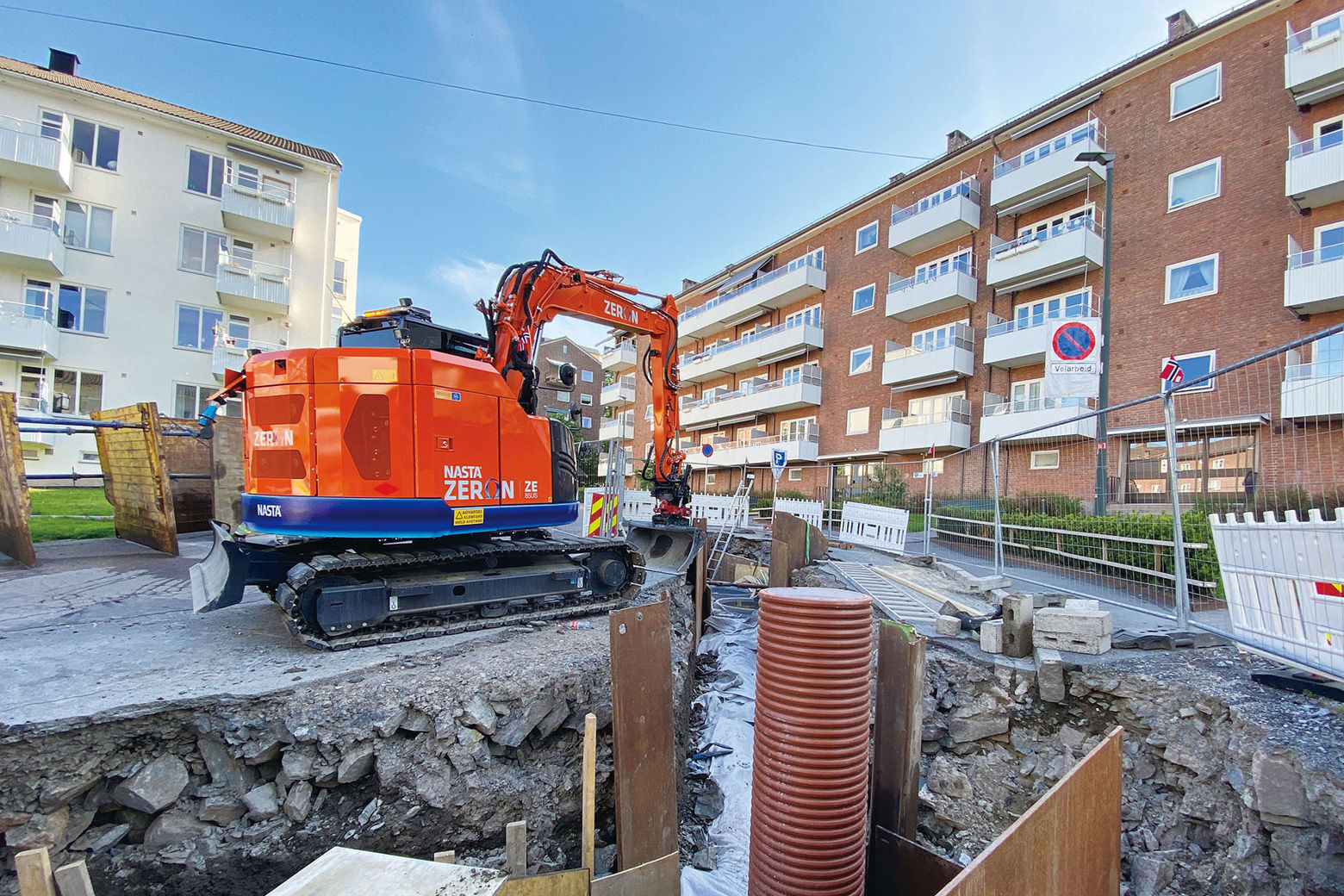 The ZE85, which was used in a pilot project for zero-emissions construction sites in Oslo, Norway
Electrification of construction machinery hinges on charging infrastructure. A variety of electrification initiatives have been launched in Europe, where companies in many sectors are accelerating their measures to become carbon neutral by 2050. Particularly remarkable initiatives have taken place in Norway, which also leads the way in EV adoption. Strict requirements are in place for construction work in Oslo, the capital city: public construction work must be emissions-free by 2025, and general construction work must follow by 2030. Similar measures are underway in other countries and cities, so the pressure is on for the manufacturers of construction machinery.
This is being driven by a growing public awareness of environmental issues, as well as policy changes at a government level. Europe's leaders in electrification -- Norway and the Netherlands -- offer subsidies to switch to electric models. In Norway, up to 40% of the difference in price between electric construction machinery and engine-powered machinery is subsidized. This has prompted construction machinery manufacturers in Japan, China, South Korea and the West to release a string of electric models.
One such model is the ZE85, an 8-ton class battery-operated excavator released by Hitachi Construction Machinery in 2020. The ZE85 was used in a pilot project for zero-emissions construction sites in Oslo by the Norwegian government. In the following years, European demand for electric construction machinery has skyrocketed, with companies also beginning to order models in the 5-ton class in 2022.
We exhibited both models at bauma 2022, an international construction machinery trade fair in Munich, Germany, along with prototypes for the 2-ton and 13-ton class developed by a joint company formed by Hitachi Construction Machinery and a subsidiary of Kiesel, our European dealer. We also exhibited a power bank with a mobile battery that can be charged rapidly on site, which we aim to sell in a set with our electric construction machinery.
Europe is making progress on the issue of charging. There are now a number of companies developing and supplying power banks and street charging stations. But even in Europe, this technology is still in its infancy, and there is still a lot of trial and error. Further advances are yet to come.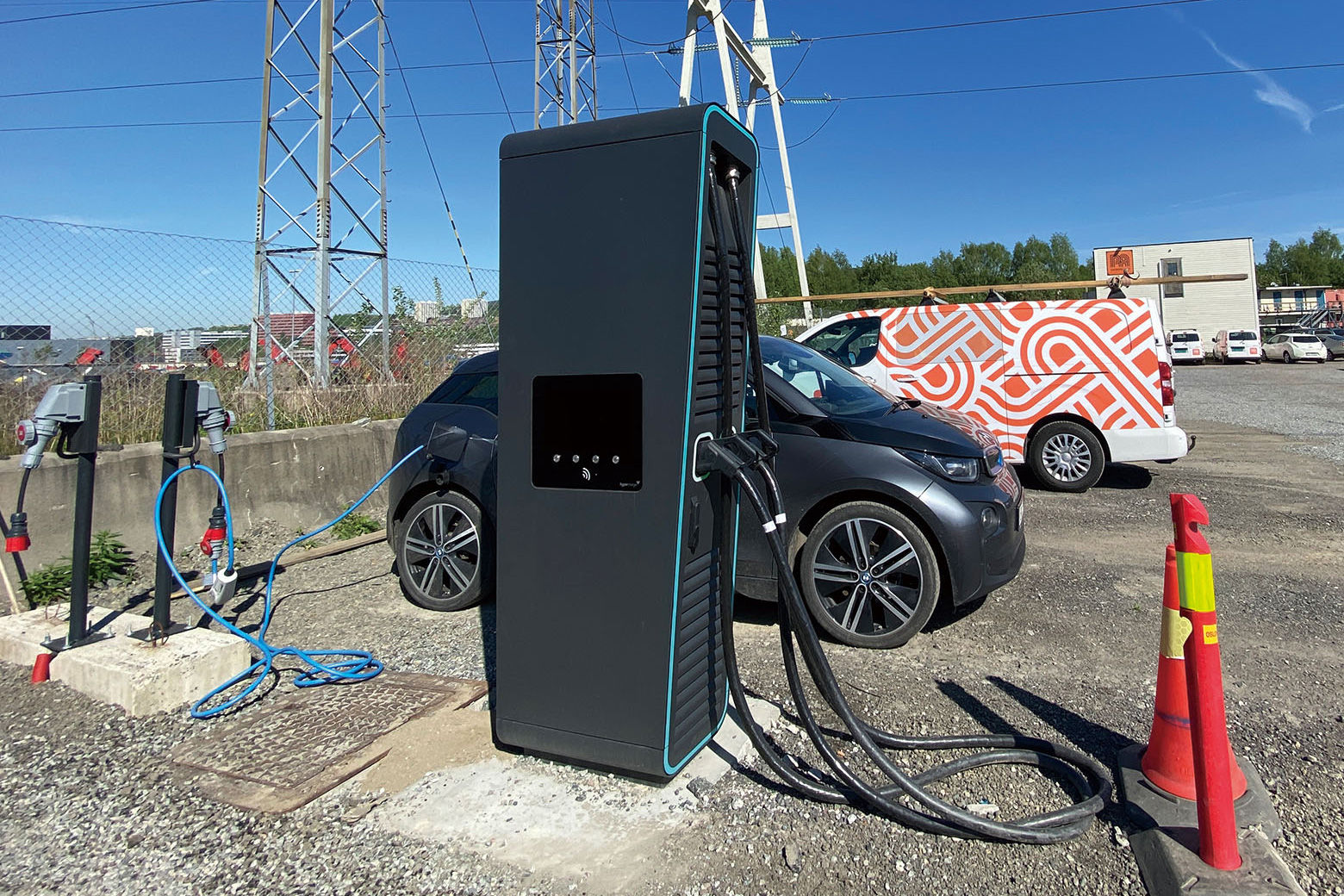 Electric construction machinery needs a power supply for charging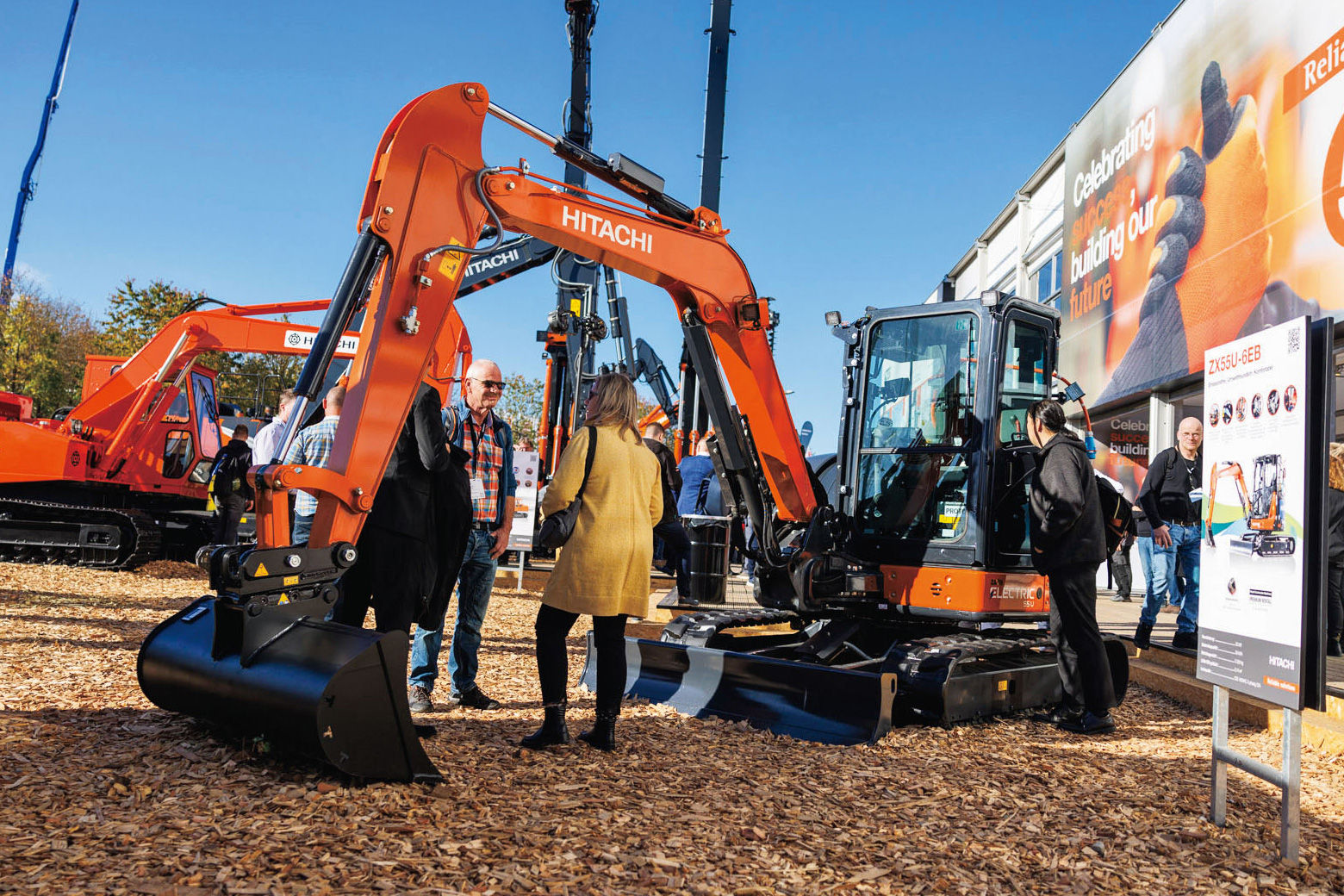 Hitachi Construction Machinery exhibited a range of small and mini battery operated excavators at bauma 2022.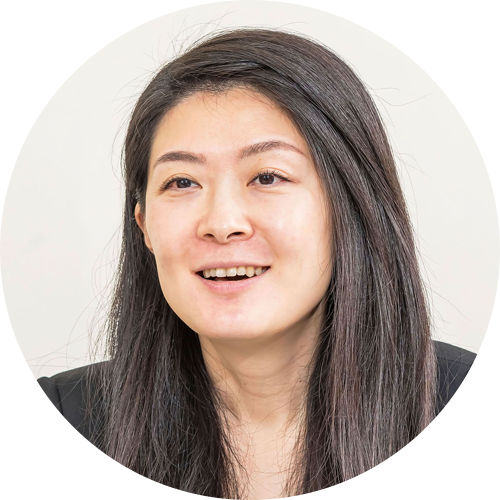 Hui Wang
Sales & Marketing Dept,1, Marketing Div. Construction Business Unit, Hitachi Construction Machinery
From the moment I was assigned to our European business in 2017, I have been told that the market demand of electric models will replace conventional models by 2035.
I hadn't taken it very seriously before, but now I am realizing the changing situation.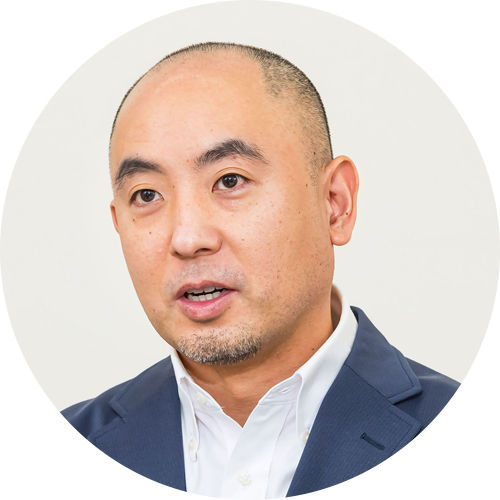 Keisuke Nakagawa
Planning and Administration Dept, Global Marketing Group, Hitachi Construction Machinery
In the USA, where I was posted before, California is the environmentally conscious state, but the northeast has always been very environmentally aware at the same time. In future, demand may increase in other regions too.
05 Mission - A company that provides solutions
Where Europe is leading the way, unfortunately Japan is lagging behind in electrifying construction machinery and setting up infrastructure to charge it. Hitachi Construction Machinery has set up an internal working group to discuss how we can provide charging solutions.
"We cannot simply sell electric construction machinery; we need to provide solutions with the entire site in mind," explains Tamotsu Honma from our Global Marketing Group. "We need to look at the construction machinery and charging infrastructure being used on sites and provide efficient charging infrastructure that will solve our customers problems. That's how we can make zero-emissions sites commonplace."
Building such charging infrastructure is premised on working together with partners, and it would be ideal if the government could provide support, such as the subsidies in some European countries. As we go about this, we need to remember that construction machinery is often rented or leased in Japan. A key point will be creating new business models, including setting up a cycle where batteries are put to secondary uses in other fields once they are no longer being used in construction machinery.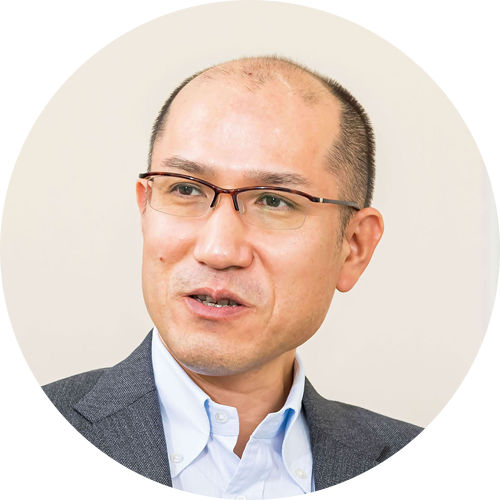 Tamotsu Honma
Planning and Administration Dept, Global Marketing Group, Hitachi Construction Machinery
Japan isn't what you could call an environmentally advanced country right now. Hitachi Construction Machinery has a role to play in helping Japan to catch up and eventually become a global leader.
This is one more reason why electrification is a must.
06 Future - Chasing our dreams
Despite the issues we are facing in the electrification of construction machinery, future progress is inevitable. So how can Hitachi Construction Machinery set itself apart from the rest? "I want to combine electric power with ICT to create construction machinery that only Hitachi Construction Machinery would think of," says Junji Fukagawa from our Global Marketing Group.
Kiwamu Takahashi from Development Center, Hitachi Construction Machinery Tierra has something to say about this. "In regions like Africa that do not have reliable supplies of electricity or fuel, setting up power banks that store solar power could result in a jump in the adoption of electric models. If we want this new era to arrive all around the world instead of just in the Global North, Hitachi Construction Machinery needs to be an innovator. That's my dream!"
If we look even further into the future, there will come a day when construction machinery in space will be electric. Today's electric construction machinery uses a hydraulic actuator to operate the bucket. Now let's think about development on the moon. With no air, hydraulic equipment will not work, so the actuator will need to be electrified too. We are developing an electric actuator that can generate the same amount of power as a hydraulic system. This is an issue unique to construction machinery, and it's the first step toward a big dream.