Background of Hitachi Construction Machinery
Construction machinery is essential for building the cities where we live and for the development of social infrastructure. Today, the shiny Reliable Orange construction machinery of Hitachi Construction Machinery is deployed around the world for on-site civil engineering, construction work, and mine development operations.
The history of our construction machinery dates back to 1950. At the time, Japan was grappling with the urgent social task of having to make construction work more efficient through mechanization in order to rebuild the country and revitalize our economy. To address this need, the construction machinery division of Hitachi, Ltd., the predecessor of Hitachi Construction Machinery Co., Ltd. developed Japan's first cable-operated shovel using entirely from domestic technology and started mass production.
Since then, we have been manufacturing and developing construction machinery while staying close to the job sites and the people who work there, and facing the social issues that change with each era and region.
Our vision is to
"Ensure a prosperous land and society for the future"
With this vision, we will improve our corporate value for the future by making an effort to solve social issues through construction machinery.
Hitachi Construction Machinery Today
Hitachi Construction Machinery has rapidly expanded across foreign markets since the 1990s by shifting from a business model centered on Japanese exports to a focus on local production, sales, and services. As a result, the ration of our local sales revenue has increased year after year from 44% in fiscal 2000 to 75% in fiscal 2019. Furthermore, the demand for construction machinery and mining machinery is also rising in emerging countries.
At the same time, the environment surrounding the construction machinery industry has changed dramatically, and it has become imperative for us to respond to various social issues.
In Japan, for instance, the rapid decline of the working-age population has made the recruitment and training of workers a pressing issue. In addition, there is an urgent need to address the maintenance of deteriorating social infrastructure and disaster prevention and mitigation measures against natural disasters, as well as a need to improve productivity and safety by digitalizing construction sites using ICT, IoT, and AI technologies.
The decarbonization movement is also gaining traction around the world as global environmental problems are becoming more severe. With a growing demand for environmentally conscious products and greater interest in sustainability issues, we have also identified new trends to more effective use of our limited resources, including extending the lifecycle of construction machinery and allowing different parties to share machinery with less impact on the environment only when they need it.

1. Hitachi Construction Machinery with the power to continue to take on the challenge of creating new value
By combining unique research and development, advanced manufacturing technology, and digital technology, we are creating products and solutions that contribute to improving safety and productivity and reducing lifecycle costs, which are the challenges of our customers in the foreseeable future.
Topics:
The on-site digital transformation of Hitachi Construction Machinery: Creating construction sites where people and machinery work together safely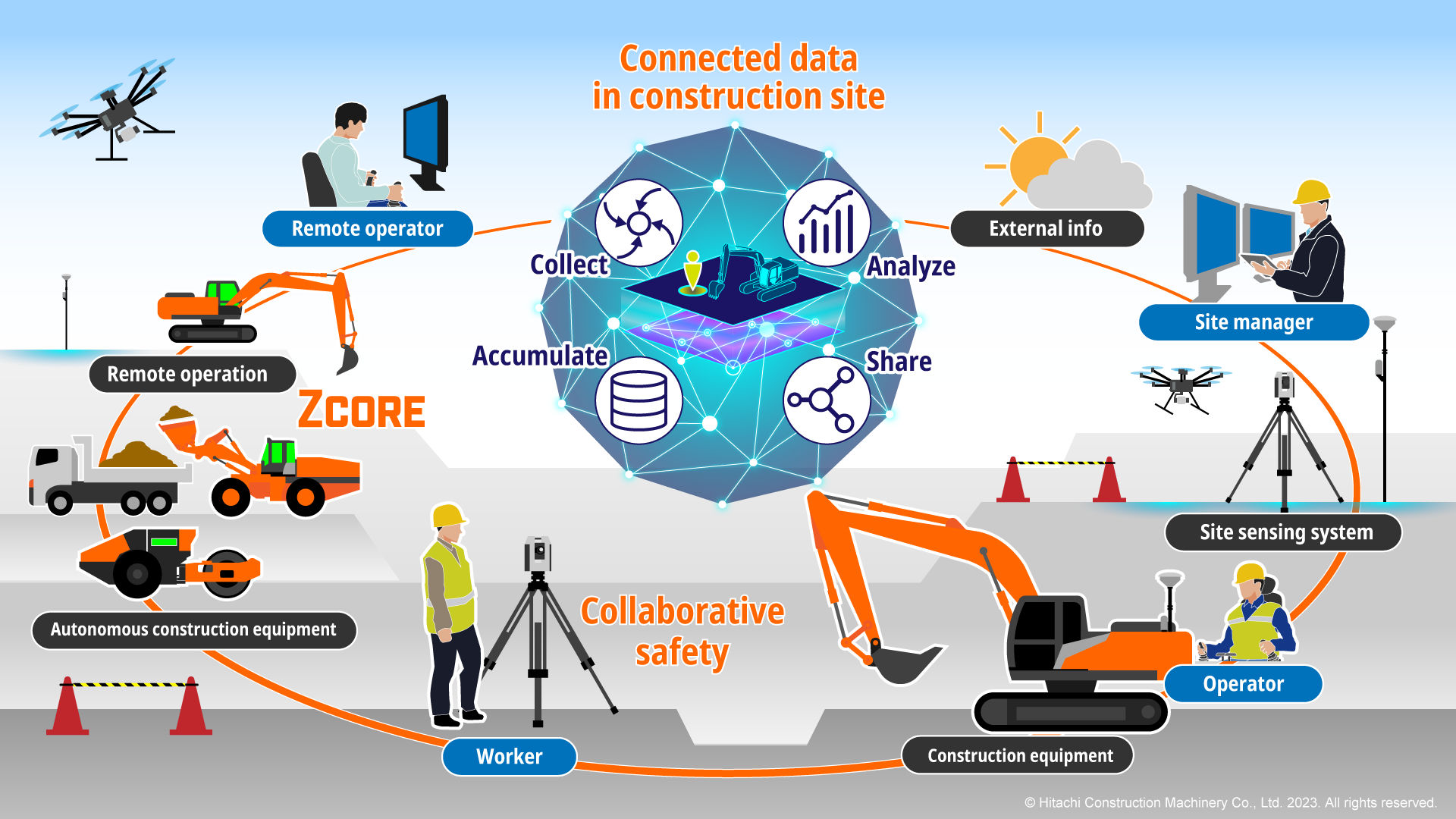 "Create construction sites with zero accidents." This is our wish.
Hitachi Construction Machinery is currently developing "Cooperative Construction Equipment" that is capable of autonomous operation in a cooperative safety by facilitating the exchange of information between "people and machinery," as well as "machinery and machinery" and "machinery and the construction site."
In addition, we have developed ZCORE®, a system platform for autonomous construction machinery. It allows for the performance of a range of different actions that are typically carried out by on-site operators in the course of their work, including "recognize," as well as "make judgments" and "execute. "Equipping autonomous construction machinery such as hydraulic excavators, wheel loaders, and dump trucks with this system is part of our broader groundwork for achieving the highly autonomous operation of machinery at the construction sites of our customers in cooperative safety.
We believe that the true essence of on-site digital transformation lies in building safe, efficient, and comfortable construction sites, as well as establishing an optimal relationship between people and machinery through the principle of "cooperative."
Topics:
Evolving our failure prediction system to create construction sites and machinery that are always operational
Topics:
Autonomous Rigid dump trucks that help to address management issues during mining operations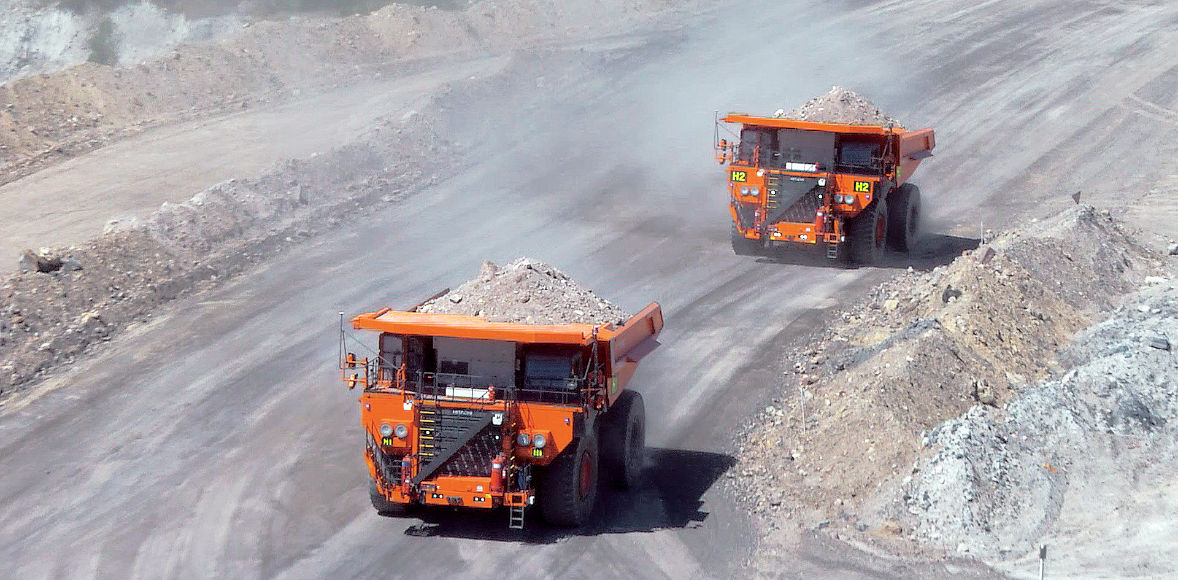 At mining sites, a variety of machinery and equipment are in operation in 24 hours a day, 365 days a year to extract, transport, and process minerals, making it a constant challenge to improve their safety and productivity. One solution we have developed is the Autonomous Haulage System (AHS) for Rigid dump trucks in mines. Rigid dump trucks that are installed with AHS can start, stop, and perform steering operations automatically in response to commands from the mining operation management system, making them fully autonomous vehicles. We are currently working on the future commercialization of this system.
In addition, a demonstration test for autonomous operation of ultra-large autonomous hydraulic excavator will be started at a mine in Australia in fiscal 2021. Hitachi Construction Machinery will continue to develop new technologies that transform the future of mining sites.
2. Hitachi Construction Machinery with The power to respond to change
In addition to our value chain business, Hitachi Construction Machinery is also focusing on the effective utilization of human resources, which is vital for corporate growth. This allows us to enhance our profitability and production efficiency, and to develop a corporate culture that is resilient in the face of change.
Topics:
Enhancing our competitiveness throughout the value chain and addressing the challenges of our clients
Topics:
Nurturing new talents who can create new businesses and transform existing ones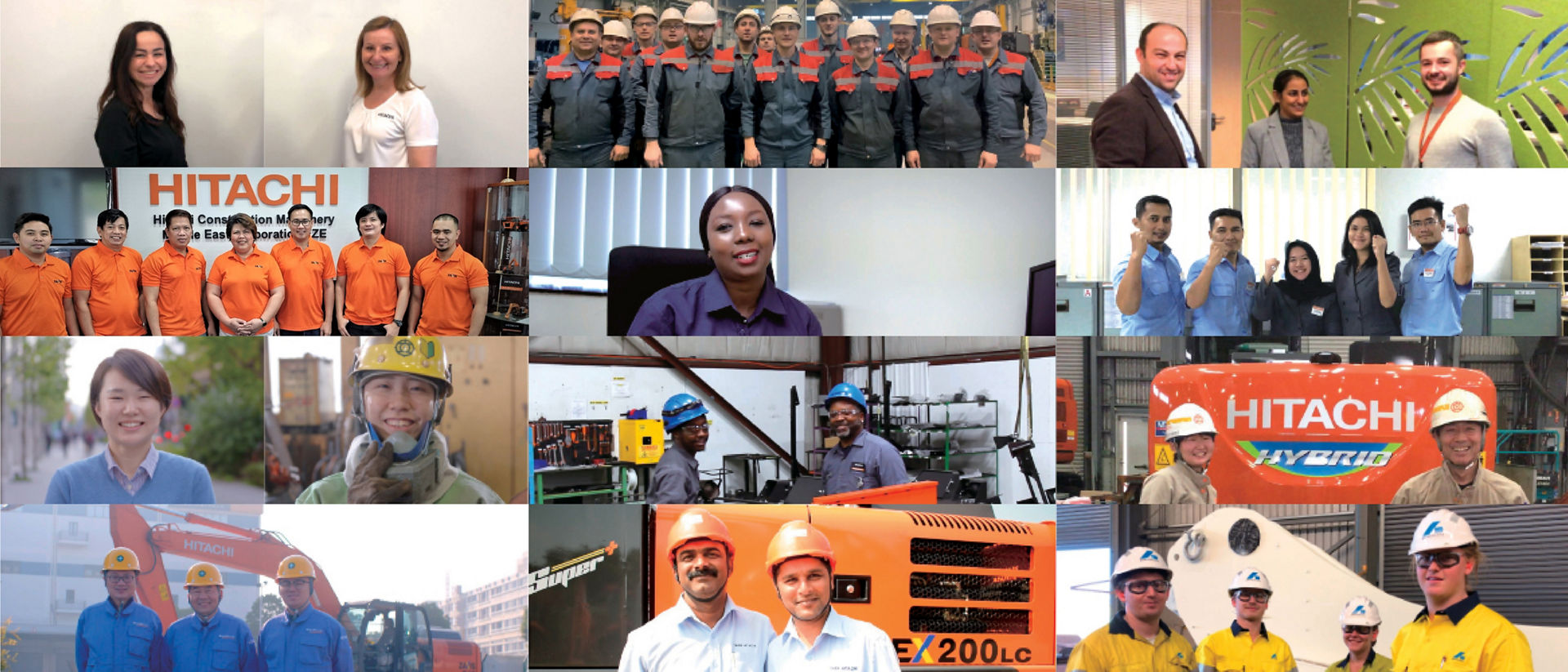 To build an organization that is resilient in the face of change, it is essential for us to incorporate diverse opinions that take into account the many different ideas and perspectives offered by people of different genders and nationalities. Hitachi Construction Machinery is strategically building an environment where our diverse talents can unleash their full potential, which would allow us to establish a competitive edge as a global company.
One of the most important management themes we are prioritizing and focusing on is the nurturing of future global leaders. We have launched a variety of training programs that include initiatives aimed at nurturing "leaders of change and innovation" capable of creating new value in response to changes in the business environment, as well as plans to train future successors to take on the role of "local managers" at our local base outside of Japan.
3. Hitachi Construction Machinery with The power to address challenges facing our clients, society, and the environment
Hitachi Construction Machinery will continue to contribute to the sustainable development of the international community by using our products and solutions to develop social infrastructure and resources in various countries and regions, and by addressing the threat of global warming through our business activities.
Topics:
Reducing the environmental impact of construction machinery throughout its lifecycle
Hitachi Construction Machinery is working to reduce our environmental impact throughout the entire value chain, including the manufacturing of machinery, logistics, and sales. For instance, we have introduced policies to reduce CO2 emissions in our offices and works by adopting the use of solar power, investing in energy-efficient equipment, and consolidating redundant factories to improve production efficiency.
In addition to developing hybrid and motorized construction machinery as low-carbon alternatives, we will also enhance environmental value added by optimizing on-site operations with ICT and IoT solutions. We are currently focusing on our parts remanufacturing business, where we collect used components and restore their functionality to a level that is comparable to their brand-new counterparts. We believe that this is an important initiative that will contribute to the achievement of the SDGs through waste reduction.
Topics:
Challenge to realize a circular economy through the group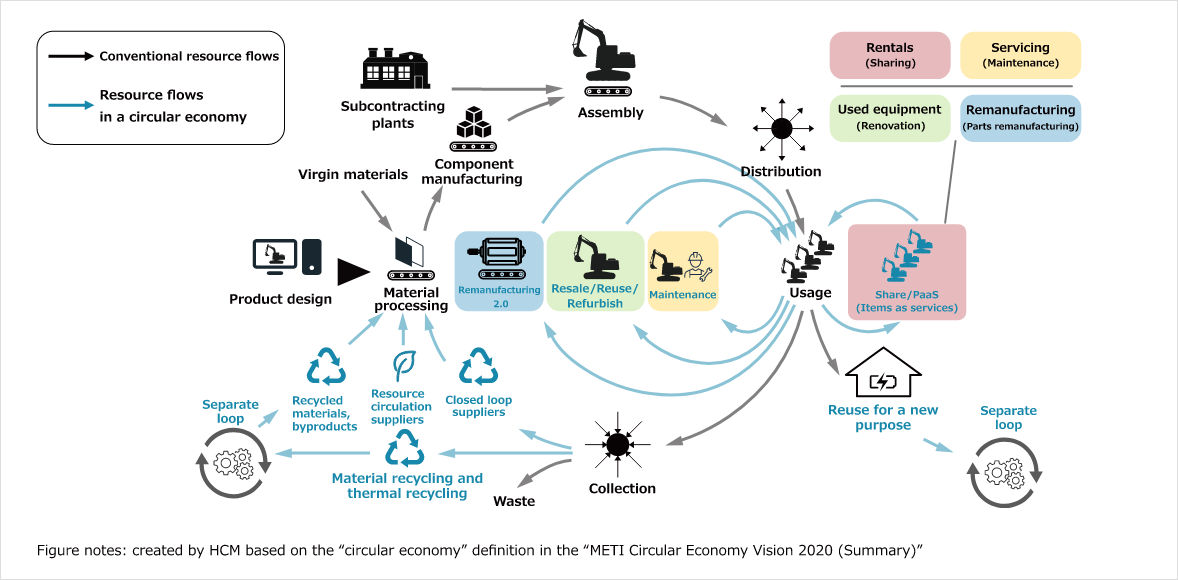 As opposed to the conventional linear business model of mass production and sales of products, the circular economy is a business model that aims to achieve new growth while maximizing resources by extending the usage period of products through recycling, sharing, and product servicing.
Hitachi Construction Machinery also believes that it is important to play a role as a manufacturer to bring our economy closer to a circular economy through different ideas such as extending the service life of products through the parts remanufacturing and equipment maintenance, developing more durable components by analyzing the data of components we have collected for repair, as well as rental and used equipment to make the most of every unit manufactured.
Topics:
Contributing to job creation and economic development in emerging countries through our business