Completion of Hitachi Construction Machinery's 800-ton Ultra-large Hydraulic Excavator EX8000
15 Mar, 2004
Hitachi Construction Machinery Co., Ltd. (HCM; Shungo Dazai, President and Chief Executive Officer) developed the ultra-large hydraulic excavator EX8000 as the largest class in the world, with an operating weight of 780 tons and a loading shovel bucket capacity of 40m3.
Assembly has been completed for the EX8000, which exceeds the operating weight and loading shovel bucket capacity of the EX5500-5 by 270 tons and 13m3, respectively.
After the completion of detailed performance tests, the EX8000 will be scheduled for user tests in a Canadian mine from this October.
Until now, HCM has boasted the EX1900-5, EX2500-5, EX3600-5 and EX5500-5 ultra-large hydraulic excavators, with roughly 600 orders placed mostly in North America, Australia, Asia and South Africa, gaining HCM the top share in this class.
The EX8000 was developed as a response to the growing size of dump trucks designed to reduce costs at mines.
Development Concept and Key Features
1. Perfect Match for 300-ton Dump Trucks
Boasts awesome power and productive output as the largest class ultra-large hydraulic excavator in the world, with an arm crowding force of 2,870kN (293tf) and loading shovel bucket capacity of 40m3
Can load a 300-ton dump truck with four passes in two minutes
Features the latest technologies and structure, with an operating speed equivalent to the EX5500 despite the larger body
2. Roomy, Comfortable Cab Features Living Quarters
The rear of the wide cab acts as a small living space with a table, microwave and other conveniences to ensure comfort in even round-the-clock mining work.
3. Electronic Wrist Controls Ensure Light, Smooth Maneuvering for Extended Operations
The electronic wrist control provides maneuvering with a light touch and operatibility, thereby reducing fatigue over long periods of operation.
4. Proven Design that Emphasizes Reliability and Durability
Shares a common design with the EX3600-5, with shovel-type tracks and triple-roller swing bearing, and employs proven, highly-durable systems and components
5. Full Consideration Given to Maintainability and Accessibility
Designed for maintainability and accessibility using large access doors, large open spaces and a flat floor around the engine for easy maintenance and inspection, as well as an electric retractable ladder allowing easy access to equipment.
EX8000
Unit
Loading Type
Loading shovel bucket
m3
40.0
Operating weight
t
780.0
Engine model
–
S16R-Y1TAA1
Engine power
kW/min-1
(PS/rpm)
1,400/1,600×2
(1,900/1,600×2)
Crawler length
mm
10,500
Crawler width
mm
8,650
Ground pressure
kPa (kgf/cm2)
235 (2.4)
Swing speed
min-1 (rpm)
3.2 (3.2)
Travel speeds High/Low
km/h
2.0/1.4
Max. arm crowding force
kN (tf)
2,870 (293)
Max. digging reach
mm
18,500
Max. digging depth
mm
4,100
Max. cutting height
mm
20,500
Note: Units are shown in the international standard of SI units. Figures in parenthesis denote original specifications.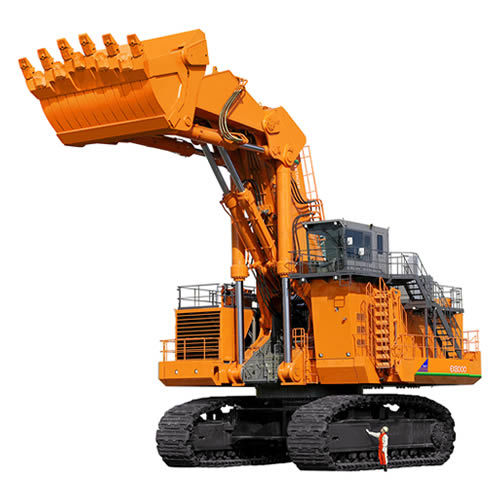 Ultra-large Hydraulic Excavator EX8000