Sales Begin of the Hitachi Construction Machinery EH3500AC II Rigid Dump Truck
Hitachi Construction Machinery announces the sale from September 1, 2008, of the EH3500AC II rigid dump truck (Gross Machine Weight 325 tons, 185-ton payload class) for international use in large-scale mining.
The EH3500AC II utilizes AC drive technology from Hitachi, Ltd. using its most recent Insulated Gate Bipolar Transistor (IGBT), and based on the inverter technology used in high-speed railway trains.
Power transfer to the road is more efficient using the AC drive system. By eliminating heavy rotating components such as the transmission and differential components found in mechanically driven trucks, more of the power supplied by the diesel engine is transferred to the haul-road, and the maintenance costs for lubricating oil for these devices are reduced. Hitachi's brushless AC travel motors along with the latest Hitachi IGBT inverters reduce repair costs and deliver stronger, more controllable electric braking power (retarding) compared to the EH3500AC II's DC-powered predecessor.
The EH3500AC II is powered by a Cummins QSK 50 engine that is known for extended service life and fuel efficiency. This engine has been certified to the Tier 2 (U.S.) EPA Emission regulation.
The EH3500AC II includes the following features:
1. High Mobility and Productivity
The AC drive system, with its load-responsive IGBT inverter, excels in controlling travel motor speed and torque. Whether taking off from a standstill, ascending grades, or performing steering maneuvers, the system delivers an optimal, individual amount of power to each of the travel motors for smooth, quick operation.
The powerful electric braking system is manually or automatically applied for stable retardation of the hauler, without any need to apply the service brakes, resulting in decreased repair costs for the service brakes and improved component life.
Smooth speed control performance and stable braking performance bring speedy on-site hauling cycles, contributing to high productivity.
2. High Controllability
A large color LCD display, similar to that used on the Dash-6 Hitachi excavators, indicate travel speed, engine RPM, payload and fault information for improved operability.
The powerful electric drive system reduces operator fatigue as the system is easily controlled using a 3-position shift lever that provides forward, neutral and reverse, along with single accelerator and retarder pedals that are used to control hauler speed.
3. High Reliability and Safety
The rugged box-section main frame, water-cooled control panel, and travel reduction gear oil cleaning and cooling unit are all included in the standard truck, ensuring superior reliability.
The standard ROPS/FOPS cab complies with the requirement of ISO 3471 and 3449. Four emergency engine stop switches located at various points outside of the operators cab and a 630 mm wide access ladder are provided for safe machine operation, inspection and maintenance. And the cab is equipped with a rear view monitor like that used in Hitachi ultra-large hydraulic excavators.
4. Superior maintainability
The front suspension cylinders (replaceable without removing front wheels), automatic lubricating system, and outboard mounted rear service brakes provide easier maintenance.
Brief Specifications
Model
EH3500AC II
Payload class
185 ton
Body capacity (heaped 2:1/struck)
111/74 m3
Net machine weight (with standard equipment)
140,000 kg
Gross machine weight (with standard tires)
325,000 kg
Engine
Cummins QSK50
Gross engine power, kW/min-1(PS/rpm)
1,491/1,900 (2,000/1,900)
Overall length
13,500 mm
Overall width (including mirrors)
8,010 mm
Overall height
6,770 mm
Max. travel speed
56 km/h
Tire size
37.00R57
All units are SI international standards; those in parenthesis are former Japanese standard units.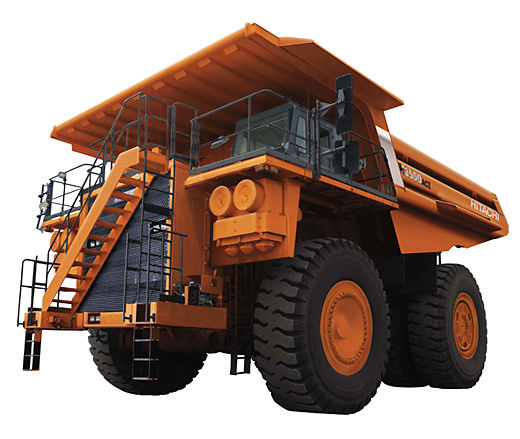 EH3500AC II
Information presented in this press release is valid as of the date of release; please note that information is subject to change without notice at a later date.