Hitachi Construction Machinery Launches EH3500AC-3& EH4000AC-3 Rigid Dump Trucks
11 Dec, 2014
AC drive dump truck with a control system that realizes operational stability
Hitachi Construction Machinery Co., Ltd. (TSE: 6305, "Hitachi Construction Machinery") today announced that it will launch two rigid dump truck models designed for use in large-scale mining operations anywhere in the world on December 15, 2014—the 180t-payload class EH3500AC-3 (nominal payload with standard equipment of 181tonnes, target gross machine operating weight of 322,000kg), and the 220t- payload class EH4000AC-3 (nominal payload with standard equipment of 221tonnes, target gross machine operating weight of 384,000kg).
The two rigid dump truck models are equipped with an AC drive system that was developed with Hitachi Group technologies employed in conventional models. This time around we improved the AC drive system with various sensors that provide information on drive conditions. The result is the Hitachi Drive Control System which reduces tire slippage on acceleration and tire lock-up during braking, and prevents chassis oscillation in a front-rear direction and tire skid while steering.
In addition, to satisfy the request of customers worldwide, we are giving them the choice between engines from two different companies. This option will also be made available for the EH5000AC-3 rigid dump truck, which we launched back in February 2013.
The release of these two rigid dump truck models completes the lineup for the EH AC-3 series of dump trucks equipped with an AC drive system. Along with our ultra-large hydraulic excavators, for which we boast a high market share, we plan to supply these rigid dump truck models to contribute to the improvement of productivity at mines around the world.
The Hitachi Construction Machinery Group is at present embarking on the fortification of the mining business, which is a key policy in the mid-term management plan, GROW TOGETHER 2016. In addition to further fortifying our develop, sales, and support system for high value-added products, including an autonomous driving dump truck, and carrying out development of emerging markets, we are also making optimal recommendations for mining operations and machine management, mainly using mine management systems developed by Wenco International Mining Systems Ltd. Going forward we plan to continue strengthening the mining business by working with Hitachi Group companies, including Hitachi, Ltd. whose strength is in information and communication, and infrastructure technologies, and also aim to provide a "Reliable solutions" to our customers worldwide.
Main features:
1. High Mobility and Productivity
We coupled the AC drive system, which has a high load-responsive IGBT inverter, with drive control software that was jointly developed with other Hitachi Group companies, to achieve a system that excels in controlling travel motor speed and torque. Whether taking off from a standstill, ascending grades, or performing steering maneuvers, the system delivers an optimal, individual amount of power to each of the travel motors for smooth, quick operation.
In addition to adding various sensors that detect vehicle motion, this is the first time in this class of machinery that we employed the Hitachi Drive Control System which aims to achieve higher drive control performance by reducing tire slippage on acceleration and tire lock-up during braking, and preventing chassis oscillation in a front-rear direction and tire skid while steering. Consequently, we realized strong and steady travel performance that ensures more stable jobsite haul-cycle times which contributes to higher productivity.
These two models also boast powerful electric brakes that are activated during downhill driving. Since this dump truck does not require the use of mechanical brakes during normal driving, not only is deceleration smoother but maintenance for the mechanical brakes is required less frequently.
2.High Operability
In the wide-berth cab, which is capable of housing two full-size seats, a large LCD display is located at the base of the handle. The display is in clear view and quickly provides the operator with information and warnings on drive operations such as traveling speed, engine turnover, and hauling performance. In addition, the multilingual display allows users to view information and warnings in their own language, thereby contributing to improved serviceability and safety.
Thanks to a powerful electric brake, the dump trucks can be normally operated using two pedals, one for acceleration and one for the brakes. Easier operability alleviates operator fatigue.
We located the levers and switches for operating the body the center console, making it possible operate the body with one hand.
3. High Reliability and Safety
The mainframe's structural design, including the cab support, is improved and fortified based on operating information we gathered on conventional models being used around the world.
We added a temperature sensor to the bearing area of the alternator and drive motor, which are the main components of the AC drive system developed in cooperation with other Hitachi Group companies. An alarm sounds when the sensor detects abnormal heat emission, and restricts driving operations to prevent sudden damage to the machine.
Improvements were made to the nominal payload measurement system. Measurement errors have been reduced by reflecting changes in fuel weight within the fuel tank into the nominal payload. In this fashion, we are working to further improve the reliability of production volume measurements at mining sites.
ROPS and FOPS are built into every truck cab as a standard safety requirement to withstand the impact of falling objects or a truck rollover. Other standard safety features include two mirrors with a front and rear view cameras to provide extensive truck perimeter visibility, ample 630mm width truck access stairways, and four engine stop switches located outside the cab to allow the operator to turn off the engine in an emergency situation during maintenance. In addition, we took advantage of the wide cab feature to provide more ample foot space to improve the operating environment.
The optional Peripheral Vision Support System feature provides another view to support the operator.
4. Superior Maintainability and Interchangeability
We are now offering customers the option of choosing between the standard feature Cummins Inc. engine and one by MTU Friedrichshafen GmbH. With the exception of North America where there are exhaust gas restrictions, to respond to the voice of customers worldwide, we are offering a choice of engines to contribute to an improvement in productivity and maintainability.
The evacuator exhaust valve for the engine suction filter and electric grease pump are among the new features we added to further improve daily maintainability.
Other standard features for maintainability include a trailing arm front suspension that permits strut removal without tire removal, a centralized auto-grease system can be accessed from the ground, a battery and relay box located in the front bumper for easy access, and a maintenance deck in the rear of the cab.
We also achieved a high level of interchangeability for common engine and hydraulic system components used in AC drive dump trucks and ultra large hydraulic excavators.
 
Models
EH3500AC-3
EH4000AC-3
EH5000AC-3
Nominal Payload with standard equipment (tonnes)
181
221
296
Body capacity (heaped 2:1/struck) (m3)
117 / 80.4
154 / 106
202 / 148
Net machine weight (with 100% fuel and standard equipment) (kg)
141,000
163,000
204,000
Target Gross machine operating weight (with standard tires) (kg)
322,000
384,000
500,000
Standard Engine (Cummins)
QSKTA50-CE
QSKTA60-CE
QSKTTA60-CE
Standard engine gross power (kW/min-1[HP/rpm])
1,491/1,900
[2,000/1,900]
1,864/1,900
[2,500/1,900]
2,125/1,900
[2,850/1,900]
Optional Engine (MTU)
12V4000 C21
16V4000 C21
16V4000 C20L
Optional engine gross power (kW/min-1[HP/rpm])
1,510/1,900
[2,025/1,900]
1,864/1,900
[2,500/1,900]
2,125/1,900
[2,850/1,900]
Overall length (mm)
13,560
14,390
15,490
Overall width (including mirrors) (mm)
9,130
9,330
9,600
Overall height (mm)
7,000
7,310
7,520
Max. travel speed (km/h)
56
56
56
Tire size (standard) (-)
37.00R57
46/90R57
53/80R63
All units are SI international standards; those in square bracket are former standard units.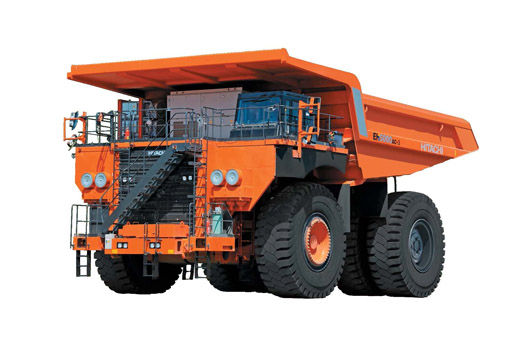 EH4000-AC3
Information presented in this press release is valid as of the date of release; please note that information is subject to change without notice at a later date.