Hitachi Construction Machinery Partners with Trimble in the Development of Cloud-based Platform
Tokyo, Japan March 7, 2017 —- Hitachi Construction Machinery Co., Ltd. (TSE: 6305; "Hitachi Construction Machinery") today announced that it is partnering with Trimble® Inc. (NASDAQ:TRMB "Trimble") to develop a cloud-based platform for civil engineering and construction.
Partnering with Trimble, a global provider of high-precision devices, software, and solutions in the survey field, Hitachi Construction Machinery will offer optimal solutions to diverse customers, in particular the civil engineering and construction industry, which will comply with i-Construction promoted by the Ministry of Land, Infrastructure, Transport and Tourism.
Specifically, building on the technology and know-how from Trimble Connect™ software, a cloud-based collaboration ecosystem, Hitachi Construction Machinery aims to develop a platform alongside Trimble in order to achieve the seamless management and usage of information from the customers' offices and work sites to the construction machinery driver's seats. At the same time, Hitachi Construction Machinery will offer ideal solutions for construction machinery of Hitachi Construction Machinery and other vendor's information and communications technology (ICT) construction machinery currently in operation at the customers' work sites through developing user-friendly applications in line with the customers' operations.
For instance, in the i-Construction environment, which requires coherent management and usage of 3D data, customers in charge of measurement, design and construction planning, construction, inspection, or maintenance and upgrade, as well as Hitachi Construction Machinery's business partners will be able to retrieve and use necessary information anywhere anytime from their smartphones and tablets via the Internet. Data interfacing with working ICT construction machinery will also contribute to enhanced productivity.
This solution will be developed for customers in Japan and also promoted in certain regions abroad.
Hitachi Construction Machinery and Trimble have previously collaborated by embedding Trimble's 3D machine guidance system in Hitachi Construction Machinery's ICT hydraulic excavator, ZX200X-5B. This time, the two companies will build an even stronger relationship through the development of a platform to deliver solutions to a broad range of industries in addition to civil engineering and construction.
The Hitachi Construction Machinery Group will continue to promote collaborations with different business partners through open innovation. We will also work on "One Hitachi"―the efforts to utilize ICT, control, and IoT technologies that constitute Hitachi Group's edge―to deliver i-Construction support and other reliable solutions for social issues as a close, reliable partner to our customers.
"We are excited to partner with Trimble to create an intelligent platform that can enable customers to realize even greater productivity enhancements," said Hideshi Fukumoto, executive officer and President, Client Solutions Business Development of Hitachi Construction Machinery. "The platform will enhance data exchange, technology interoperability and collaboration as well as address the requirements that will enable construction contractors to support Japan's i-Construction initiative."
"Partnering with Hitachi will enable customers to experience seamless data flow between office, site and machine," said Bryn Fosburgh, senior vice president of Trimble. "This latest collaboration further expands our relationship from providing on-machine technology to integrating software solutions."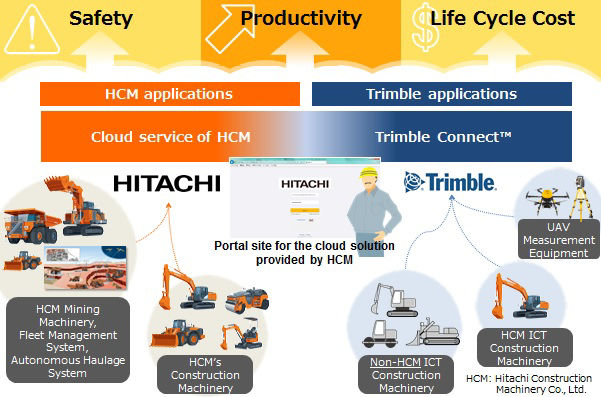 A seamless platform developed by Hitachi Construction Machinery and Trimble
– Trimble and Trimble Connect is a trademark of Trimble Inc. registered in U.S. and other countries.
About Hitachi Construction Machinery Co., Ltd.
Hitachi, Construction Machinery Co., Ltd., (TSE: 6305), headquartered in Tokyo, Japan, is a global Construction Machinery company with approximately 20,000 employees worldwide. Fiscal 2015 (ended March 31, 2016) consolidated revenues totaled 758 billion yen. Hitachi Construction Machinery will focus more than ever on the Construction and Mining Machinery Business, which includes Hydraulic Excavators, Wheel Loaders, Rigid Dump Trucks, Compaction Equipment, Cranes & Foundation Machines, Applications and Mine Management Systems. For more information on Hitachi Construction Machinery, please visit the company's website at https://www.hitachicm.com/global/.
About Trimble® Inc.'s Civil Engineering and Construction Division
Trimble is a leading innovator of hardware and software solutions for civil engineering and construction. Trimble's advanced technologies transform work across the project lifecycle for owners, engineers and contractors. Solutions include planning and design software, precision machine control, site positioning, mobile technologies and real-time connectivity. As part of Trimble's Connected Site® strategy, these solutions empower civil engineers and construction professionals to construct with confidence, delivering significant improvements in productivity at every phase of a project—from concept and design to construction and maintenance.
For more information, visit: construction.trimble.com.
About Trimble® Inc.
Trimble is transforming the way the world works by delivering products and services that connect the physical and digital worlds. Core technologies in positioning, modeling, connectivity and data analytics enable customers to improve productivity, quality, safety and sustainability. From purpose built products to enterprise lifecycle solutions, Trimble software, hardware and services are transforming a broad range of industries such as agriculture, construction, geospatial and transportation and logistics. For more information about Trimble (NASDAQ:TRMB), visit: www.trimble.com.
Information contained in this news release is current as of the date of the press announcement, but may be subject to change without prior notice.