Participation in the Japan-India Manufacturing Skill Transfer Promotion Program Aimed at Cultivating Human Resources Who Are Capable of Playing a Central Role in India's Manufacturing Sites
Tokyo, Japan September 15, 2017 —- Hitachi Construction Machinery Co., Ltd. (TSE: 6305; "Hitachi Construction Machinery") today announced that it is taking part in the Japan-India Manufacturing Skill Transfer Promotion Programme, a collaboration between the Japanese and Indian governments, at its consolidated subsidiary, Tata Hitachi Construction Machinery Company Private Limited (Managing Director: Sandeep Singh, Headquarters: Bengaluru, Karnataka, India, "Tata Hitachi"). Tata Hitachi is responsible for expanding construction machinery manufacturing, sales, and service operations in India.
In India's manufacturing field, where mid-to-long term economic growth is expected, the Japan-India Manufacturing Skill Transfer Promotion Programme is a program aimed at contributing to India's "MAKE IN INDIA" and "Skill India" campaigns. This program aims to cultivate 30,000 human resources in manufacturing over 10 years under public and private partnerships between Japan and India. On November 11, 2016, Japan's Minister of Economy, Trade and Industry ("METI") and India's Ministry of Skill Development & Entrepreneurship signed a memorandum promoting this program.
To endorse the aim of this program and the initiative of both governments, Hitachi Construction Machinery, with the certification of the METI, will establish educational facilities and develop educational programs at the Japan-India Institute for Manufacturing ("JIM"). JIM is one of the institute cultivating human resources who are capable of playing a central role in India's manufacturing sites and one of the pillars of this program. Hitachi Construction Machinery will then promote JIM initiatives at educational facilities within the Dharwad Works premises owned by Tata Hitachi.
In India with its remarkable economic growth, the Hitachi Construction Machinery Group will continue contributing to the cultivation of human resources through this program and other initiatives as well as provide hydraulic excavator and other construction machinery used in social infrastructure development.
1. Company Name
Tata Hitachi Construction Machinery Company Private Limited
2. Number of Employees (as of March 31, 2017)
2,052
3. Number of Locations (as of March 31, 2017)
Manufacturing locations: 3
Sales and service locations: 237
4. India Operations Sales Revenue (Fiscal 2016 Results Consolidated with Hitachi Construction Machinery)
Approximately 48.6 billion yen
5. History
1984: Hitachi Construction Machinery and construction machinery departments of TELCO (currently: Tata Motors Ltd.) enter into business partnership
1998: Operation begins at manufacturing factory in Dharwad
2000: Equity participation in TELCO CONSTRUCTION EQUIPMENT Co., Ltd.(TELCO wholly-owned subsidiary) by Hitachi Construction Machinery
2008: Operation begins at manufacturing factory in Kharagpur
2010: Becomes consolidated subsidiary of Hitachi Construction Machinery
2012: Changes name to Tata Hitachi Construction Machinery Company Limited
2015: Changes name to Tata Hitachi Construction Machinery Company Private Limited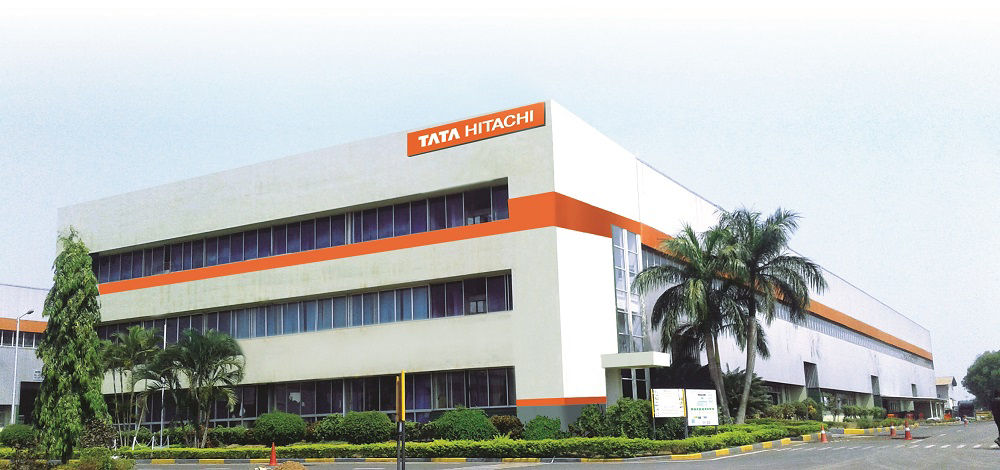 Tata Hitachi's Dharwad Works to partake in JIM
About Hitachi Construction Machinery Co., Ltd.
Hitachi, Construction Machinery Co., Ltd., (TSE: 6305), headquartered in Tokyo, Japan, is a global Construction Machinery company with approximately 20,000 employees worldwide. Fiscal 2016 (ended March 31, 2016) consolidated revenues totaled 753 billion yen. Hitachi Construction Machinery will focus more than ever on the Construction and Mining Machinery Business, which includes Hydraulic Excavators, Wheel Loaders, Rigid Dump Trucks, Compaction Equipment, Cranes & Foundation Machines, Applications and Mine Management Systems. For more information on Hitachi Construction Machinery, please visit the company's website at
https://www.hitachicm.com/global/