Mini excavator for civil construction use ZX60C-5A released for marketing in China
Tokyo, Japan October 12, 2020 —- Hitachi Construction Machinery Co., Ltd. (TSE: 6305; "Hitachi Construction Machinery") today announced that Hitachi Construction Machinery (Shanghai) Co., Ltd., a subsidiary in the People's Republic of China ("China"), will start marketing of mini excavator for civil construction use ZX60C-5A (standard bucket capacity 0.21 m3, operating weight 5.4 t) for Chinese market in October 2020. The company expects to sell 400 units by the end of the fiscal year.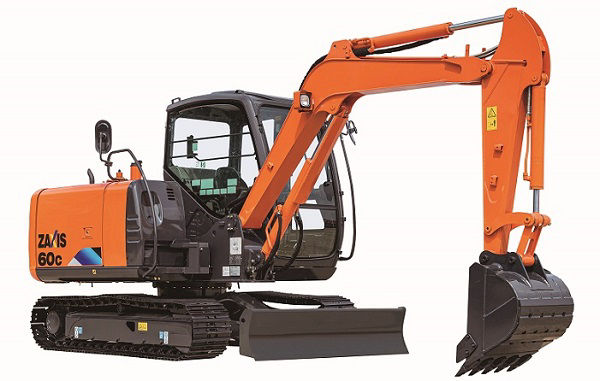 Mini excavator for civil construction use ZX60C-5A for Chinese market
Hitachi Construction Machinery's hydraulic excavators have a high reputation for durability, operability, quality and performance in China as well as other countries and regions. Additionally, we have prepared a lineup of products to be able to respond to any application requirement as mini excavators are used for wide-ranging applications such as urban civil engineering including road building, agriculture and forestry applications, landscaping, animal husbandry application, demolition, snow removal and others.

These days in China, the demand for infrastructure improvements such as urban development and agricultural land improvement, etc. have been increasing and min excavators are often used for civil construction without changing their front-end attachments. Also, since the number of self-employed charter operators has been increasing, it is also necessary to have a product lineup to meet such operators' needs.
Under the circumstances, Hitachi Construction Machinery established Marketing Strategy Group in April 2019 to promptly respond to ever-changing customer needs and business environment in each country and region. Following Hitachi Construction Machinery's drafting of a product strategy after collecting and analyzing information on customer needs mainly in the emerging markets as well as the Chinese market, Hitachi Construction Machinery (China) Co., Ltd., which develops and manufactures mini and hydraulic excavators in China and Hitachi Construction Machinery Tierra Co., Ltd., which is responsible for the Hitachi Construction Machinery Group's compact machinery business, have jointly developed the mini excavator ZX60C-5A.
It was developed to respond to the needs of the self-employed charter operators, including better cost performance, while maintaining the Hitachi's reputed quality and performance. Then, 50 units of them were sold for test marketing in February 2020. And, they have been given a high valuation for operability and fuel efficiency by the customers. As a result, mass production and marketing of the model were decided. With the mass production model, the standard bucket capacity is increased and a blade is standardized, which were strongly asked for by the customers who were engaged in agricultural and forestry land maintenance, afforestation work, or road building. As a result, usability of the machine for civil construction use was further increased.
Main features
Best suited specifications and structure for urban civil construction such as road building

Although mini excavators are used for wide-ranging applications, the specifications and structure of ZX60C-5A are best suited for road building and agricultural and forestry land maintenance as an excavator dedicated for civil construction works. It is also equipped with a standard blade, which is used for land grading.
ZX60C-5A has operability equivalent to that of ZX60-5A and good fuel efficiency
ZX60C-5A has operability equivalent to that of ZX60-5A, which is a 6-ton class mini excavator highly reputed in China. Also, it has a more efficient hydraulic system and good fuel efficiency due to an optimized size engine. In addition, , since its audio equipment and other amenities are of add-on type, customer can choose as they like after purchasing the excavator.
Better cost performance
Some instruments inside the cab which do not directly affect operability of the excavator and some parts of drive components are locally procured in China. They were confirmed to conform to Hitachi's quality standards. Thus, the price of the excavator was restrained as much as possible.
The Hitachi Construction Machinery group will continue to develop products which better meet customer needs by promptly responding to ever-changing market needs in China and other countries and regions with joint efforts of Hitachi Construction Machinery and other regional companies.
Main specifications of the civil construction use mini excavator ZX60C-5A
Item
ZX60C-5A
Bucket capacity (m3)
0.21
Dimensions in transport condition
Length overal (mm)
5,880
Width overall (mm)
2,060
Height overall (mm)
2,470
Rear-end swing radius (mm)
1,650
Operating weight (kg)
5,400
Engine output power(kW)
28.1
Related information
February 18, 2020 News release
About Hitachi Construction Machinery

Hitachi, Construction Machinery Co., Ltd., (TSE: 6305), headquartered in Tokyo, Japan, is a global Construction Machinery company with approximately 25,000 employees worldwide. Fiscal 2019 (ended March 31, 2020) consolidated revenues totaled 931 billion yen. Hitachi Construction Machinery will focus more than ever on the Construction and Mining Machinery Business, which includes Hydraulic Excavators, Wheel Loaders, Rigid Dump Trucks, Compaction Equipment, Applications and Mine Management Systems. For more information on Hitachi Construction Machinery, please visit the company's website at https://www.hitachicm.com/global/
Information contained in this news release is current as of the date of the press announcement, but may be subject to change without prior notice.