Ami Parts Center, Japan Serving the Mining Machinery Market, to Begin Operation
Expanding our parts and service business globally, to streamline the supply system
Tokyo, June 15, 2022 –Hitachi Construction Machinery Co., Ltd., (TSE: 6305 President and Executive Officer: Kotaro Hirano, "Hitachi Construction Machinery") will begin operation of the Ami Parts Center (Ami-machi, Inashiki-gun, Ibaraki Prefecture, Japan) in July, with the aim of strengthening our global supply system for mining machinery service parts.

Hitachi Construction Machinery will outsource all aspects of the distribution of service parts from the Ami Parts Center on a 3PL* basis to Hitachi Transport System, Ltd. (Representative Executive Officer and President, Hiroaki Takagi; "Hitachi Transport"), and Hitachi Transport's global physical distribution management system will streamline the system for the global supply of mining service parts.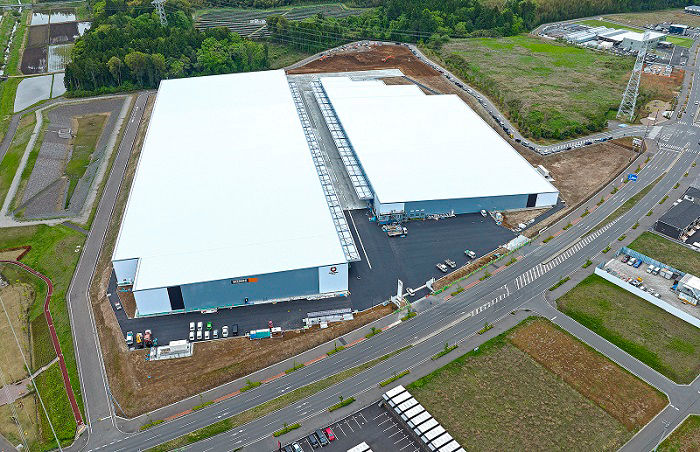 Exterior view of the Ami Parts Center
The supply of construction machinery service parts needs to be speedy and on-time for construction machinery at construction and mining sites around the world to operate stably without downtime. Hitachi Construction Machinery has contributed to the stable operation of our customers' machinery by supplying service parts to our Regional Parts Distribution Centers across the world from the Tsukuba Parts Center (Tsukuba City, Ibaraki Prefecture, Japan), our service parts control center that began operation in May 2014. In addition, with the start of full-scale independent expansion in the Americas, in March 2022 we began operation of a parts distribution center near Atlanta USA (see attachment). The operation of both bases is outsourced on a 3PL basis to the Hitachi Transport Group, and we are working to strengthen our global supply system, including in the Americas.
Specializing in service parts for mining machinery, the building specifications of the Ami Parts Center are compatible with super-sized, heavy loads. In addition to the consignment space, it is also equipped with a dedicated outbound area, with the ability to ship overseas from the Center. The Ami Parts Center will serve as our second major base for service parts, following on from the Tsukuba Parts Center.
The Hitachi Construction Machinery Group will continue to contribute to the stable operation of our customers' machinery through the prompt and reliable supply of service parts.
*3PL: Abbreviation of 3rd Party Logistics. The execution of all distribution operations of the company is outsourced in its entirety to a third-party enterprise.
Overview of the Ami Parts Center
Official name
DPL Tsukuba Ami II
Property owner
Daiwa House Industry Co., Ltd.
Location
5-1, Yoshiwara 5-Chome, Ami-machi, Inashiki-gun, Ibaraki Prefecture, Japan
(Access: One minute by road from the Amihigashi IC on the Ken-O Expressway)
Building specifications
Steel-framed structure (Single-story, above ground)
Site area
Approx. 68,000 m2
Area leased
Approx. 33,000 m2
Load capacity
3.5 t per 1 m2
Loading equipment
Overhead crane 15 t × 1, 10 t × 1, 2.8 t × 8: dock leveler 4: High-rise palette racks
Principal products handled
Service Parts for mining machinery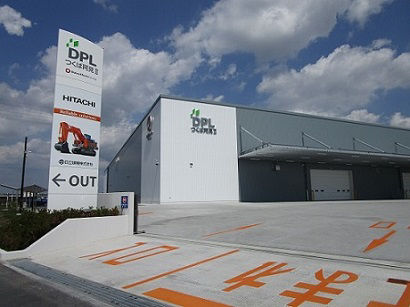 Entrance to the Ami Parts Center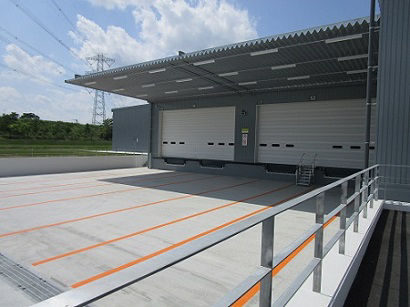 Dedicated shipping space
About Hitachi Construction Machinery Co., Ltd.
Hitachi Construction Machinery Co., Ltd. (TSE: 6305), headquartered in Tokyo, Japan, is a construction machinery manufacturer. The company engages in the development, manufacturing, sales, and service operations around the world for hydraulic excavators, wheel loaders, road construction machines, and mining machinery. Hitachi Construction Machinery is strengthening its focus on value chain businesses other than new machinery sales, such as parts and services, rentals, used equipment, and parts recycling, and is utilizing digital technologies to provide deeper solutions at all points of contact with customers. Hitachi Construction Machinery employs approximately 25,000 people worldwide. In fiscal year 2021 (ended March 2022), the consolidated sales revenue was ¥1,025.0 billion and the percentage of overseas sales revenue was approximately 79%. For details, visit the company's website.
Information contained in this news release is current as of the date of the press announcement, but may be subject to change without prior notice.