Battery-Powered Mini and Compact Excavators to be Displayed at bauma 2022
Contributing to zero emissions at construction sites with EAC

Tokyo, October 18, 2022 –Hitachi Construction Machinery Co., Ltd. (TSE: 6305 President and Executive Officer: Kotaro Hirano, "Hitachi Construction Machinery") has announced that, against the background of a growing need for electric equipment in the European market, the company will display its full lineup of battery-powered mini and compact excavators at the world's leading trade fair for construction machinery - bauma 2022 in Munich, Germany from 24 to 30 October.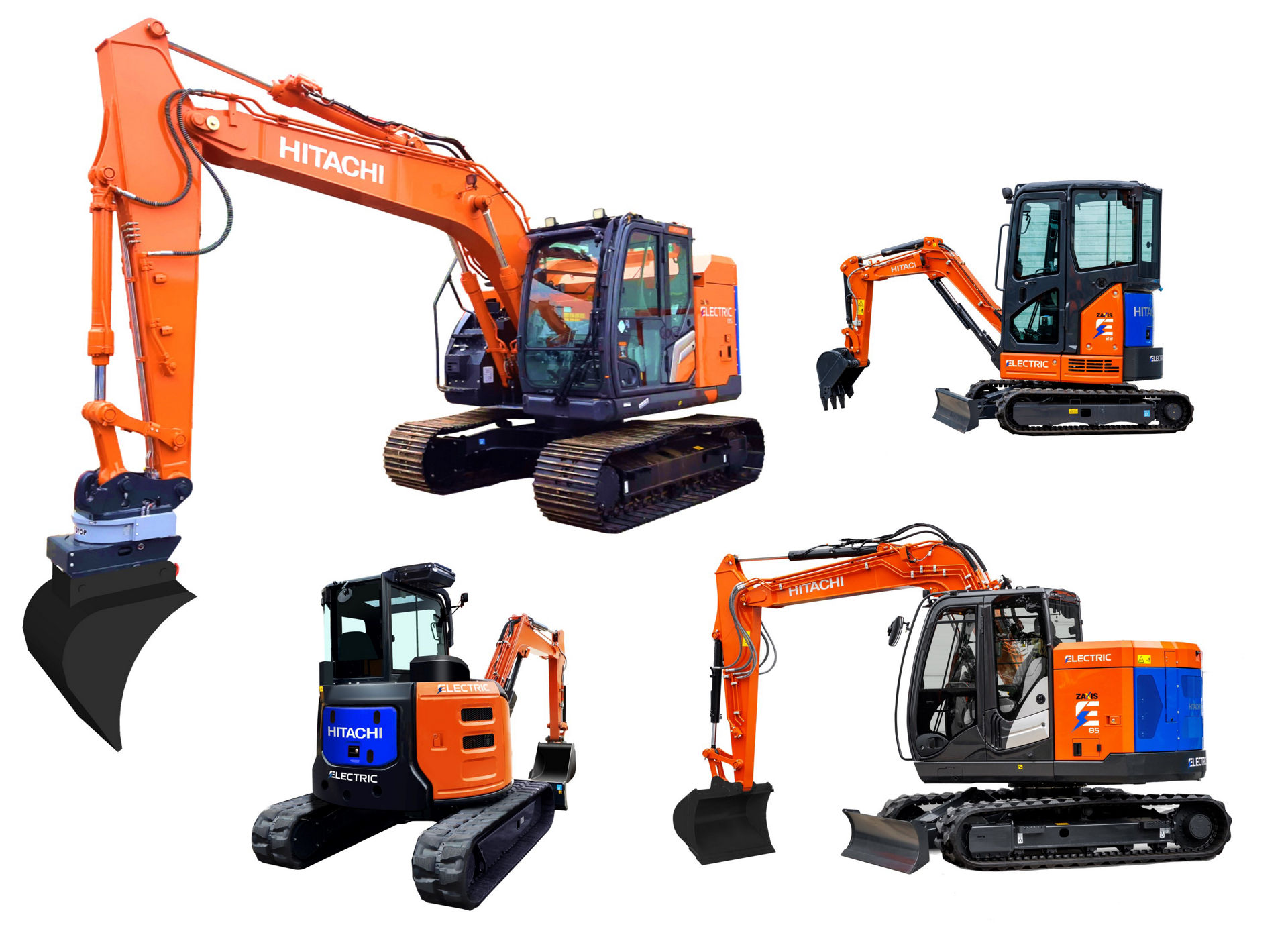 Battery-powered mini and compact excavators (2, 5, 8 and 13-tonne class)
Contributing to zero emissions at construction sites, Hitachi Construction Machinery Group released the ZE85* (8-tonne class) in 2020 and started the preordering process for the ZX55U-6EB (5-tonne class) in June 2022. In addition to these two models, two battery-powered excavator prototypes (2 and 13-tonne class) developed by European Application Center GmbH (headquarters: Stockstadt am Rhein, Germany; "EAC"), a joint venture company established by Hitachi Construction Machinery and a subsidiary of its European distributor Kiesel, will be presented to the public for the first time at bauma 2022, bringing the total number of models on display to four (2, 5, 8 and 13-tonne class).
In recent years, environmental regulations have been tightened in various countries and regions around the world to combat global warming and create low-carbon societies. In the construction machinery industry, like the automobile industry, there are high expectations for electric machinery with zero carbon dioxide and other greenhouse gas emissions during operation. In the European market, in particular, there is a growing need for battery-powered electric hydraulic excavators for use in construction work in dense urban areas.

The main feature of the 2 and 13-tonne class prototypes developed by EAC is their combined use of battery power and a commercial electricity supply while maintaining the same workload as engine-powered models. Long operating hours are achieved by this use of battery power in conjunction with a commercial power supply. Additionally, the 2-tonne class prototype has the same outside dimensions as an engine-powered mini excavator of the same class and can work efficiently in confined spaces due to its short rear-end swing design.

Both prototypes (2 and 13-tonne class) will be used for future market surveys, but at the present time the launch date and price are still to be decided by Hitachi Construction Machinery.

Through EAC, Hitachi Construction Machinery Group will gain a more details understanding of trends for advanced technology and the challenges faced in Europe, enabling Japan and Europe to work together to develop electric construction equipment that matches the needs of the European market.

Going forward, Hitachi Construction Machinery Group will continue to work toward the development of technologies and products for the creation of new values to contribute to solve social, environmental and customer challenges.

*ZE85 is an electric construction machine developed by European Application Center GmbH.

Main prototype specifications
Item
2-tonne class
13-tonne class
Bucket capacity
0.05 m3
0.45-0.59 m3
Dimensions
Overall length
3,860 mm
7,720 mm
Overall width
1,450 mm
2,490 mm
Overall height
2,395 mm
2,870 mm
Rear-end swing radius
825 mm
1,840 mm
Machine weight
Approx. 2,300 kg
14,000 kg
Motor output
10 kW
85 kW
Battery capacity
18 kWh
99/198 kWh
Battery run time
2 h
4.4 h
ZE85 image on construction site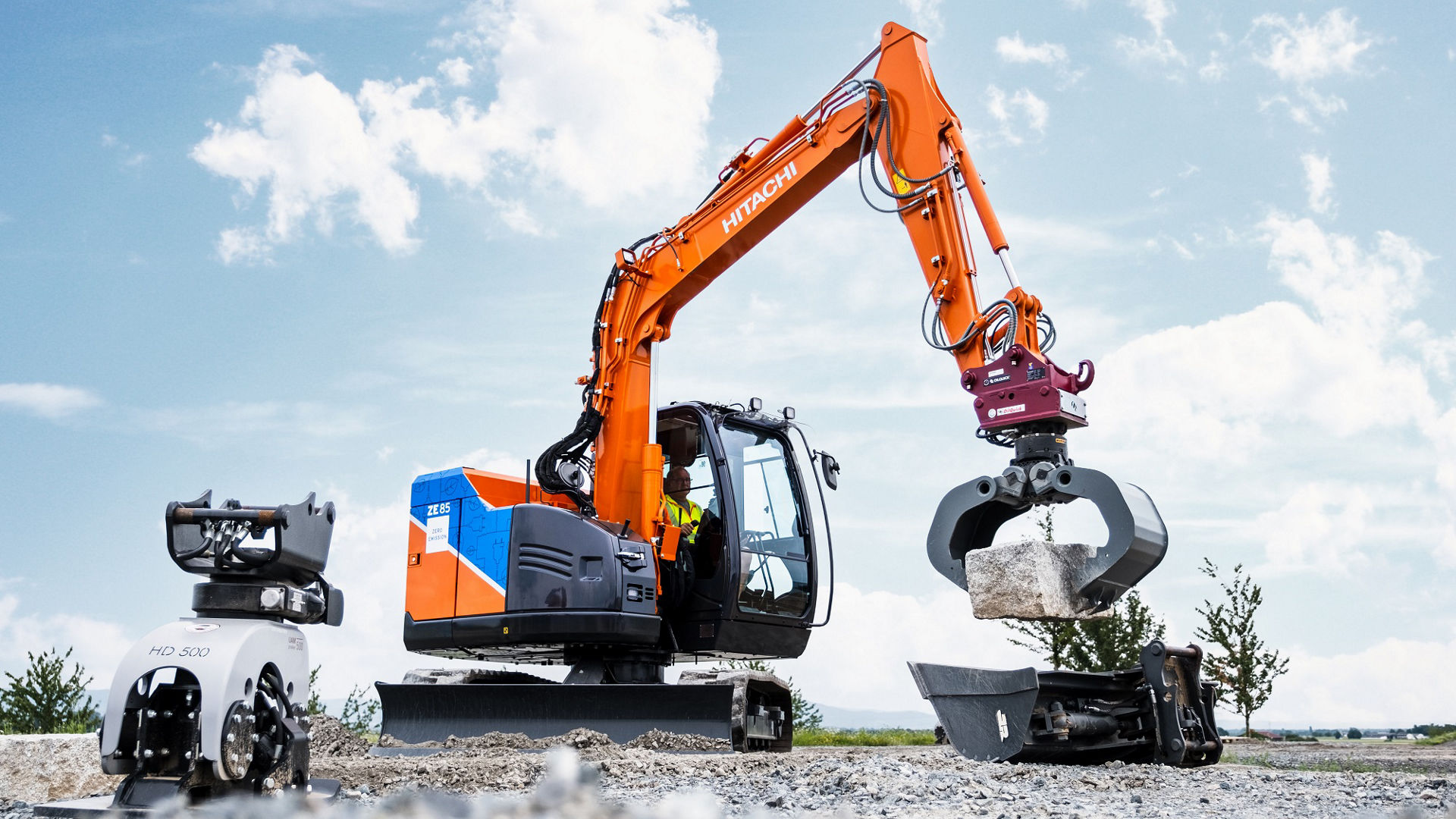 About Hitachi Construction Machinery Co., Ltd.
Hitachi Construction Machinery Co., Ltd. (TSE: 6305), headquartered in Tokyo, Japan, is a construction machinery manufacturer. The company engages in the development, manufacturing, sales, and service operations around the world for hydraulic excavators, wheel loaders, road construction machines, and mining machinery. Hitachi Construction Machinery is strengthening its focus on value chain businesses other than new machinery sales, such as parts and services, rentals, used equipment, and parts recycling, and is utilizing digital technologies to provide deeper solutions at all points of contact with customers. Hitachi Construction Machinery employs approximately 25,000 people worldwide. In fiscal year 2021 (ended March 2022), the consolidated sales revenue was ¥1,025.0 billion and the percentage of overseas sales revenue was approximately 79%. For details, visit the company's website.
Information contained in this news release is current as of the date of the press announcement, but may be subject to change without prior notice.