Hitachi Construction Machinery and Kyushu Electric Power Sign Memorandum of Concerning to Collaborate on Power Grid Solutions at Construction Sites
Joint development of mobile energy storage systems to promote zero emissions at construction sites

Tokyo, October 25, 2023 – Hitachi Construction Machinery Co., Ltd. ( Head office: Taito-ku, Tokyo, President and Executive Officer: Masafumi Senzaki, "Hitachi Construction Machinery") signed a memorandum on October 23rd with Kyushu Electric Power Co., Ltd. (Head office: Fukuoka, Fukuoka Prefecture, President and CEO: Kazuhiro Ikebe, "Kyushu Electric Power") regarding collaboration on power grid solutions at construction sites.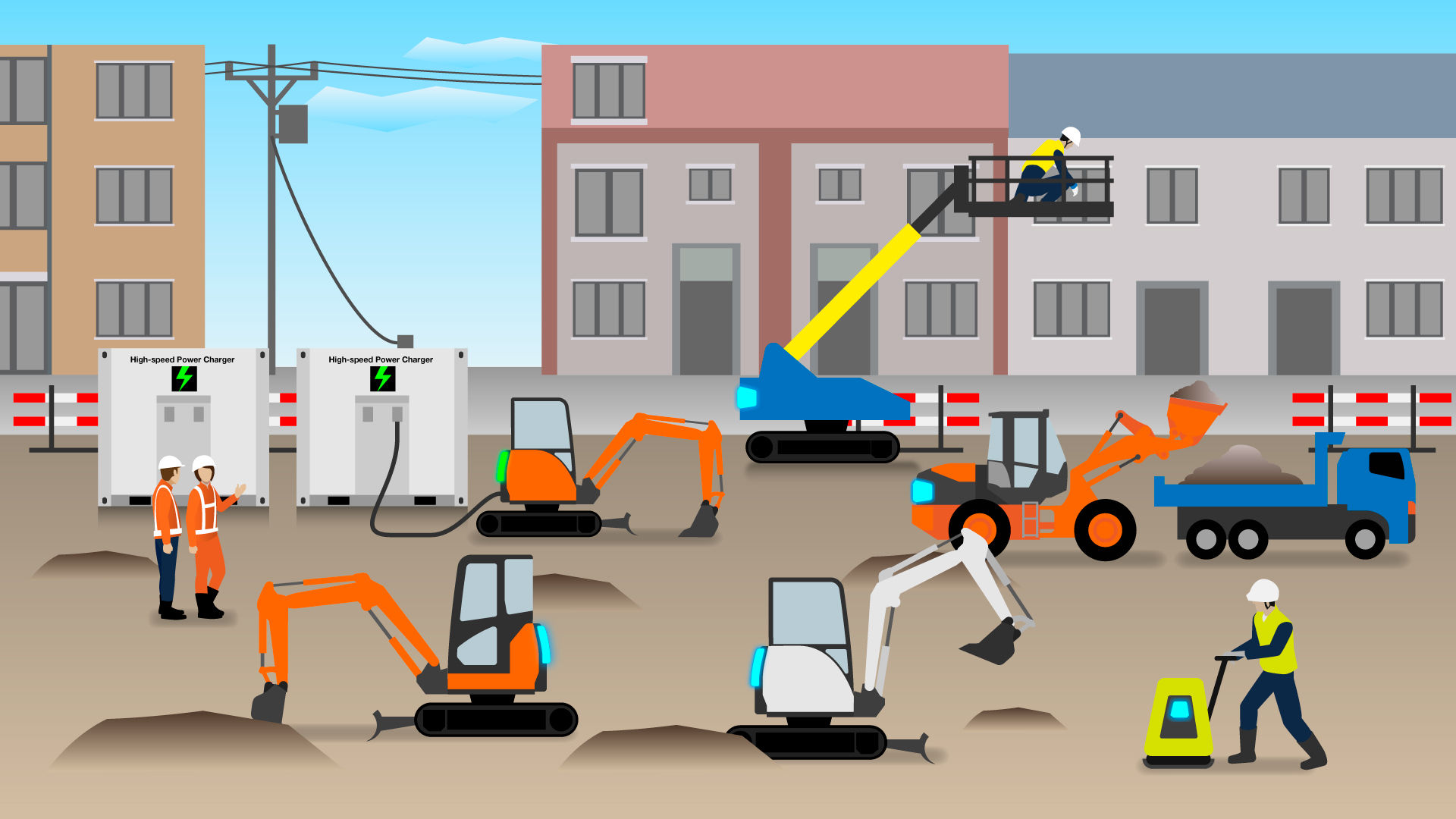 The image of "Zero Emissions Construction Site"
With initiatives to globally reduce CO2 advancing in recent years, there is growing interest in electric construction machinery from various stakeholders including customers conducting business in the civil engineering and construction industries. To promote the shift to zero emissions construction sites, it is important to realize not only the stable operation of electric construction machinery but also to provide charging and other infrastructure equipment.
Based on this memorandum, both companies will start joint development of mobile energy storage systems for construction sites using Kyushu Electric Power's lithium-ion battery packs for industrial machinery from 2024. These mobile energy storage systems support not only electric construction machinery but also a wide variety of materials and equipment (lighting equipment, electrically powered equipment, offices, etc.) used at construction sites to help promote the shift to zero emissions construction sites. Furthermore, the mobile energy storage systems to be developed are scheduled to be utilized in demonstrations and market assessments for commercialization at the open innovation research facility which Hitachi Construction Machinery will newly establish in a few years.

Kyushu Electric Power has researched battery monitoring and control technologies needed for the safe use of lithium-ion batteries and high-speed charging technologies for 30 years from the perspective of addressing global warming and increasing the efficiency of energy use. In addition, the company was motivated by the 2011 Tohoku earthquake to start developing disaster relief equipment which uses storage batteries together with medical institutions. In recent years, Kyushu Electric Power has also promoted the efficient reuse of used batteries in industrial machinery and started a business in April 2022 to manufacture and sell mobile portable power sources for industrial equipment using lithium-ion battery packs and reused batteries.
Hitachi Construction Machinery is offering four models of battery-powered mini and small excavators for urban civil engineering in the European market. To further promote the shift to zero emission construction sites going forward, Hitachi Construction Machinery launched a new organization called the "Zero Emissions Business Planning Project" on October 1, 2023. The joint development with Kyushu Electric Power is also a part of this initiative.
In addition, Hitachi Construction Machinery Japan (Head office: Soka, Saitama Prefecture, President & Representative Director: Masaaki Hirose) has signed disaster relief agreements with local governments across Japan with a view to proposing the developed mobile energy storage systems in the future in addition to providing the construction machinery. needed for recovery work in a disaster.
This initiative will apply the knowledge of battery application technologies which Kyushu Electric Power has cultivated to date and the construction machinery know-how and sales and servicing network of Hitachi Construction Machinery to continue taking on the challenge of new forms of value creation and helping to solve social, environmental, and customer issues.
About Hitachi Construction Machinery Co., Ltd.
Hitachi Construction Machinery Co., Ltd. (TSE: 6305), headquartered in Tokyo, Japan, is a construction machinery manufacturer which globally deploys development, manufacturing, sales, and service businesses for its hydraulic excavators, wheel loaders, compaction equipment, and mining machinery, etc. In addition to its new machinery business, Hitachi Construction Machinery is expanding its "value chain businesses" of parts and services, remanufacturing (parts and machines), rentals, and used equipment as it aims to grow together with customers as a true solutions provider that offers innovative solutions to customers. With roughly 25,000 employees around the world, the consolidated sales revenue for Hitachi Construction Machinery was ¥1,279.5 billion for fiscal year 2022 (ended March 2023) with an overseas sales revenue ratio of 82%. For more details, please see the company's website.
Information contained in this news release is current as of the date of the press announcement, but may be subject to change without prior notice.