ZAXIS380HH The Stone Handler, Operating in Japan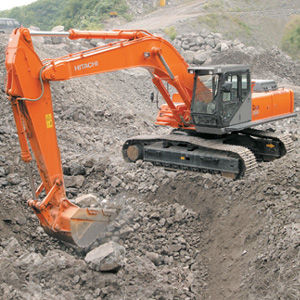 These days Japanese quarry and/or limestone industries are considering how to reduce their operating cost, because of low demand. To reduce their operating cost, they are requesting high productivity, high availability, and low O&O (Owning & Operating) cost to their main digging & loading equipment.
To meet quarry and/or limestone customer demands, Hitachi developed ZAXIS380HH with reinforced front attachment, frame, and undercarriage. Also it designed from Hitachi's experience & know-how on quarry & limestone industry.
Hitachi has sold ZAXIS380HH since this February, and shipped 27 excavators to domestic market. Following are some comments from customers.
Traveling is stable.
Cab height is fit to operation.
Easy to grease bucket pin area.
Good operability.
Enough traction force.
Machine is stable.
Very low noise in cab.
Features
High Production
184kW (250PS) Powerful engine
240kN (24,500kgf) Digging force
Less fuel consumption
Strong Boom and Arm
Bulkhead-reinforced boom & arm
Stress-relieved welding
Exclusive Bucket for Limestone / Crushed Stone Handling
Wear-resisting steel bucket
Reshaped bucket for more strength
Reinforced Undercarriage
Oversized track components equivalent to the bigger class ZAXIS450/450H
Increase traction force
Reinforced track frame
Rugged Pressurized Cab with Integrated Overhead Guard
ISO-standard FOPS large size cab
Low noise and vibration in cab
Auto control air conditioner
Specification
Item
ZAXIS380HH
Standard bucket capacity (m3)
1.5
Operating weight (kg)
37,800
Engine model
ISUZU AA-6HK1X
Engine rated power (kW/min-1)
184 / 2,000 (HP mode)
Crawler length (mm)
4,730
Undercarriage width (mm)
3,190
Ground pressure (kPa)
76
Swing speed (min-1)
11.8
Travel speed High / Low (km/h)
5.3 / 3.2
Max. digging force (kN)
240 (Power boost)
Max. digging reach (mm)
11,020
Max. digging depth (mm)
7,290
Max. cutting height (mm)
10,010
Note
Not all Hitachi dealers are handling ZAXIS380HH. For more details, please contact to your nearest Hitachi dealer. To find nearest dealer, please click below.
Dealer Locator