Hitachi Construction Machinery (Europe) NV continues to expand in Amsterdam
27 Sep, 2005
Hitachi Construction Machinery (Europe) NV, (HCME) is proud to announce that the current factory in Amsterdam will be expanded. The new facility will enable the company to meet growing demand for its midsize excavators in the range of Zaxis 110 – Zaxis 460. By expanding the factory in Amsterdam, HCME can increase annual production from 3000 machines in 2004 to 5000 machines in 2009.
On the premises of 18 hectares two expansions will be built. The current factory has a surface of 26.400 m².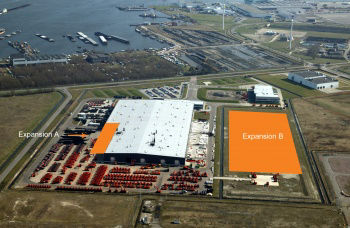 HCME Amstardam
Expansion A will cover 2.400 m² which will be used for an additional touch paint area. Expansion B will cover 21.600 m² and will be used as an additional assembly space for midsize excavators.
The rough schedule for expanding the factory is:
Start of construction: November 2005
Completion: August 2006
Start of the operation: September 2006
About Hitachi Construction Machinery (Europe) N.V.
Evolving out of Hitachi Ltd., Hitachi Construction Machinery Co., Ltd. (HCM) was established as an independent company in 1970. In order to cater for the interests of the customers who bought machines delivered far from Japan, and in order to form a strategic base for activities in Europe, Africa, the Middle-East and Russia, Hitachi Construction Machinery (Europe) (HCME) was established in 1972. Today Hitachi boasts an overall history as a general manufacturer of construction machinery. Main products of Hitachi are crawler excavators, wheeled excavators, wheeled loaders and rigid dump trucks. Hitachi provides a product line-up that distinguishes itself by its depth and width and that has earned an excellent reputation for performance, reliability and safety. HCME has over 600 staff working on the product line based on Japanese technology. With offices in Amsterdam, Oosterhout, Paris, Frankfurt, Madrid, Istanbul Dubai and Moscow, Hitachi is now further improving its services.
Author: Sander Gesink
Source: HCME