The common laboratory between Zhejiang University and HCM
The ceremony opening the lab
Zhejiang University and Hitachi Construction Machinery Co., Ltd (HCM) held the ceremony for the establishment of the common laboratory on 2nd November 2005. The laboratory is in the Fluid Power Transmission and Control field. Dr. Jun Zhu the vice President of Zhejiang University, who also is Director of The State Key Lab. of Fluid Power Transmission & Control, our executive vice president at the time Mr. Michijiro Kikawa, Mr. Yasuhiko Murata our vice president, Mr. Hiromitsu Suzuki chairman of Hitachi Construction Machinery (China) Co., Ltd attended the ceremony with eighty guests. Lab. of Fluid Power Transmission & Control and HCM have a long history exchanging personnel, science and technology. Professor Lu YongXiang, who is presently President of Chinese Academy of Science, Academic Member, managed the laboratory in 1985. Since 2000, HCM has been offering on going support. This establishment of the common laboratory was decided by both organizations, in order to communicate, continue the research, and to mutual benefit of the expansion of research with the relationship accumulated over years. On this occasion, Mr. Kikawa gave a speech in Chinese with his humour. He said to guest that "begin by living together then getting married".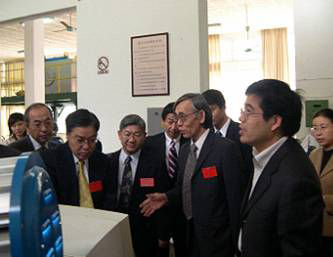 Seeing the lab with hopes for development of technology.
For Zhejiang University, corroborating with a top class manufacturer and making the common laboratory is a link for increase in the educational and technical level. Furthermore, for HCM, this laboratory will help expand the market of construction machineries in China with the respect for culture, customs and people in China. HCM expects that the lab. Is not only for the role of research, but also the role of intercultural harmony for understanding and corroboration between HCM and China's society.
Zhejiang University 
Zhejiang University is one of the oldest and most prestigious universities in China. Established in 1896, and the university has science, technology, medical and literature departments. This university is highly regarded in 3rd place.