Exchanges with the Hitachi IT Eco Experimental Village
Preservation of ecosystems is one of the three important pillars of the Hitachi Group Environmental Vision. The group is carrying out ecosystem preservation activities in line with this.
At the end of 2013, members from Hitachi Construction Machinery's Environment Promotion Office visited Hitachi, Ltd.'s IT Eco Experimental Village, which is situated in the mountains of Hadano City, Kanagawa Prefecture. Collaborating with local community residents, various efforts are being conducted at the village with the goal of reviving the traditional, natural landscape of the terrain and mountains. Among other things, instruments to measure temperature and humidity and sensor cameras to observe the wildlife and habitat are set up at various places around the village. Environmental conditions can be confirmed over the Internet.
The IT technology being used at the village will be useful for Hitachi Construction Machinery to preserve the natural environment in and around its plants and test sites. HCM plans to deepen its exchanges with the local community and is also considering adopting this IT technology to take its environmental preservation activities to the next level.
Sign at the village entrance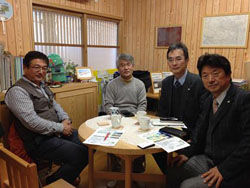 Exchanging opinions at the office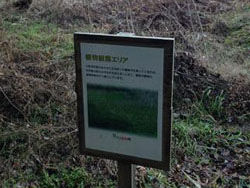 Vegetation observation area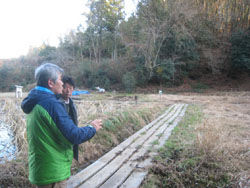 Chief of Eco Village showing us around