Donate ZX120‒1 to the City of Tacloban for Philippines' Post‒Typhoon Reconstruction
Hitachi Construction Machinery, via its local dealer Brighton Machinery Corporation, donated two ZX120‒1 hydraulic excavators to the Philippines' Department of Public Works and Highways (DPWH) for post‒disaster reconstruction in the City of Tacloban.
This was the second time Hitachi Construction Machinery Group going through Brighton Machinery, donated equipment for reconstruction. The first time, Hitachi Construction Machinery Trading Co., Ltd. donated four power generators to Jerry Sambo Yaokasin, the vice mayor of Tacloban. The ceremony to present the equipment to the city was held at the regional development office at Baras, Palo, on Leyte Island on May 26. At the ceremony, Brighton Machinery representatives George Tan and Tomas Bautista donated the machinery to DPWH Tacloban, represented by assistant regional director Edgar Tabacon and DPWH NCR representative director Dante Potante of the Bureau of Equipment Manila.
"This is a modest donation to aid the reconstruction of the disaster‒stricken areas hit by Typhoon Yolanda. We acknowledge the long‒standing ties and friendship between Japan and the Philippines and hope that the equipment donated by Hitachi Construction Machinery will accelerate reconstruction and help the Philippines make a quick recovery," said Mr. Tan, representative of Brighton Machinery.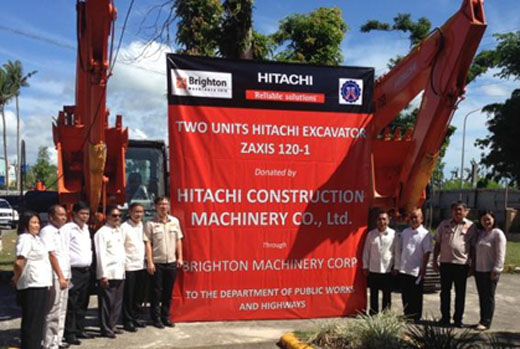 The donated ZX120‒1 and members from Brighton Machinery and the Department of Public Works and Highways