The 11th Shareholders' Factory Tour
On June 12, 2014, we held our 11th private shareholders' factory tour of our Tsuchiura Works in Ibaraki Prefecture.
On the day of the tour, despite the rainy weather, 48 shareholders participated in the tour. The Tsuchiura Works, where the tour was held, is a global mother plant which plays a central role in "Made by Hitachi" activities, as a key research, development, and manufacturing base for Hitachi Construction Machinery.
President Tsujimoto kicked off the shareholders' tour by talking about the businesses Hitachi Construction Machinery engages in and the growth strategies the company plans to embark on.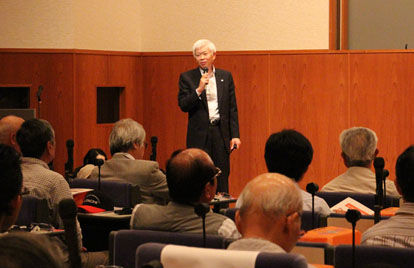 President Tsujimoto giving an explanation of the Hitachi Construction Machinery to shareholders
Next, the shareholders were shown around the manufacturing site for small and medium‒sized hydraulic excavators. Shareholders got a look at the where assembly, fabrication, welding, and other processes take place. During the tour, visitors entered a test chamber which is constantly kept at 20 degrees below zero, and also watched a performance of the lifting cab of a hydraulic excavator (the driver's seat cab moves up and down). The tour was well received by the participants.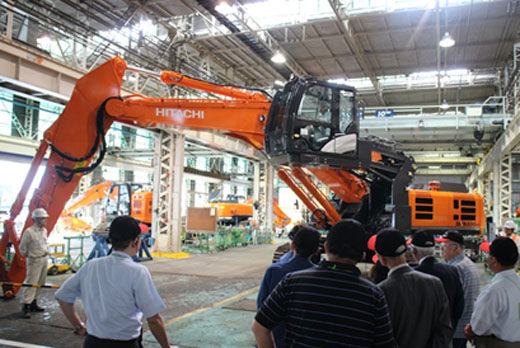 Elevation performance showing how the cab moves up and down
Furthermore, a demonstration of the twin‒arm machinery ASTACO ASTACO was performed and a commemorative picture was taken.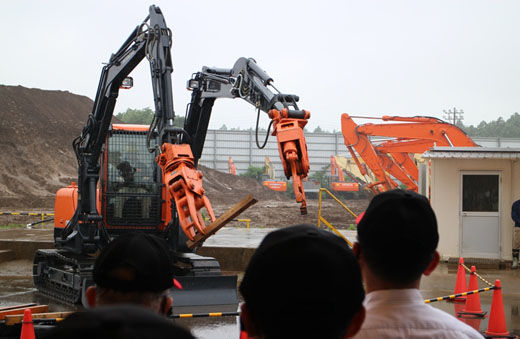 Demonstration of the twin‒arm machinery ASTACO
A Q&A; session was held after the tour. Many participants provided us with valuable opinions on our management strategies, technological development, and other issues.
Going forward we plan to hold factory tours as an opportunity to carry out dialogue with our shareholders and to deepen their understanding of our products and manufacturing bases.