Environmental Protection Classroom Hosted at Elementary School (Hitachi Construction Machinery China)
On May 19, Hitachi Construction Machinery (China) Co., Ltd conducted an environmental protection classroom at Hefei Yonghong Lu Elementary School in Hefei City, Anhui Province for 94 third graders. Employees volunteered to teach the children about environmental protection through skits and quizzes.
The skit, "The Curious Adventures of Xiao Yu" carries on where "The Planet in Song," a fairytale created by Hitachi, left off. The main character is a little girl named Xiao Yu (Little Hitachi). She goes on a journey to find the Green Angel, who has an abundant knowledge of the environment, to save her hometown, whose environment will be devastated in 50 years. In the story, Xiao Yu visits the nations of water, earth, trees, and wind. In each nation she learns about ways to solve problems related to water, waste, the desert, and the air, and thereby broadens her knowledge of the environment.
The children learned about the importance of protecting the environment. After the skit, a discussion was held. Some of the children said people should take it upon themselves to conserve electrical power and water, and to separate waste. Vice President Zhang from Hitachi Construction Machinery (China) concluded the class with a message "to implement your knowledge of the environment in daily life, tell all your friends what you learned and know about the environment, and to work together to keep the earth clean."
We plan to continue to carry out events such as this to widen out exchanges with people in local communities and to expand our environmental conservation activities.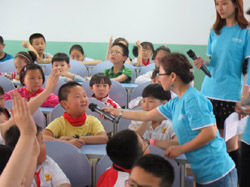 Children voiced their opinions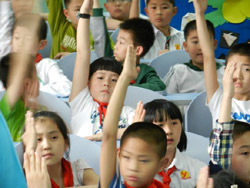 Children actively participated in the quiz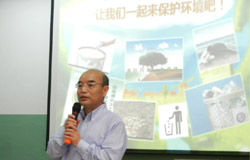 Speech by Vice President Zhang of Hitachi Construction Machinery (China)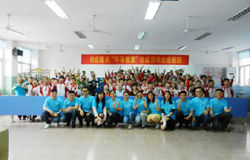 Commemorative picture with all participants