Fuijta Wins Second Straight Japan Para‒Cycling Road Championships
In the road time‒trials that Mr. Fujita participated in, physically‒impaired athletes categorized C3‒C5∗ compete together. Mr. Fujita is in the C3 category, indicating he was one of the most impaired athletes that participated in the C3‒C5 race. This did not hold him back the least bit, as he finished with the top time, winning him his second victory in a row at this event!
Mr. Fujita said he plans to begin training to win the UCI Para‒cycling Road World Cup in Spain at the end of July and hopes that everyone will give him their support.
Let's continue to cheer on Mr. Fujita!
∗The criteria for grouping athletes are based on the degree of motor dysfunction. The number indicates the severity of the impairment, which "1" being the most impaired.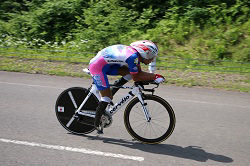 Fujita putting on a spurt