Tierra Summer Festival-Jointly Displayed the ASTACO and a Mini Excavator Autographed by Sumo Wrestler Endo-zeki (Hitachi Construction Machinery Tierra Co., Ltd.)
On August 2, 2014 (Saturday), Hitachi Construction Machinery Tierra Co., Ltd. held its fantastic summer festival. This year we distributed pamphlets to invite local residents from the surrounding communities. Those who attended the festivities were treated to both a factory tour and summer festival.
On display at this year's festival was a pink ZX17U mini excavator autographed by Sumo wrestler Endo-zeki, special courtesy of Notokenpan Co., Ltd.. As a part of the showtime performance, making its first appearance in the City of Koka, the ASTACO (Advanced System with Twin Arm for Complex Operation) ZX70TF-3 performed a dance to the music from the movie Frozen, drawing loud cheers from onlookers. Regulars to the event, the Yosakoi Akaoni (red devil) dance team and the Balloon Man, who performs balloon tricks, put on performances in front of ASTACO. This year's event attracted more visitors than usual.
The promotion of the recovery of used household cooking oil is an activity carried out at this festival each year. This year residents from the surrounding areas also brought in used household cooking oil. This proved to be a prime opportunity for HCM Tierra to gain the approval of its environmental activities from surrounding communities. We handed out 1,261 Uchiwa fans imprinted with the Hitachi Group's environmental vision and HCM Tierra's environmental activities. This year's festival attracted around 400 more visitors than in 2013. We believe this turned out to be a wonderful chance for us to inform many people about the environmental activities being undertaken by HCM Tierra. For HCM Tierra, which is continuing to carry out production and shipments late into the night as it sharply boosts output, the summer festival helped us to reconfirm the importance of maintaining communication with the surrounding communities and to acknowledge our gratefulness.
ASTACO and mini excavator autographed by Sumo wrestler Endo-zeki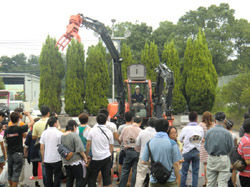 ASTACO dances to the music from the movie "Frozen"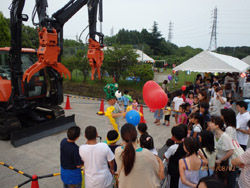 Children line up in front of the Balloon Man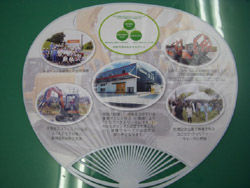 Uchiwa fan with an environmental activities theme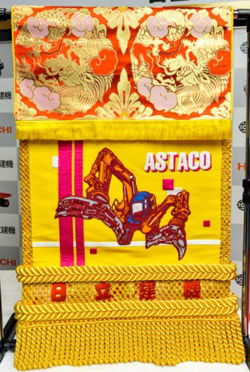 Sumo wrestler Endo-zeki's Kesho-Mawashi (ornamental apron) complete with ASTACO design