Second HCM Festival in Hitachinaka
On October 19, the second Hitachi Construction Machinery Festival in Hitachinaka was held at the Hitachinaka Rinko Factory. This is the first time in two years the festival was held, after being cancelled in 2013 due to Typhoon Francisco. This year the festival hosted a variety of events including a demonstration of the ZX480LCK, which has a long boom with a 30 meter working reach, a baseball workshop conducted by the Hitachi, Ltd. baseball team, a hands-on chance to operate a mini excavator, a dump truck driving simulator, and game corner.
Many families enjoyed themselves. In addition to performances given on stage by groups such as the Maewatari Elementary School brass band, the Tokai Hanamai dance troupe, who performed the yosakoi dance, and C's Dance, which is a children's dance group, there were shows that included popular characters. Also, the Hitachinaka Rinko Factor held an exhibition as only it could do. Products that were showcased included tire for EH4000AC II dump truck and the side frame for the EX5600 ultra large hydraulic excavator. These attractions captured the interest of visitors.
NPO Good Earth Japan, which receives full support from the Hitachi Construction Machinery Group, also had a booth to present its activities. Good Earth introduced its activities in Cambodia where it helps local people to become independent after clearing land mines away.
The number of visitors to this festival totaled 3,000 people, including people who rode the tour bus from the Autumn Festival that was held the same day at the Hitachi Seaside Park. Guests enjoyed a fun autumn day.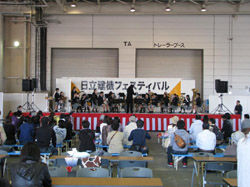 Performance by Mawatari Elementary School brass band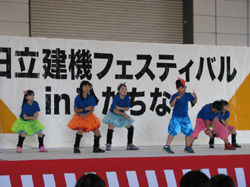 C's Dance performed in synch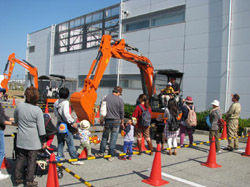 There was a long line to try out the mini excavator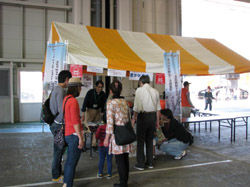 NPO Good Earth Japan showcased its activities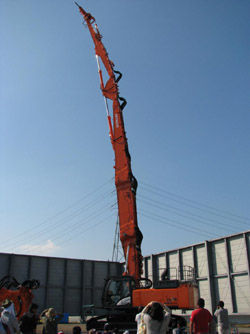 Demonstration of the ZX480LCK long-reach demolition machine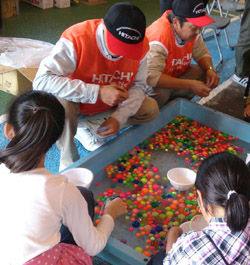 Children playing at the game corner