Run For Hope 2014 (Hitachi Construction Machinery Asia and Pacific)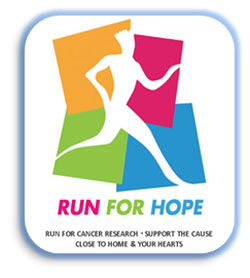 This year marks the second consecutive year that HMAP participated in the Run For Hope, an annual non-competitive charity run organised by Four Seasons Hotel Singapore, Regent Singapore and National Cancer Centre Singapore. Since the inaugural run in 1993, Run For Hope has become one of Singapore's largest charity runs, helping to raise much needed awareness and support for cancer research.
On the morning of 16 November 2014, 29 HMAP employees and their family members gathered at The Promontory at Marina Bay to take part in the Run which saw more than 10,000 participants showing their support to raise funds and awareness for cancer research in Singapore. The event maintains its tradition as a non-competitive leisure run so that everyone can join in the worthy cause. Avid runners took part in the 10km Run whereas those who came with family and friends for a meaningful bonding time joined the 3.5km Fun Run. The event saw participants leisurely running and strolling through the picturesque Marina Bay area, passing by several iconic attractions such as the Marina Bay Sands, Art Science Museum, Esplanade Theatre by the Bay, the Merlion, etc.
HMAP is proud to be a part of this meaningful event which allows for the community to play a significant role in helping cancer patients. As a part of our CSR efforts to help raise the profile for local cancer cause and research which aims to find an ultimate cure for cancer, HMAP contributed a total of S$1,063.00 to this fund raising event. All efforts will go a long way to enabling researchers to carry out their remarkable work in cancer research.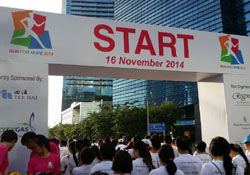 Starting Line of the Run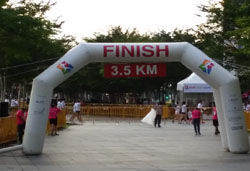 Finishing Line of the Run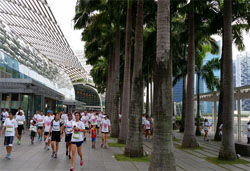 Along the walkway at Marina Bay Sands
Esplanade – Theatres on the Bay in the background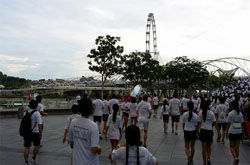 The Helix Bridge and the Singapore Flyer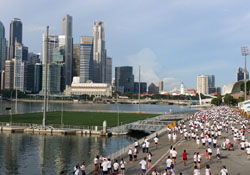 The Float at Marina Bay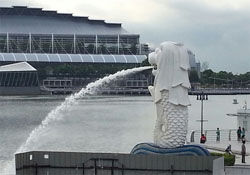 The Merlion Statue