2014 Koka City Eco Festa and Hands-on Learning Plaza -Mini Excavator and Fire Trucks Thrilled Onlookers- (Hitachi Construction Machinery Tierra)
The Koka City Eco Festa and Hands-on Learning Plaza were held under clear skies on October 11, 2014 (Saturday) at Shinobi-no-sato-Purara. The Festa hosted a number of events, including how to make sandals out of straw and ecobags. Visitors were also able to take rides in police cars and motorcycles, fire trucks, and a mini excavator.
Children that took a ride on the mini excavator were given a child license and a book for collecting stickers. Nearly 100 children became "heroes" that day, which put smiles on the faces of many children. This year's license was imprinted with the phrase "let's stop littering" as a call to reduce the amount of garbage littering the streets.
This year's Festa was the crowning event for the 10th anniversary commemorating Koka City's adoption of the municipal system which made it an official city. The city and firemen carried out a fire prevention awareness event and the local team of firemen representing Koka City gave a PR presentation to promote their participation in the national competition for firefighting techniques. The impressive performances they gave were a huge hit.
∗The team from Koka City placed 10th in the 24th national competition for firefighting techniques which was held on November 8, 2014 at Tokyo Big Sight. The commander from Shiga Prefecture won top prize in individuals, which was a first for Shiga Prefecture and a spectacular achievement.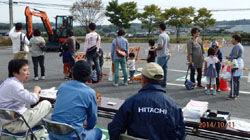 Because of the crowd, visitors were given sequentially numbered tickets. However this did not deter them from lining up to wait their turn.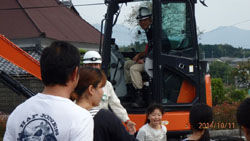 93 children received their rider's licence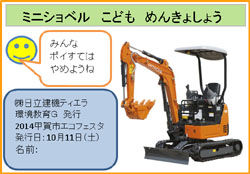 Children were proud as the licenses showed them to be exemplary drivers.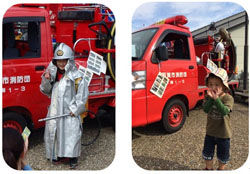 Children were also firefighters for the day!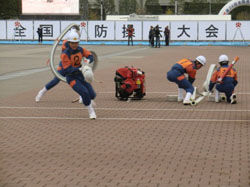 At nationals, the team of firefighters from Koka City ranked 3rd in pump handling technique with a time of 41:00 seconds. The goal was to extinguish a fire in front of the Tokyo Big Sight competition arena.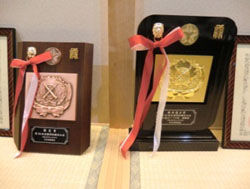 Copper plaque for placing 10th overall and the gold plaque for excellence (commander) in the individual competition