HCM Environmental Protection Classroom Held in Hokkaido
On March 12, 2015, the Hitachi Construction Machinery (HCM) Environmental Protection Classroom was held at the Urahoro Elementary School in Urahoro-cho, Hokkaido.
Thus far HCM implemented the Eco School for children at the Urahoro Test Site during summer vacation. This time around, HCM brought its Environmental Protection Classroom to the Urahoro Elementary School. Twenty-five sixth graders participated in the educational program. The theme of the program was "living creatures and the environment." The course of study consisted having the sixth graders interact with nature in the Urahoro area while making real-life observations. Lectures were given in the classroom and bird watching activities were held outdoors. During lectures the sixth graders learned about the earth's environmental issues and how they affect living creatures. The children were taken by bus to an area to conduct field observations. They saw many wild birds. The weather was nice and the children were delighted to encounter a number of rarely seen birds, such as peregrine falcons, snow goose, and white fronted geese.
This event provided the children with the opportunity to learn about the wonders of nature and what role they can play in protecting the environment.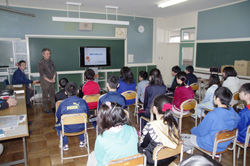 Classroom lecture on nature in Urahoro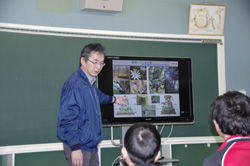 Classroom lecture on nature in Urahoro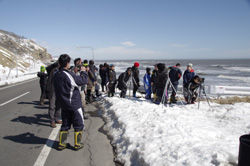 Outdoor field observations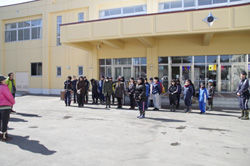 Children that participated expressed their thanks