HCM Plant Open House (Hitachi Construction Machinery (China))
On June 28, 2015, Hitachi Construction Machinery (China) Co., Ltd. held an open house at its plant.
This is the second time the event was held. The first was in 2014. Employee's families were invited to the plant. Families had the opportunity to observe construction machinery which they are not normally familiar with and the manufacturing site. The goal is to familiarize families with the work conducted by Hitachi Construction Machinery and to teach them about the HCM corporate culture.
A total of 194 people, or 64 families, visited the plant. They had a fun time. Families were given a tour of the plant and watched a hydraulic excavator demonstration. We also showcased the various activities being carried out, mainly through a panel exhibition. The compact excavator ride along for children, which was held for the first time, was especially popular. The children were very excited to ride on an excavator for the first time.
Six families of employees from Hitachi Construction Machinery (Shanghai) Co., Ltd. also participated in the open house. Hitachi Construction Machinery (China) plans to continue to host this open house as it brings smiles to the families of its employees.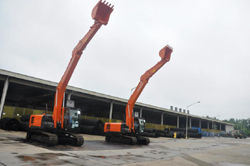 Hydraulic excavator demonstration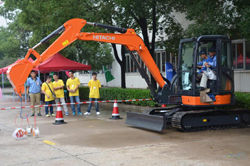 Visitors ride along in a compact excavator

Commemorative picture of employees and their families