The 13th Shareholders' Factory Tour
On October 1, 2015, Hitachi Construction Machinery held its 13th private shareholders' factory tour of the Tsuchiura Works in Ibaraki Prefecture. This year 58 shareholders from around Japan participated in the tour.
As a key research, development, and manufacturing base for Hitachi Construction Machinery, the Tsuchiura Works, where the tour was held, is a global mother plant which plays a central role in "Made by Hitachi" activities. The tour started off with a presentation by President Tsujimoto who gave an introduction of Hitachi Construction Machinery's business portfolio and growth strategies going forward.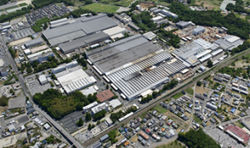 Tsuchiura Works in Ibaraki Prefecture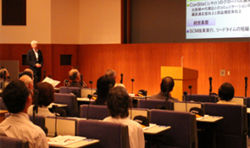 President Tsujimoto giving a presentation
During the next segment of the tour, shareholders were shown around the manufacturing site for small and medium-sized hydraulic excavators. Shareholders observed assembly, fabrication, welding, and other processes. During the tour, shareholders were shown the field test site in a test chamber with a constant temperature of 20 degrees below zero Celsius, which is used to ensure that our machines will stand up to use in harsh environments. Furthermore, a demonstration of the lifting magnet machine of ZX330LC-5B was given. The demonstration showed how the excavator can lift steel sheets. The magnet-version of ZX330LC-5B is used in sites, including metallic recycling. After the demonstration, a commemorative picture was taken.
Also, the shareholders viewed machines that are on display, including the UH03, the first hydraulic excavator developed in 1965 with purely domestic technology, and certified as a Mechanical Engineering Heritage, and the ZX135USK, which can be used in narrow construction sites, including road construction, and boasts high maneuverability and strong excavating capabilities.
A Q&A session was held after the tour. Many shareholders provided us with valuable opinions on our management strategies, technological development, and other issues. We plan to hold more factory tours as they are an opportunity to carry out dialogue with our shareholders and to deepen their understanding of our products and manufacturing bases.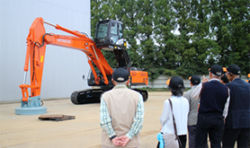 President Tsujimoto giving a presentation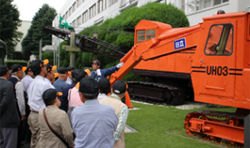 UH03 the first excavator developed with purely domestic technologies (Mechanical Engineering Heritage)