Factory Tour Focusing on the Themes of Environment and Safety (Hitachi Construction Machinery Tierra)
Hitachi Construction Machinery Tierra holds factory tours year round. In June 2015, Environment Month, Tierra welcomed different organizations and students from the US to its Shiga Works.
On June 19, 23 members from the JAM Keiji(*1) Koka District Assembly visited the factory. Then on June 30, 37 members of the Shiga Economic and Industrial Association(*2) toured the factory. Visitors were given an explanation of Tierra's Environmental Action Plan, which is based Hitachi, Ltd.'s environmental vision, and environmental communication activities, which Tierra is focusing on in particular. During the factory tour, visitors were introduced to Tierra's safety dojo initiatives. Going forward, we expect an increase in the number of opportunities Shiga Prefecture will have to promote its environmental activities which aim to create a sustainable society.
Also, in early June, six students and two teachers from Augustana College, in Rock Island, Illinois (US), who were visiting Hitachi Construction Machinery Group companies, came to Tierra. On the day before their visit, the entourage toured the last remaining Koka Ninja house in Japan. We had the impression they were very excited to have seen the ninja house. At a later date, we provided information from our homepage on Tierra's initiatives to reduce environmental impacts that were translated into English to the students, who showed interest in environmental issues.
∗1 Industry-specific labor unions, mainly from the machine and metals industries, which are under the auspices of the Japanese Trade Union Confederation.
They actively carry out environmental preservation measures, including clean-up activities and the eradication of non-native fish species from Lake Biwa.
∗2 Economic organization consisting of 400 member companies from Shiga Prefecture. Tierra became a member in 2015.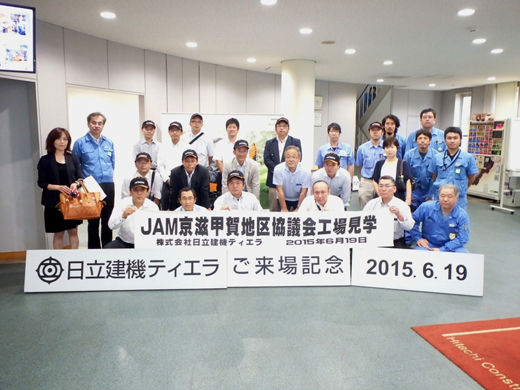 Members of the JAM Keiji Koka District Assembly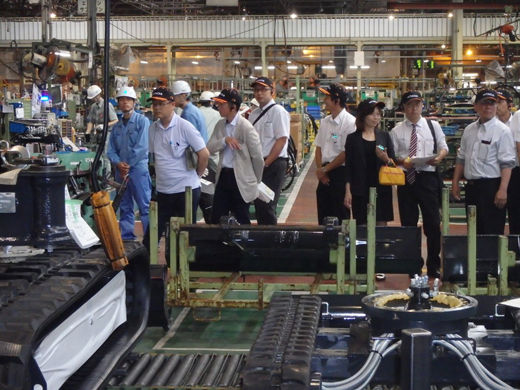 Factory Tour Focusing on the Themes of Environment and Safety (Hitachi Construction Machinery Tierra)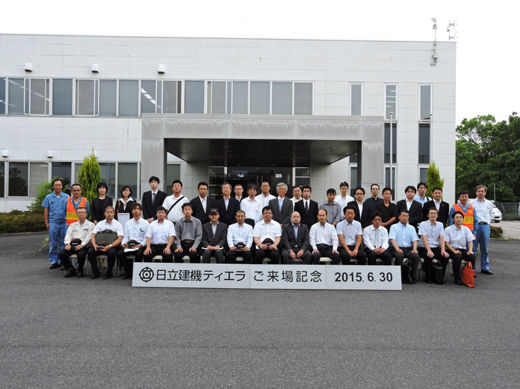 Members of the Shiga Economic and Industrial Association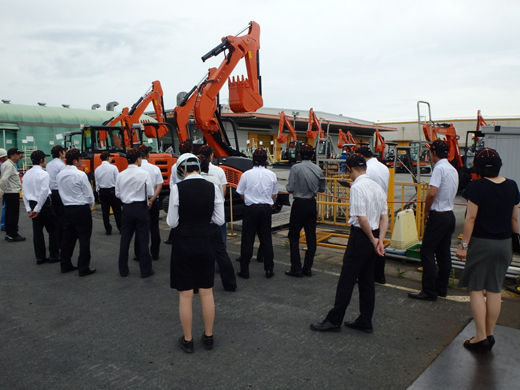 Tour of lift inspection site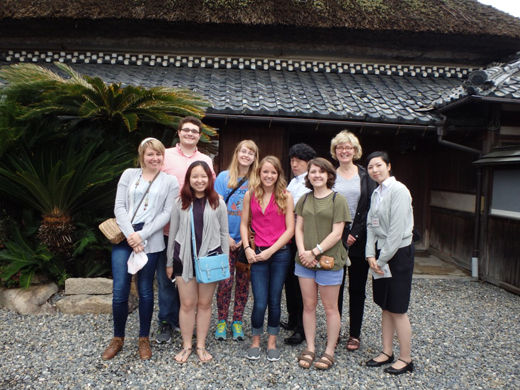 Students from Augustana College (US) in front of a Koka Ninja house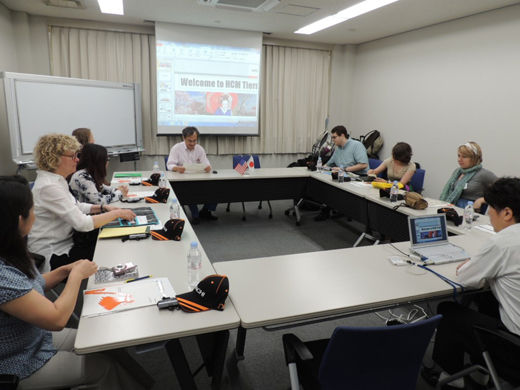 Students listen to explanation at Tierra's Shiga Works