Recognized with Special Award (Corporate Category) in the Ibaraki SmartMove Project 2
On January 29, the Hitachinaka Rinko Works was awarded a special award in the corporate category of the Ibaraki SmartMove Project 2, which is sponsored by the Ibaraki Center for Climate Change Actions.
The objective of the SmartMove project is to reduce the amount of CO2 emissions from automobiles through the implementation of SmartMove. Ibaraki Prefecture, companies, and organizations are collaborating to promote SmartMove through a combination of eco-driving and eco-mobility. Eco-mobility encourages people not to rely on their private cars as a daily mode of transportation but to smartly and effectively travel by walking, cycling, and public transportations.
Hitachi Construction Machinery endorses this project. At its Tsuchiura, Hitachinaka, and Hitachinaka Rinko Works, employees walk and use public transportation as much as possible. Eco-driving is also being implemented. Employees monitor fuel use and distance travelled when driving to work, or using cars for business travel, or private use. This time around, Hitachinaka Rinko Works was commended for these actions.
The employee of Hitachi Kenki Logistics Technology, a HCM group company, was also recognized for his activities, and received the award for excellence in the individual category.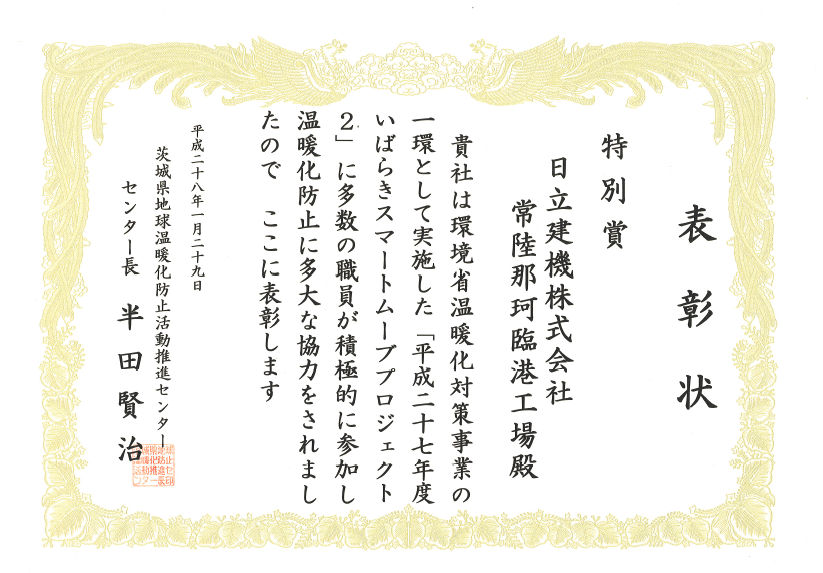 Special award certificate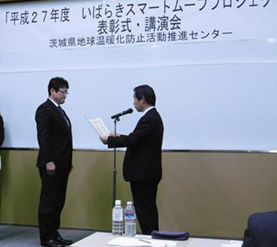 Awards presentation ceremony