Donated Entire Proceeds from Online Auction of Mini Excavator (Hitachi Construction Machinery Australia)
In mid-February, Hitachi Construction Machinery Australia (HCA), working in conjunction with Hitachi Construction Machinery Tierra and other group companies, held an online auction for new mini excavators. All profit generated from the auction were donated to the Humpty Dumpty Foundation, a non-profit organization that HCA has been supporting. On March 16, a ceremony was held to formally present the foundation with the gift.
This was the first time the Hitachi Construction Machinery Group auctioned new machines through the Internet. This unprecedented move aimed at expanding sales of mini excavators in Australia. Hitachi Group companies also cooperated in the event. A lucky-draw was also conducted. Winners, chosen from among the bidders in the auction, received a Hitachi refrigerator and electric tools.
Although this was the first to organize an auction, bidding was lively. There were a total of more than 35 bidders and the auction raised A$30,000.
The funds will go to buy medical equipment for pediatrics hospitals to help sick and injured children.
HCA plans to continue to carry out social contribution activities that focus on helping the community as a way to fulfill its corporate social responsibilities.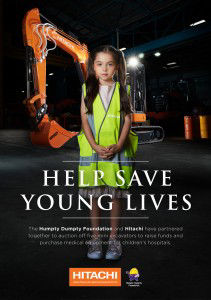 Promotional poster for the auction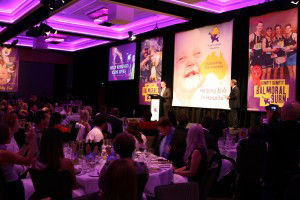 Auction ceremony
HCA staff member and the Humpty Dumpty Foundation ambassador (right)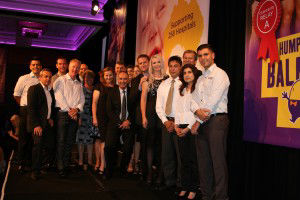 Participants gather for a group photo