HCM Environmental Protection Classroom Held in Urahoro Elementary School in Hokkaido
On March 1, 2016, Hitachi Construction Machinery held an Environmental Protection Classroom at the local Urahoro Elementary School in Urahoro, Tokaichi, Hokkaido, where the Urahoro Test Site is located.
Thirty-three students participated in the program as part of their sixth grade science classes, and there was a talk on the theme of "living creatures and the environment" as well as outdoor learning.
At the talk, a lesson was held on the living creatures and nature of Urahoro, and students learnt about the role they can play in ecosystem preservation together with the Wild Bird Society of Japan and regional NPOs.
The children later observed wild birds including sea eagles while they interacted with nature as part of their outdoor learning.
This educational program that began with Urahoro Elementary School last fiscal year is part of a community exchange and environmental program, and activities this time appeared in the Tokaichi Mainichi News of March 8.
Through the magic of nature in the region and concern for living creatures, we will continue to pass on the importance of protecting ecosystems in the future.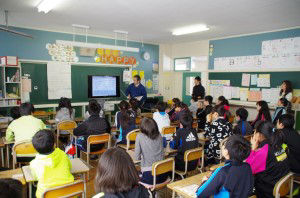 Talk on environmental preservation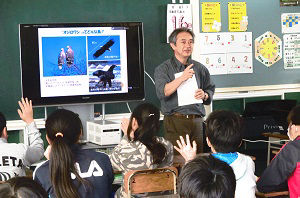 Talk by Mr. Murose of the Wild Bird Society of Japan on sea eagles and the food chain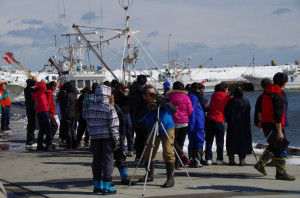 Outdoor field observations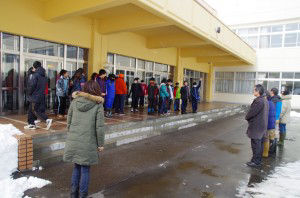 Closing ceremony