Rapeseed Planting and Used Oil Recycling—Aiming to Create a Recycling-oriented and Low-carbon Society (Hitachi Construction Machinery Tierra)
Hitachi Construction Machinery Tierra Co., Ltd. is working in conjunction with NPO Nanohana Project Network to grow rapeseeds on its factory site. The rapeseed seedlings donated by the NPO were raised in areas damaged during the Great East Japan earthquake. In a matter of a few weeks, the seedlings sprouted and are growing healthily.
Rapeseed oil is used for cooking. After it is used as cooking oil, it can be recycled for use as a biodiesel fuel (BDF). Consequently, by collecting the used cooking oil and cooperating with the rapeseed project, we are in effect contributing to the development of a recycling-oriented society.
Tierra asks not only its employees but also local residents to bring in their used cooking oil, mainly when they come to the Tierra Festival. The oil used to fry tempura at the food booth is also collected. The used cooking oil is refined by a company that treats industrial waste, and the biodiesel fuel is used in forklifts used at the factory. Biodiesel fuel is a carbon neutral* fuel and contributes to the reduction of CO2 emissions.
In other words, by cultivating rapeseeds, extracting rapeseed oil, collecting used cooking oil, turning the used cooking oil into biodiesel fuel, and using the biodiesel fuel to power our forklifts (emits CO2), and then rapeseeds absorb CO2, we are promoting the development of a recycling-oriented society and carbon-neutral activities.
*Carbon neutral: CO2 is emitted from burning fuels produced from living organisms, including plants. These plants absorb CO2 through photosynthesis when growing. Carbon neutral is when the amount of CO2 emitted into the atmosphere on a lifecycle basis is offset by the amount absorbed.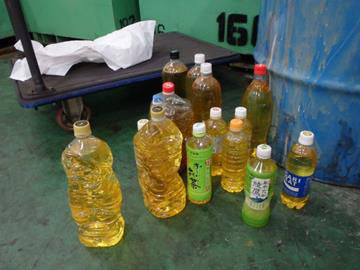 Used cooking oil collected at the festival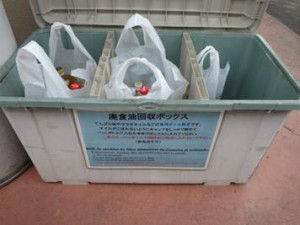 Collected used cooking oil is transferred to special containers to be picked up for recycling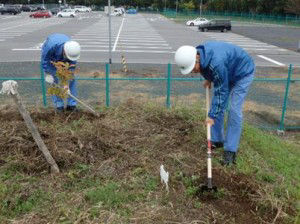 Planting rapeseeds, spring won't come soon enough.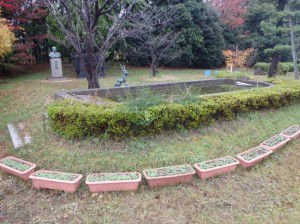 Rapeseeds sprouting in planters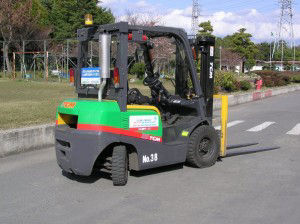 Forklift powered with biodiesel fuel