Exhibition at 2016 Koka City Eco Festa (Hitachi Construction Machinery Tierra)
On November 3, 2016, the Koka City Eco Festa was held at Shinobi-no-sato-Plala. This was the fourth consecutive year Hitachi Construction Machinery Tierra participated in the event.
Tierra rolled out the mini excavator, an environmentally conscious product, to give rides to guests, which is always a popular event. Preschool aged children were given sticker books edited by Hitachi Construction Machinery. Elementary school children received paper crafts while adults were given an environmental PR uchiwa fan and ballpoint pen to commemorate their experience. The sticker books and paper craft were given out as a way to spark an interest in creating objects. It is our hope that more children will grow up to manufacture construction machinery.
On the day of the Festa, Hiroki Iwanaga, mayor of Koka City, visited Shinobi-no-sato-Plala and rode on a mini excavator. The PR uchiwa fan was printed with an explanation of the improvements that had been made to the environmental performance of the mini excavator, including CO2 emissions, exhaust gas, and recyclability.
Tierra aims to continue to widen its circle of advocates through its environmental and social contribution activities.
Using the environmental PR uchiwa fan to explain the mini excavator to Mayor Iwanaga (right)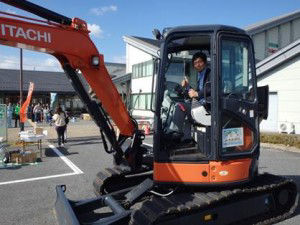 Mayor Iwanaga taking a ride on the mini excavator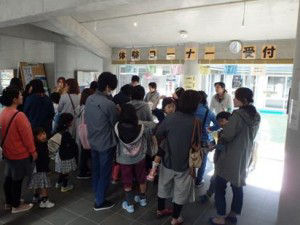 Various indoor booths were bustling with activity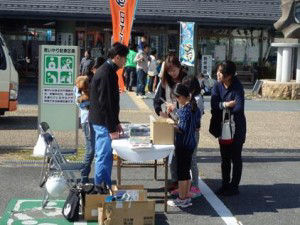 Outdoor booths also drew in many visitors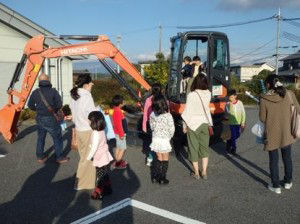 Families took pictures of their children taking their turn on the mini excavator