Display at Higashine Environment Week 2016 (Hitachi Construction Machinery Camino)
During November 20-27, 2016, Hitachi Construction Machinery Camino participated in Higashine Environment Week 2016, which is hosted by the City of Higashine, Yamagata Prefecture, the home of Camino's headquarters.
Each year Hitachi Construction Machinery Camino uses panels to introduce its environmental activities, including the reduction of its electric power consumption, waste output, and VOCs (volatile organic compounds). Camino also provides small prizes for the stamp rally, where participants go around to various events and stamp a book with a rubber stamp from each event. This year Camino also displayed a combined roller for road construction that is produced at its own factory, which undertakes various environmental activities.
The combined roller is used to flatten surfaces at construction sites. This machine meets the standards set by the Ministry of Land, Infrastructure, Transport and Tourism (MLIT) for ultra-low noise construction machinery and exhaust emissions regulations for construction machinery (Stage 3 emissions standards). The fuel efficiency is around 11% better than conventional combined rollers. Nearly 400 children lined up to sit on the combined roller. The event was a great opportunity for Camino to meet many local residents and put smiles on the faces of children.
Hitachi Construction Machinery Camino plans to continue to participate in this event to let local residents know what it is doing as a local company to protect the environment and to deepen communications with local residents.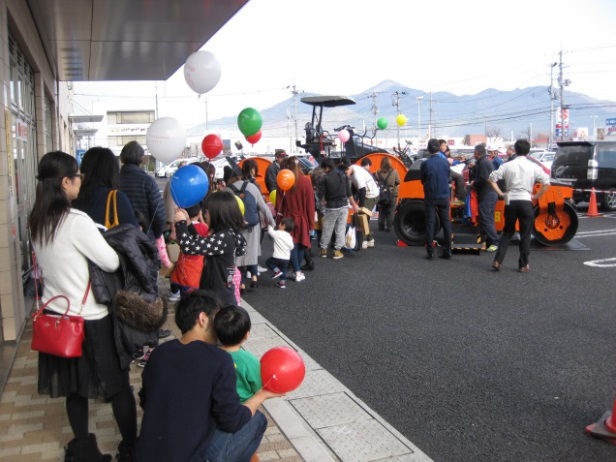 The machine display is a popular attraction
Environmental panel display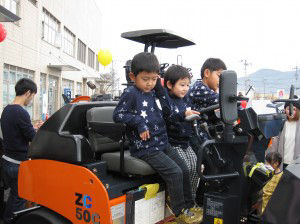 Children sit on the combined roller