An outing with YWCA children to Jurong Frog Farm (Hitachi Construction Machinery Asia and Pacific)
Committee members from Hitachi Construction Machinery Asia and Pacific (HMAP) Corporate Social Responsibility (CSR) and volunteers spent a joyful afternoon participating in a community service project with Young Women's Christian Association (YWCA) children, bringing the children to Jurong Frog Farm on 13th September 2017.
The mission of the Association is to serve the Community regardless of race, belief or religion with love and compassion and provide quality programmes, facilities and services to advance development of women and girls in body, mind and spirit and benefit the community. The Association works with other organisation and agencies to fulfil its mission.
On the day of the activity, 8 CSR members and 2 volunteers from HMAP met the YWCA children at Jurong Frog Farm for the frog tour. We prepared lunch for the children while eagerly waiting their arrival at the venue. There were 10 children from YWCA Kids's weekday care program ranging from primary 1 to 6 of various primary schools. This program focuses on the complete development of primary school children from low-income families through a wide range of activities, for example tutoring, enrichment class, outings and etc.
We had a short bonding and pairing session with the children while they were having their lunch.
The tour commenced at 3pm after the children finished their lunch. The house guide gave a lively and engaging introduction of the American Bull Frog. He described the lifecycle of the frog, gave a hands-on Frogs show-and-tell session, balancing a full grown American bullfrog on the head with hat and interesting photo taking session. The volunteers and children had the first hand encounter of touching the American Bull Frog, feeding the frogs and catching the tadpoles. There was a quiz segment for the children to recapitulate what they had learnt from the tour.
Lastly, we ended the whole activity with photo taking session with the children, YWCA person in-charge & staff, and tour guide of the frog farm.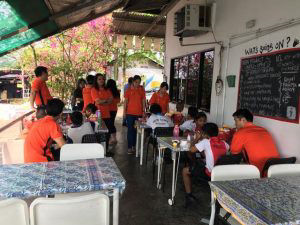 Bonding & pairing session with children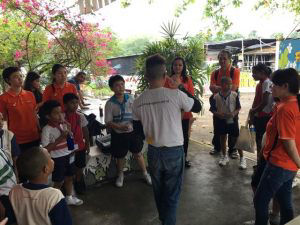 An introduction of Jurong Frog Farm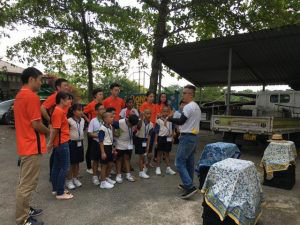 Introduction of the American Frog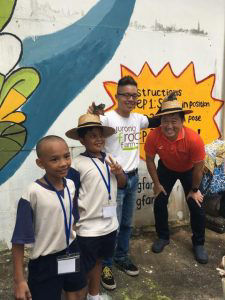 Hands on the Frogs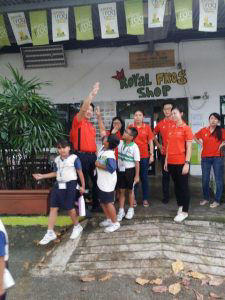 Kids thanking the volunteers with "High-5"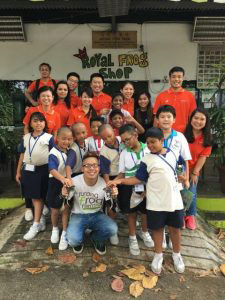 Session ended with Group photo