Blood donation camp by THCM Dharwad (Tata Hitachi Construction Machinery)
Blood donation is one of the most significant and noble contribution that a person can make towards the society. The body of the donor can regenerate the blood within few days. It poses no threat to the metabolism of the body. An ailing body needs blood transfusion for various reasons like anemia, operation or accident. Blood can be stored for a limited period of time that is why blood banks need a steady and constant collection. Our blood banks are running short of required blood .By organizing such camps we are helping them to enrich their capacity to serve needy patients better.
A blood donation camp was organized at Dharwad plant in association with District Civil Hospital, Dharwad on 16th Dec 2017. This involved a detailed planning and close coordination between THCM and Hospital volunteers. Blood donation is a simple, four-step process: registration, medical history and mini-physical, donation and refreshments. It is a safe process, and a sterile needle is used only once for each donor and then discarded.
A similar blood donation camp was earlier organized on 14th Oct 2017 and we are doing this very regularly. This helps in maintaining a steady and regular supply to blood banks who serve needy and poor patients of the society. We are proud to see that we are giving a new life to the patients.
This is an ongoing activity and such blood donation camps will be conducted regularly in future. We will encourage new donors and volunteers for better sustainability.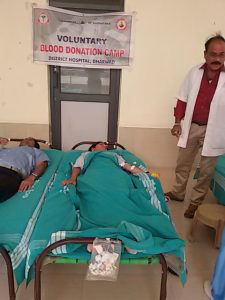 THCM volunteers donating blood under medical supervision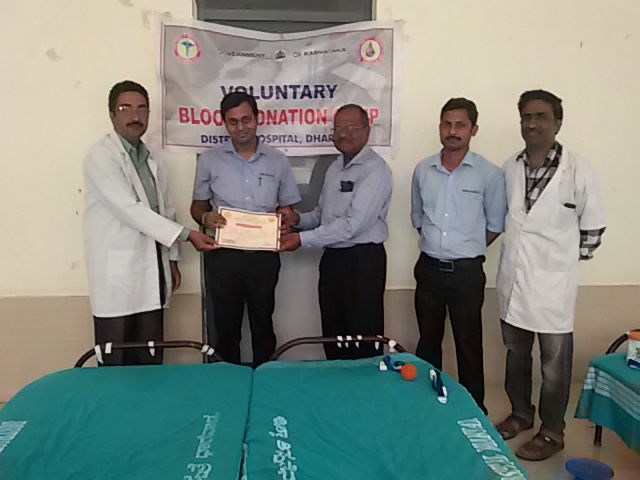 Bharath R from THCM (2nd left) receiving donor certificate from Mr.S Umapathy, Plant Head –Dharwad (centre) and doctor (Left)