Delivery of Pink Dump Trucks to Promote Breast Cancer Research & the Advancement of Females in the Workplace (Hitachi Construction Machinery (Australia))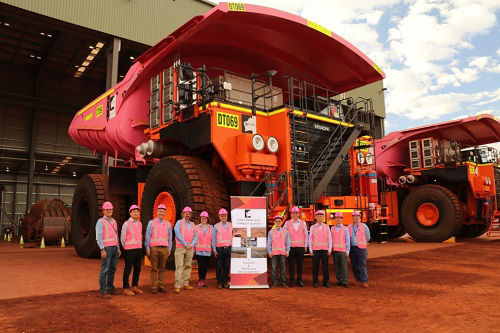 Executive chairman Rinehart (fifth from left) and related parties take commemorative photo in front of the delivered dump trucks
On May 1, 2018, Hitachi Construction Machinery (Australia) Pty Ltd (HCA) delivered three dump trucks (EH5000AC-3) for mining operations to the Roy Hill iron ore mine, located in the Pilbara region of Western Australia. The vessels of dump trucks were painted pink to symbolize the color used to advocate breast cancer awareness.
Understanding and awareness of breast cancer, and the advancement of females in mining is being promoted at the Roy Hill iron ore mine, which are operated by Hancock Prospecting Pty Ltd (HPPL) of Australia. Currently, all dump Hitachi trucks being used at the mine have been painted a bright pink.
This initiative is being endorsed by Gina Rinehart, executive chairman of HPPL. Executive chairman Rinehart has been an active supporter of breast cancer awareness and research activities. In 1992, Rinehart set up a foundation for breast cancer research given the growing number of women suffering from breast cancer yearly. The Pink dump trucks significantly support from the mines for these activities.
HCA has received a total order from HPPL for 24 dump trucks (EH5000AC-3), including the units which were recently delivered. All in all 25 dump trucks that will also be delivered, including a stand-by truck which is to be rented to HPPL, will all have pink painted. HCA also provides its support to other HPPL's activities.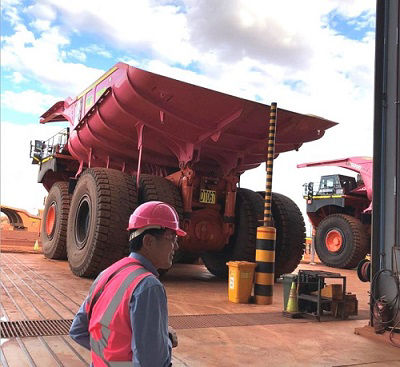 Vessels of the dump trucks have been painted a bright pink