YWCA Kids' Weekday Care Visiting Singapore Duck Tour (Hitachi Construction Machinery Asia and Pacific)
On 4th July 2018, CSR volunteers from Hitachi Construction Machinery Asia and Pacific (HMAP) together with 14 children from Yong Women's Christian Association (YWCA) Kids' Weekday Care (KWC) spent a meaningful and memorable half day at Singapore's iconic sites – Historic Civic District, Marina Bay.
KWC is a new thrice-weekly afterschool care service created in response to the needs of beneficiary families. Launched on 21 March 2016, the service covers two-way transportation from school and back to their respective homes, lunch and a structured care schedule at a highly subsidised cost. It focuses on the overall development of children through a broad range of activities such as tutoring, mentorship, enrichment, soft skills and life skills workshops outings and group work. Service and value-based learning is emphasized, as well as work in alliance with parents. The children selected are from low-income families under YWCA Meals-on-Wheels programme and those who are referred by schools.
HMAP CSR volunteers and children gathered at Suntec City Mall before proceeding for lunch. Volunteers interacted with the children during the hearty lunch before embarking on a 60 minute land and sea adventure around Singapore. The volunteers and children enjoyed a unique Singapore tour experience on a remodelled World War Two amphibious Vietnamese war craft and got an interesting snapshot of Singapore's famous skyline, historical landmarks and gorgeous bay view with captivating Singapore story from the friendly DUCKtour guide.
The half day event was a great learning experience for the children as well as HMAP CSR volunteers to understand the historical facts about the buildings and the landscapes of Singapore. It was a pleasure to work with YWCA and HMAP look forward to the next collaboration in the near future.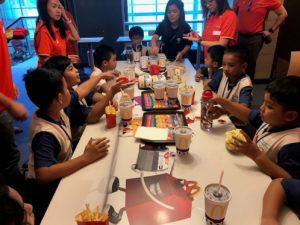 Lunch & Interaction with Children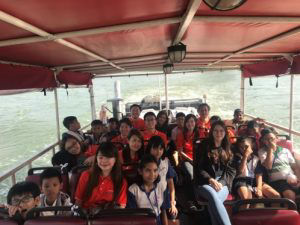 Ready to explore Singapore!
Group Photo: HMAP CSR volunteers and children from YWCA