1H FY2018 Environment Policy Division Meeting
Hitachi Construction Machinery (HCM) held the 1H FY2018 Environment Policy Division Meeting at its head office on September 26, 2018.
The meeting was attended by group company representatives and members of the Environment Policy Division. Remote offices in Japan and overseas participated through video-chat.
Meeting attendees deliberated and approved strengthening information disclosure and compliance as well as Hitachi Construction Machinery Group targets and plans aimed achieving Hitachi Environmental Innovation 2050. They also decided on specific actions to be taken from here out. And they clarified the direction of environmental management for the Hitachi Construction Machinery Group.
In the future, we intend to promote environmental practices globally as we aim for this common goal.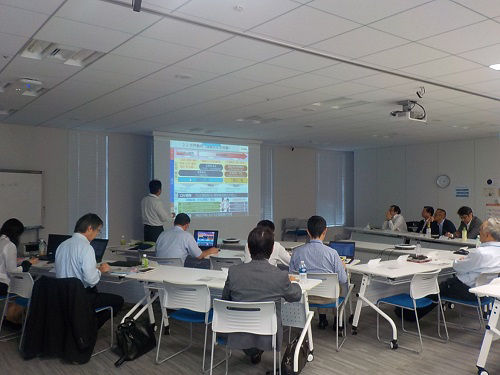 View of the meeting